Grand Cafe Caruso, Derby
Posted on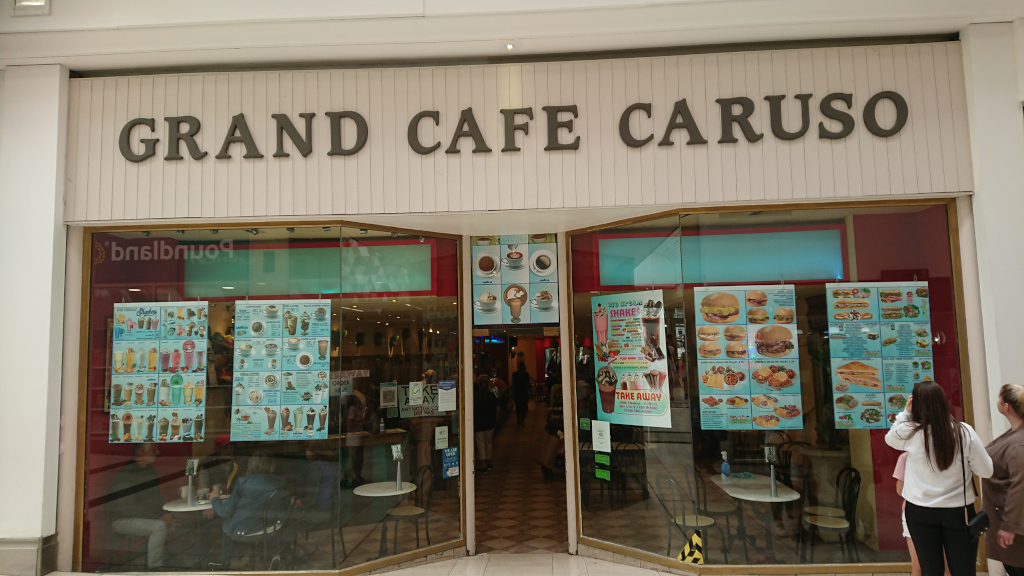 Visit a major shopping complex in a town or city centre and you will often find that it's full of big brand stores with very little in the way of smaller, independent outlets. That's not to say that you won't find a smaller business operating in such shopping centres – they're not all exclusive to big brands. For example if you visit the Derbion centre in Derby you will find an independent Italian cafe – the Grand Cafe Caruso.
Grand and Bright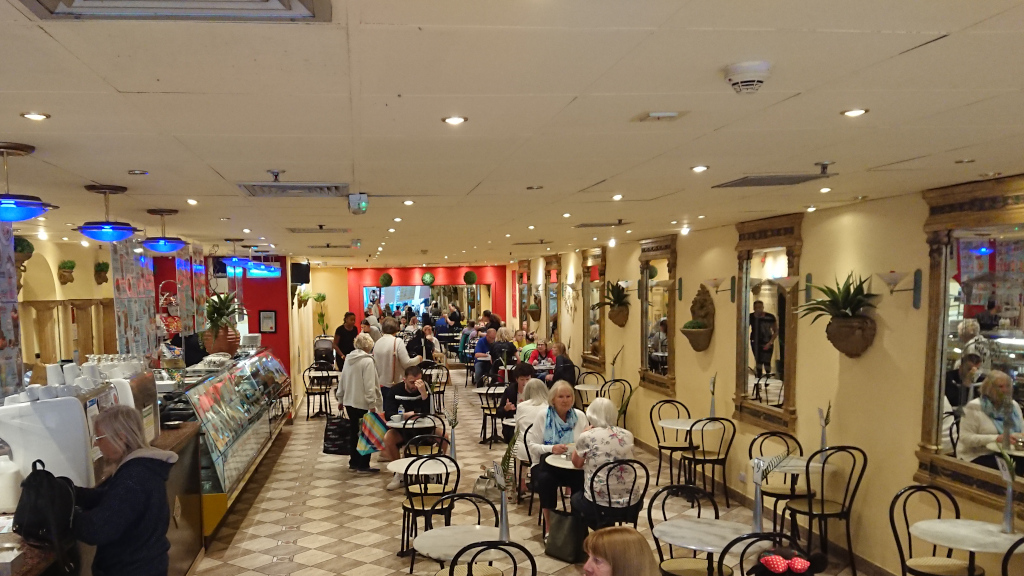 The Grand Cafe Caruso is actually a sister venue to the smaller Cafe Caruso Boutique that's also located within the Derbion. If you are familiar with the area and have visited both cafes then you'll straight away figure out why this is named the 'Grand' cafe – IT'S HUGE (or at least much bigger than the 'Boutique' cafe). There are plenty of tables inside this grand cafe, and based on previous visits here they are needed as this is a very popular eatery (and with good reason as I'll explain later).
Not only is this a well-sized cafe but it's also bright with the venue well lit. The inside is otherwise a simple affair – nothing fancy or pretentious, but plenty of mirrors on the walls.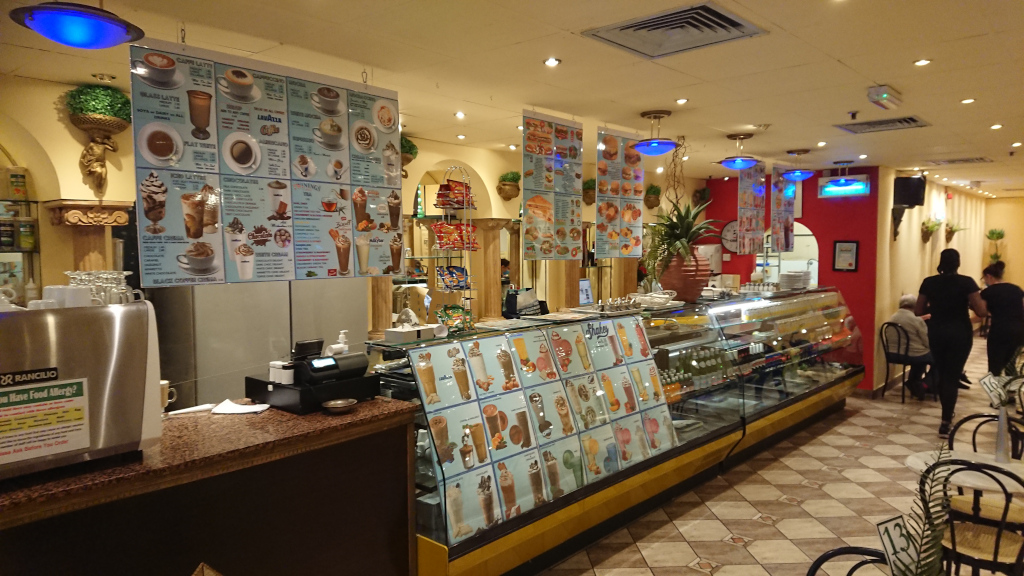 A grand selection of bites and drinks
Not only is the Grand Cafe Caruso grand in terms of the size of its venue but its food offering is also grand. The menu mainly consists of breakfasts, baguettes, sandwiches, toasted sandwiches, and salads. For what was a lunchtime visit here I opted for the Chicken-Mayo, Bacon & Lettuce baguette, except that mine would be without the mayo as I don't like the stuff. My baguettes were nicely cooked and prepared, and were tasty throughout. This particular baguette is definitely a favourite and one that I'll certainly be having again on a future visit. Baguette meals sold at the grand Cafe Caruso all come with a picket of crisps for complements.
My dining colleagues both opted for toasted sandwiches, which are available with various fillings to choose from. You just need to choose three fillings for you sandwich. On this particular visit both of my colleagues opted for vegetarian/vegan sandwiches. The vegan sandwich in question consisted of sun-dried tomatoes, baked beans and mushrooms. Now this may sound like an unusual combination to some but the view from our vegan diner was that these fillings do work together quite well.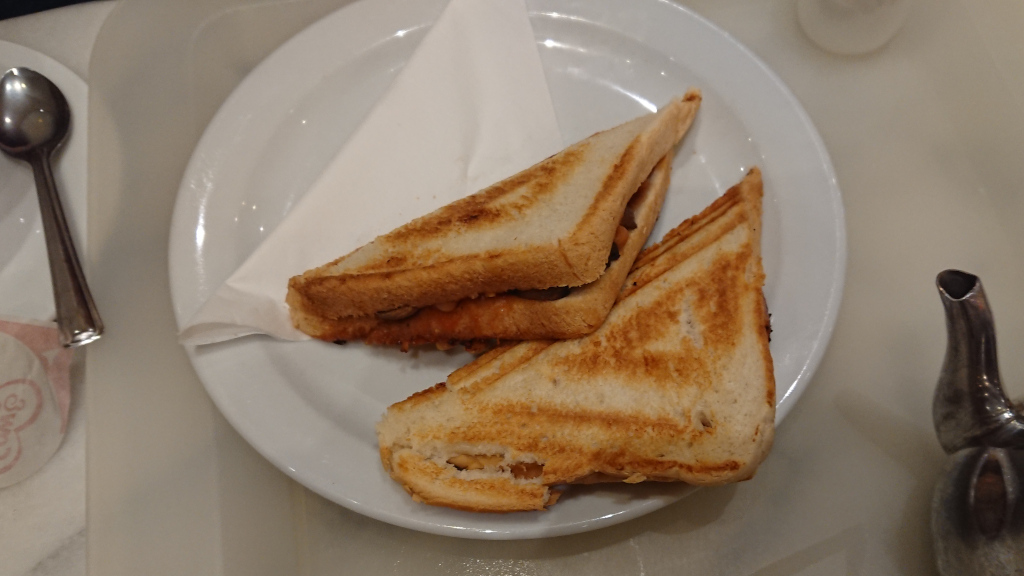 In terms of liquid refreshments there is an extensive selection of hot and cold drinks including teas, coffees, hot chocolates, milkshakes, juices, fizzy drinks and more. Whats-more several of these beverages are available with vegan alternatives such as soya milk. We decided to go for a good old pot of tea each; one went for normal dairy milk whilst myself and another opted for soya.
A grand light lunch visit
There are several aspects to like about the Grand Cafe Caurso, all of which are grand in their own way. The venue is spacious with room for several diners. The menu has plenty of choice available, both food and drinks. The staff are incredibly friendly and helpful. It's no wonder that this is a very popular eatery – this eatery does offer something different from the chain establishments situated in the centre.
In short the Grand Cafe Caruso is certainly a grand cafe and one that I highly recommend visiting on a future trip to Derby.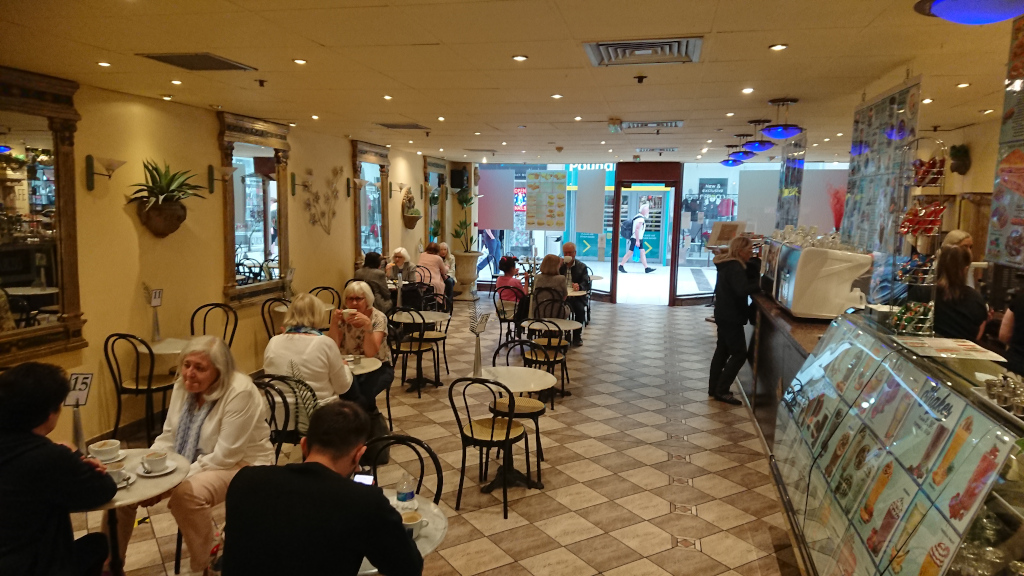 Getting to Grand Cafe Caruso
Grand Cafe Caruso is situated at the Derbion shopping centre in Derby City Centre, and is within walking distance from major bus and train services that serve the city.
Address – 1 Burrows Walk, Derbion, Derby DE1 2PL
Facebook – https://www.facebook.com/Grand-Cafe-Caruso-857854430957739
Post Tags
Post Categories