Vegan Night at The Greyhound, Derby
Posted on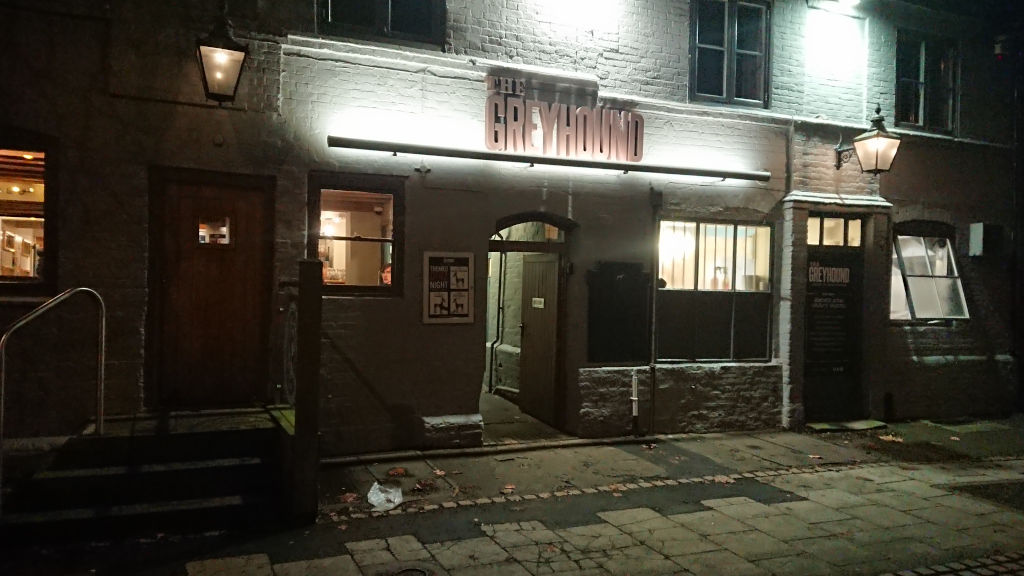 Although I do like my meaty dishes I am becoming more partial to the odd meat-free dish. I've even on occasion made a suggestion of visiting a vegan eatery (YES, it was MY idea to visit Thrive in Cambridge). So with a few nights away in Derby approaching, which just so happened to be during Valentines night, I once again looked for vegan-friendly restaurants that we could pay a visit to. After becoming unsure about my first choice of venue I then remembered that there was another eatery in Derby that offered vegan options. In fact the venue in question was even doing a regular meat-free night, and so we agreed on an evening out to The Greyhound, a real ale pub and restaurant venue located on the edge of Derby City Centre.
New life in the old hound
The Greyhound pub is owned and run by Derby Brewing Company, an independent brewer who run a small number of pubs in and around Derby. Among their venues are two pubs in Derby that were previously derelict and run-down before the company took then on and turned into thriving watering holes – these are The Greyhound on Friar Gate, the other one being The Tap in the city centre.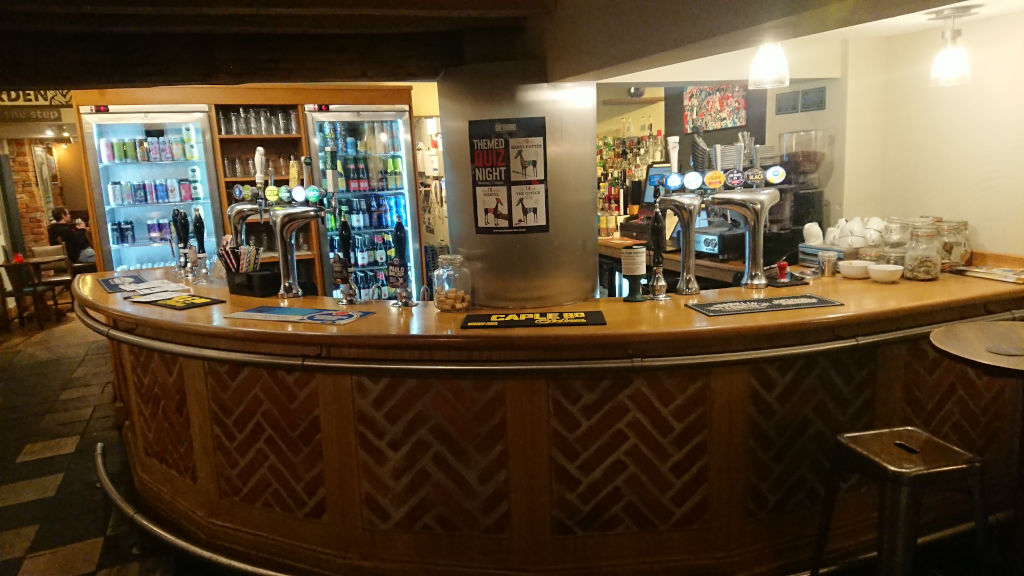 As a pub The Greyhound is a lot bigger than it appears just from looking at the front. OK so as you enter the bar you have what appears to be a typical yet spacious 'snug' area, but then go past the bar towards the rear of the venue and everything opens up. At the other end of the bar is a slightly larger dining/drinking area, and then next to that you have a covered patio area. There are also a few more seats in outdoor parts of the venue along with an upstairs function room that can be hired out.
In short The Greyhound has plenty going for it, and we haven't even covered the food and drink offerings.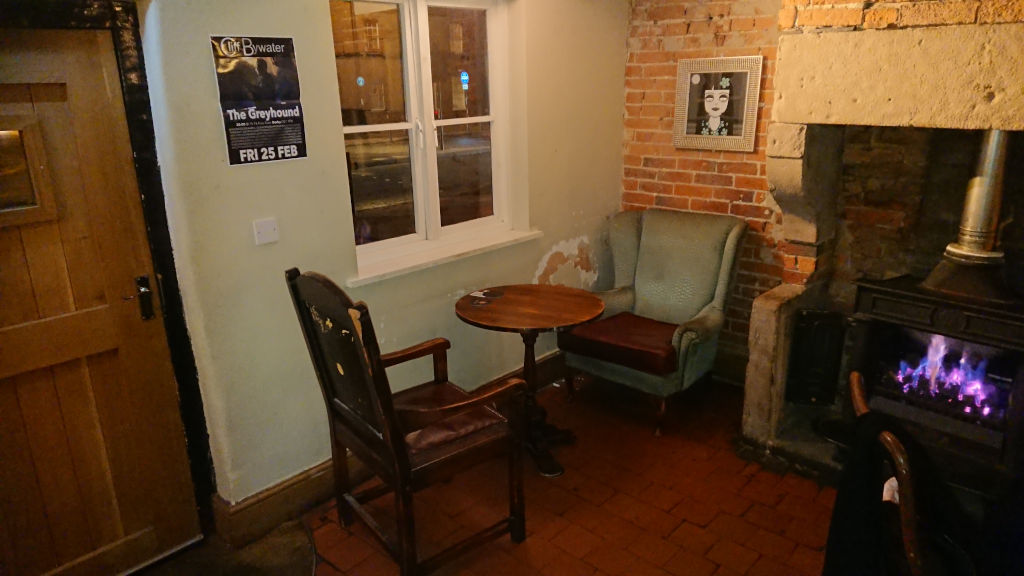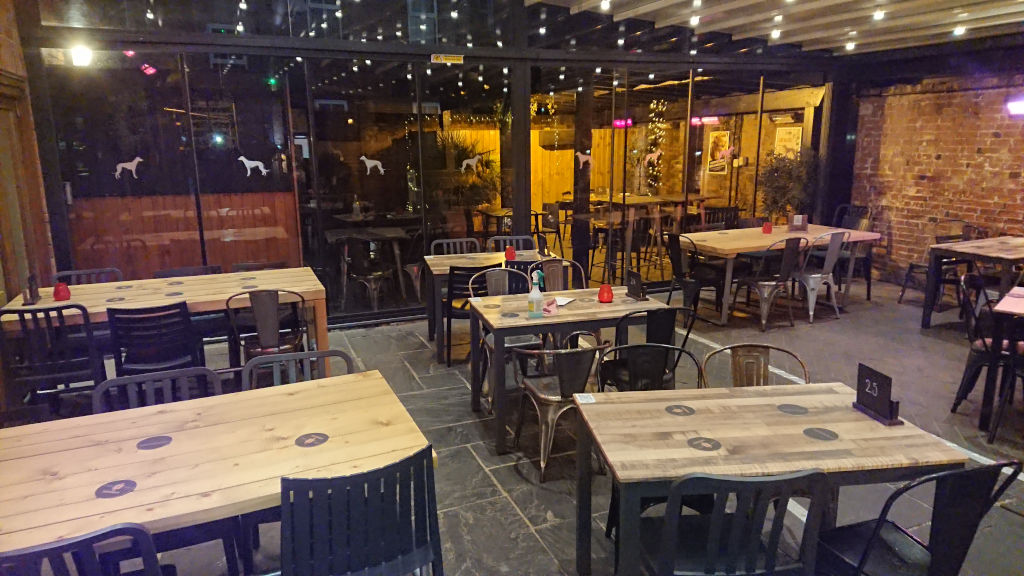 You ain't nothing but a 'Not Dog'
With regards to the food offering The Greyhound has positioned itself as a Smoke & Craft house. The menu here features several dishes including burgers, hot dogs, sandwiches and more. On most days of the week there are plenty of meaty dishes available, but on Tuesdays things are completely different as The Greyhound's food offering goes totally meat-free with a menu of vegan street food. The Tuesday vegan menu itself is not that huge, but these regular meat-free nights are (at time of writing) a new thing for the venue so things may well improve if the vegan dishes currently available prove popular.
Anyway the dishes on offer for our visit included a vegan burger, a 'not' dog (that's hot dog in meaty terms) and a vegan meatball sub. After some deliberation I opted for the burger dish on offer, the Moving Mountains Burger – a meat-free burger patty with satay sauce, toasted peanuts, siracha sauce and red cabbage slaw. However on this occasion I opted not to have the siracha sauce in my burger.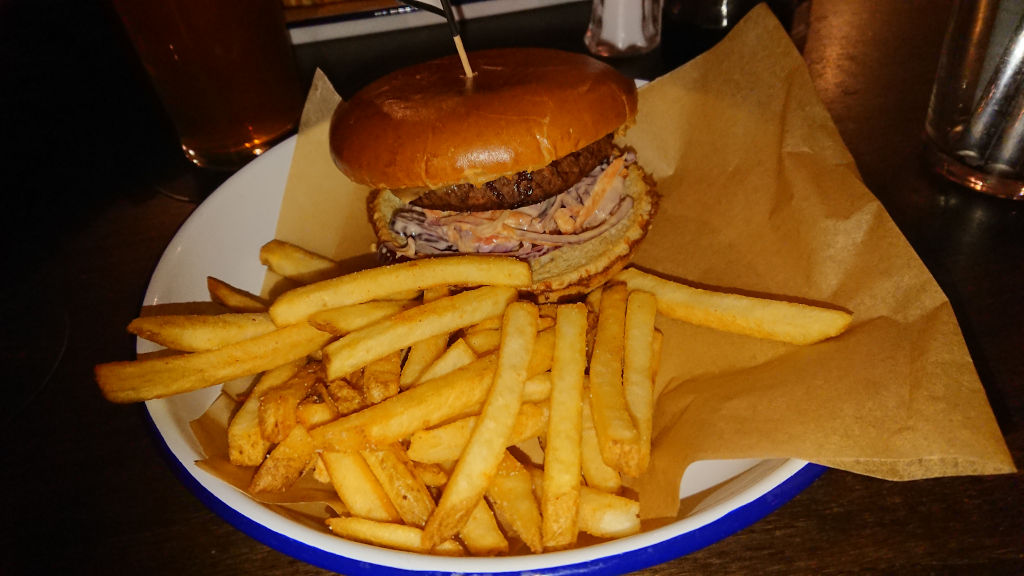 My dining partner decided upon the Notdog, a vegan hotdog with siracha hot sauce, American mustard, crispy onions, and jalapenos. Again though the siracha sauce was left out by request.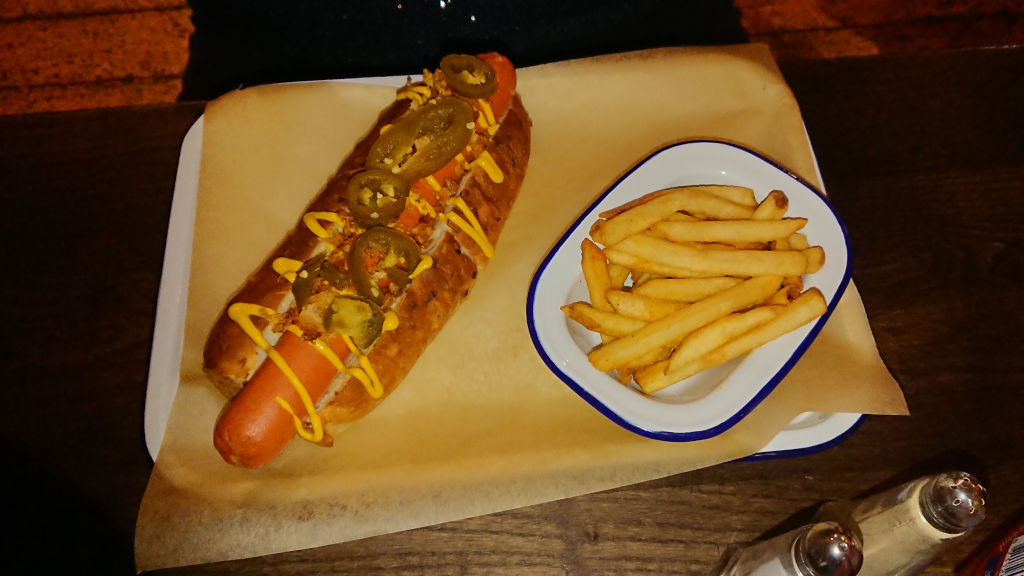 Both dishes came with a side serving of seasoned fries, a compulsory accomplishment of course (FACT!). Both of us enjoyed our respective dishes here. For me the burger was really tasty throughout, and considering that I'm normally a very fussy eater I actually enjoyed the satay sauce, peanuts and slaw in my burger when I could have simply asked for a plain burger, but I'm so glad I didn't.
Room for something sweet?
Keen to make the most of what was a rare night out for us we went for a dessert. We both opted for the Homemade Triple Chocolate Brownie with vegan vanilla ice cream. It was a nice sweet treat to finish off the evening for us, and from a personal point of view I'm glad there was no sauces as such smothered on top. However given that the serving of this dessert was a little bit small we did think this was a tad expensive at £5.50 each.
What about the beers?
In terms of liquid refreshments The Greyhound has a huge range of drinks for you to choose from whether you prefer real ales, craft beers, wines, soft drinks, etc. Normally we'd go for an ale but we decided to opt for something different and try out one of Derby Brewing's craft beers. After deliberation we each settled on a pint of Folsch, a light German-style beer (or should that read bier?) at 5%. Whilst it was certainly refreshing for me it did have a somewhat bananary taste to it. It wasn't a bad drink at all, but I'm sure if I would go for this particular beer again.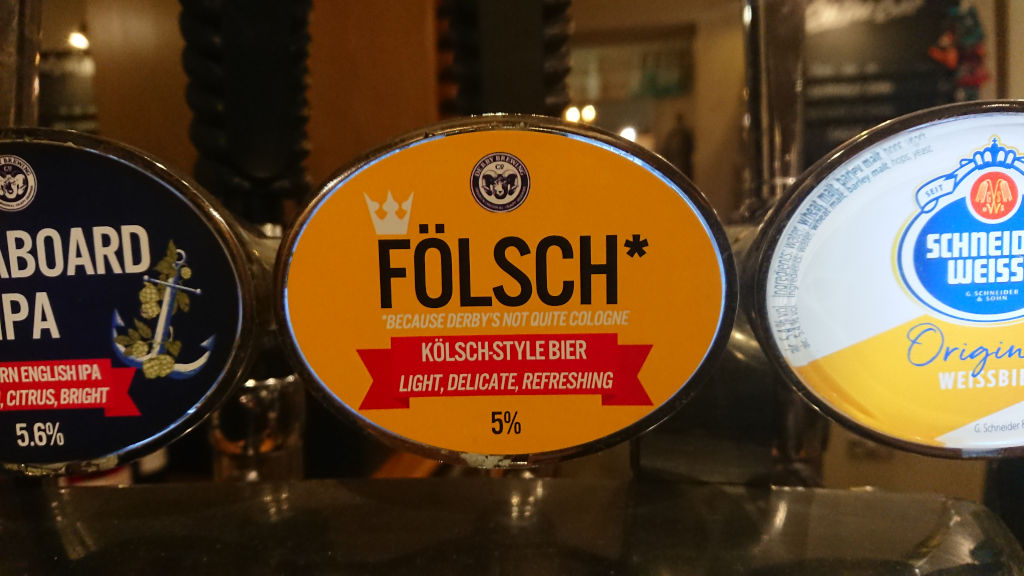 So, overall thoughts
I've always been a fan of The Greyhound having visited this pub on a few occasions, and this was not the first time that I've had a meal here. On all of these previous visits I've left The Greyhound rather satisfied, and I'm happy to say that same was the case following this vegan night visit. The food was excellent, the staff were fantastic, and the whole evening was just really enjoyable. As mentioned the regular vegan nights are relatively new for The Greyhound (only been running for approx 2-3 weeks at time of visit). If our positive experience of vegan night is anything to go by then The Greyhound's meat-free offerings will go on to be a resounding success, and I hope that is the case.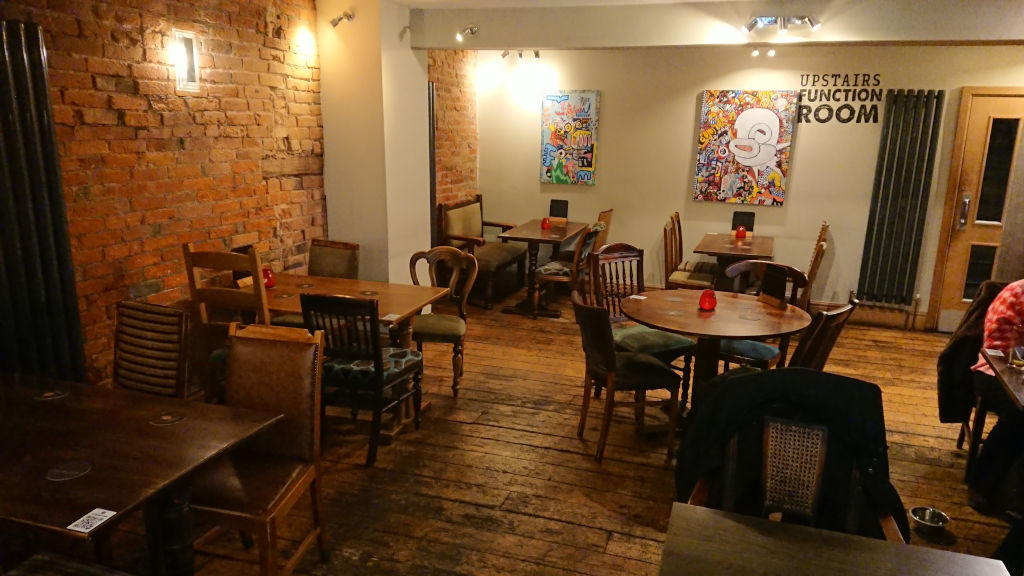 Finding the venue
The Greyhound is located on Friar Gate in Derby, a short walk away from the city centre. A few bus services run past the restaurant from the city centre including Arriva Derby service 8 and Trent Barton's Swift service.
Address – 75-76 Friar Gate, Derby, DE1 1FN
Website – https://www.greyhound-dbc.co.uk/
Facebook – https://www.facebook.com/greyhound.derby/
Twitter – https://twitter.com/Greyhound_Derby
Instagram – https://www.instagram.com/thegreyhoundderby/
Post Tags
Post Categories