The Angels Micropub, Belper
Posted on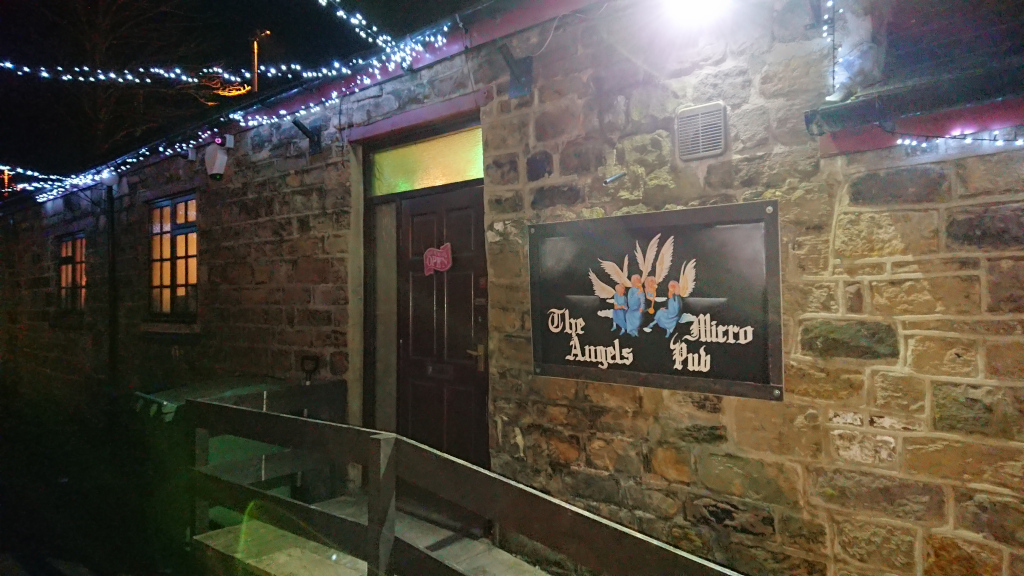 About 8-9 miles north of Derby is the town of Belper, a thriving market town that was recently crowned as Champion High Street for England at the Great British High Street Awards. With such a variety of shops, pubs and eateries it's not hard to see why Belper won such recognition.
On the subject of pubs Belper has plenty of good watering holes to sample, including a small number of micropubs at both ends of the main street. For this article we head to the top end of Belper Town Centre, to the market place to be exact, to visit the town's first micropub – The Angels.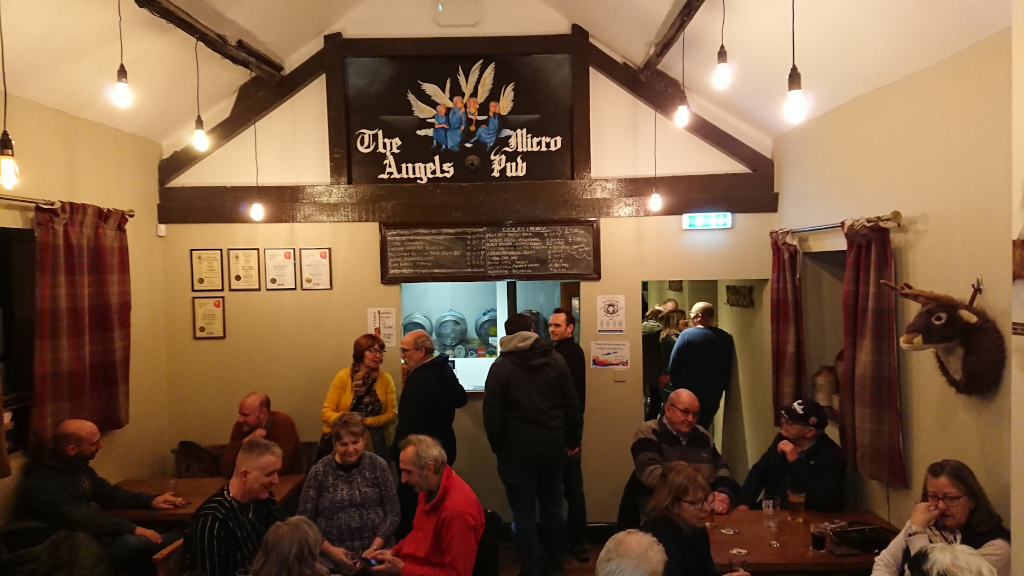 Old Building with History
This little watering hole is situated in an old cottage-type building that has previously been used for things including a cafe and a hardware shop. Upon arriving at the market place the micropub itself is slightly tucked away at first.
Once you step inside the venue and enter the main room you are immediately drawn to a huge mural painting of Belper North Mill, a well-renowned landmark in the town.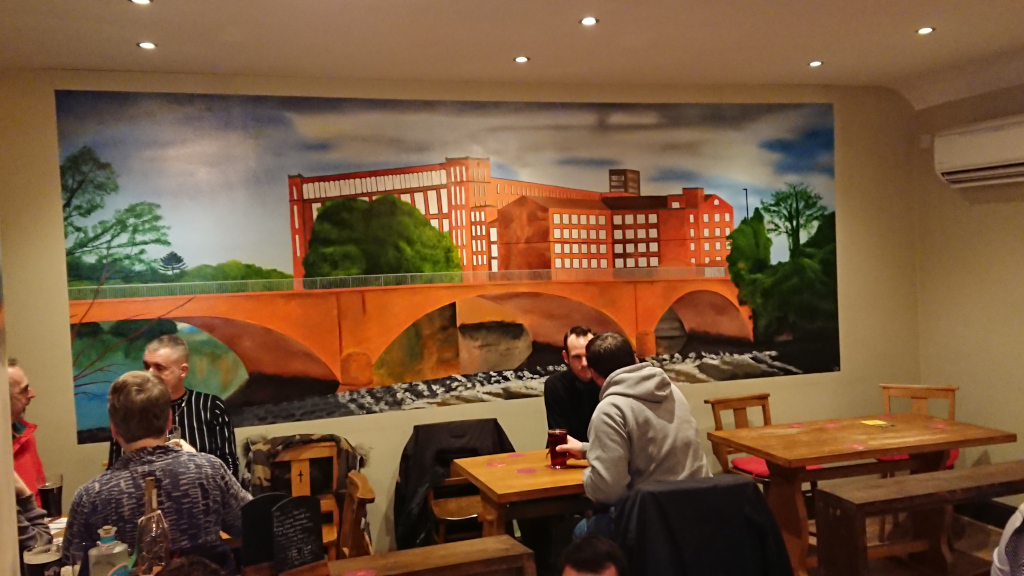 There are a couple of other paintings inside including one of the former Angel Inn pub in the town, which is the inspiration behind the naming of this micropub.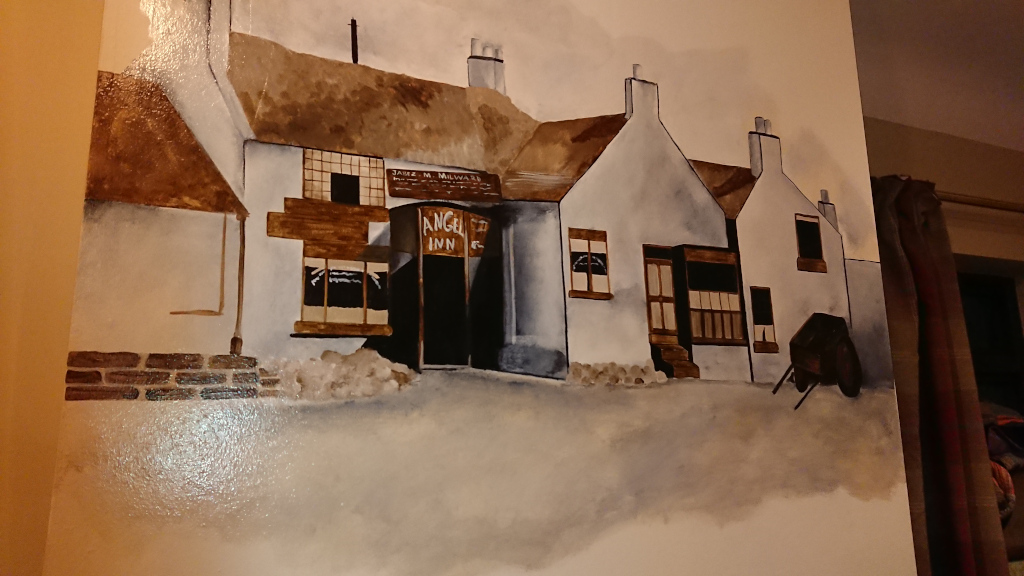 Micro Beer Festival anyone?
The Angels Micropub is open on Thursdays-Sundays (at time of writing) and operates as a mini 'beer festival' each weekend. In essence here once a beer or cider has gone it's gone, and new tipples are in place for the start of the next weekend operation.
The mini 'beer festival' operation is well reflected in the range of beers and ciders available at The Angels. Real ale fans have up to eight different tipples to choose from, all straight from the cask. Cider and perry fans are also in for a treat here with up to nine different tipples available. Other drinks on sale at The Angels include wines, gins, bottled beers, and soft drinks. Snacks available to purchase here include crisps, pork scratchings, pork pies, and cobs.
Another pint with the angels?
The answer to the above question is YES, if it's referring to the Angels Micropub and not the ones up above (if you believe in that). This is a great micropub with a fantastic range of beers and ciders available, plus friendly and helpful staff. I'm also impressed with the interior setting of this micropub especially with the murals giving the place a lift inside.
Needless to say a trip to The Angels Micropub in Belper is well worth a visit. Indeed judging by my visit here (on a busy Saturday night) several more punters will agree here.
Finding The Angels Micropub
The Angels Micropub is located in Belper Town Centre and is easily accessible via several bus and train services that serve the town.
Address – 29 Market Place, Belper DE56 1FZ
By bus
Bus services running into Belper Town Centre include:
The Sixes (Trent Barton)
Transpeak (High Peak Buses)
By train
Nearest railway station – Belper Railway Station
Useful links
Facebook – https://www.facebook.com/theangelsmicropub/
Instagram – https://www.instagram.com/theangels_micropub/
Post Tags
Post Categories