The Yard, Derby
Posted on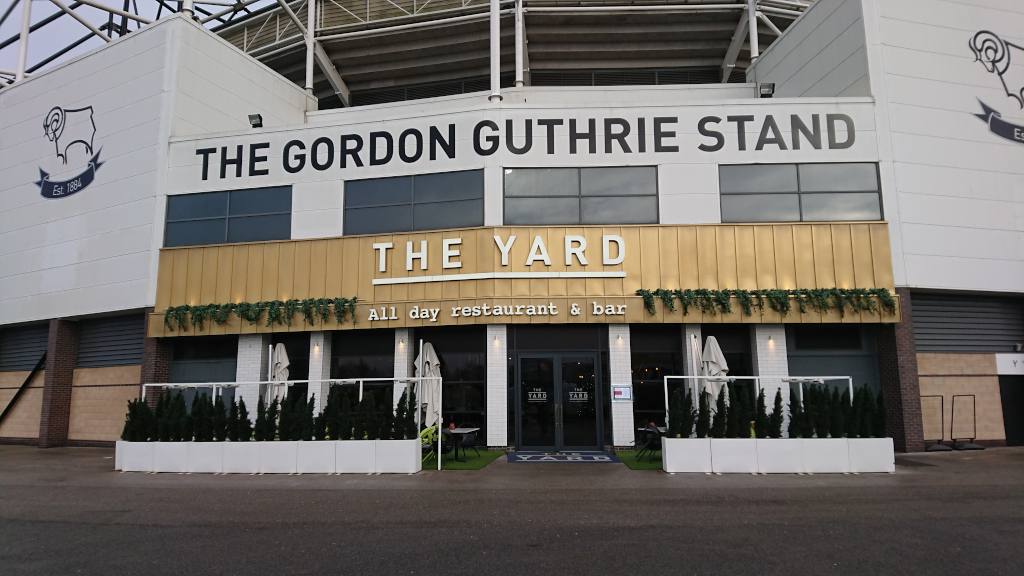 I've mentioned elsewhere on this site that I'm a huge Derby County fan and I've made a compulsory mention of this in a number of visits to various sports venues, whether it's their home ground, Pride Park Stadium, or an away trip.
Of course you don't have to be a Derby fan in order to visit their home ground, or even be a football fan at all for that matter. Indeed as well as watching the beautiful game you can also go to Pride Park Stadium for a corporate event, a special event i.e. a wedding, or just for a bite to eat. And eat is what we did at Pride Park one Sunday lunchtime after enjoying a stadium tour (which I do recommend BTW). Time to call in at The Yard.
Not just for football fans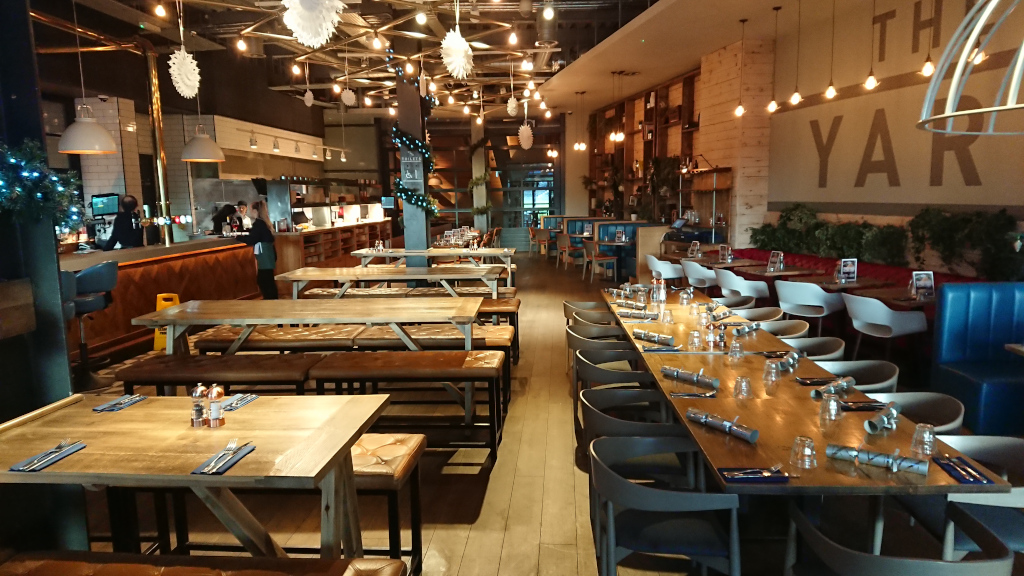 The Yard is Derby County's in-house bar/restaurant situated in the stadium's South West corner, and caters for casual diners as well as football fans looking for pre-match or post-match grub. Upon entering you get more of a feel for this with plenty of tables inside for diners along with two sets of big TV screens at each end of the venue.
Indeed on match days The Yard does get busy with fans enjoying food and drink both before and after the match, and during such times they'll get to watch another game that's being shown live. In a way it's like the next best thing to actually being at the game.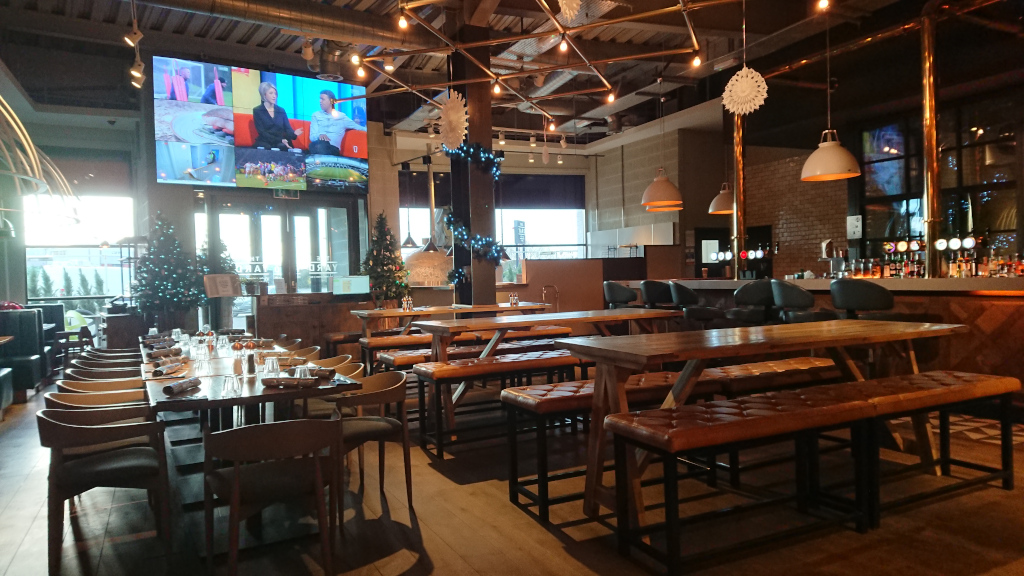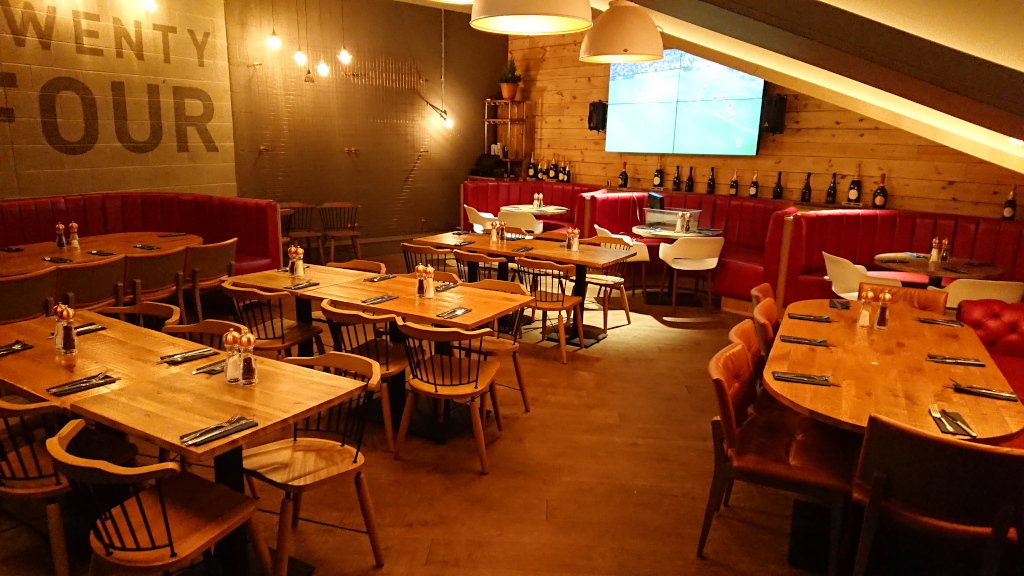 A non-match lunch
On this particular occasion we went to The Yard on a non-match day, therefore it was a lot quieter than it would be when The Rams are in action. We only really wanted something to keep us going for the 2-hour drive back to Cambridge, so we decided against starters and went straight to the main course.
A variety of dishes are available at The Yard including burgers, sandwiches and pizzas, and it was the later that we both opted for here. We've both eaten pizzas on previous visits here and we were happy to do the same this time around.
The pizzas available at The Yard are all stone baked Neapolitan-style, freshly made. My choice was the New York Twist, a margarita pizza topped with chicken, bacon, avocado and goat's cheese. This pizza was tasty and filling throughout and I even enjoyed the avocado, an ingredient I wouldn't normally touch. There was a hole in the pizza (see if you can spot it below) but this was rather small so it didn't bother here at all (plus it was proof that it was made fresh and not a pre-made base).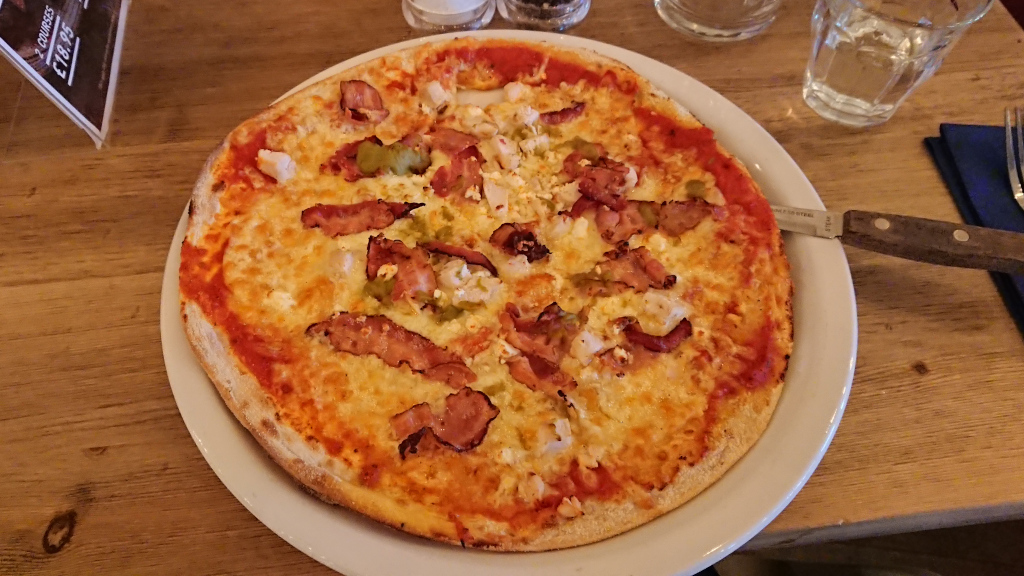 My dining partner opted for the Vegetable Supreme, or in this case we should say the 'Vegan Supreme'. This pizza normally comes with feta, kalamata olives, spinach, sun kissed tomatoes, and artichoke. However on this occasion the feta was swapped out for vegan cheese. Indeed all pizzas available at The Yard can be adapted for various dietary requirements including lactose and gluten intolerance. Anyway this pizza also delivered well in terms of taste and filling – a good recommendation for vegetarians and vegans visiting The Yard.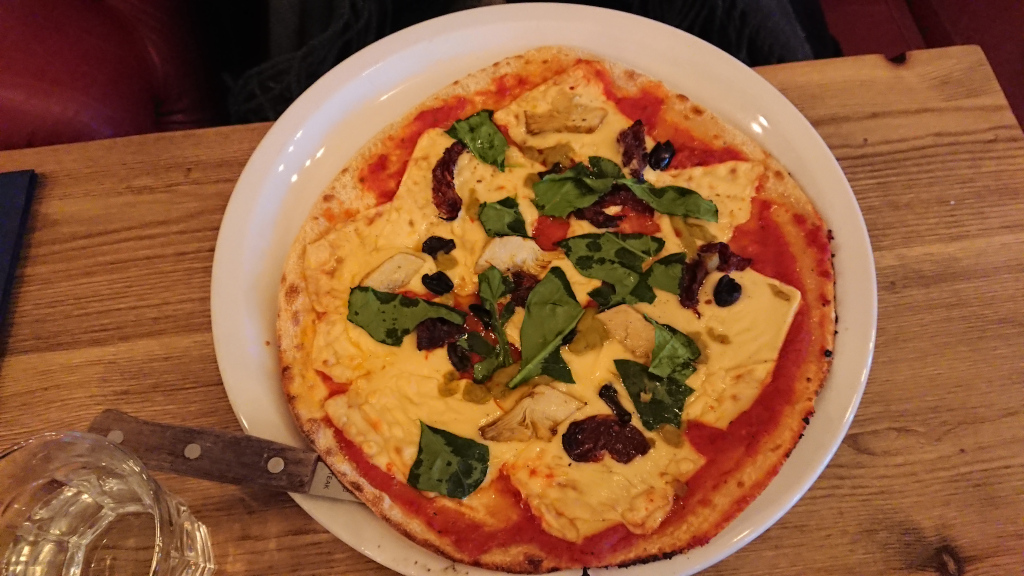 Back at The Yard again?
Without being biased here we like The Yard a lot for a number of reasons. It has a relaxed feel inside even when really busy. We like being able to watch games on the big screens whilst enjoying food and drink at the same time. The meals that we've had here have been really good (especially the pizzas). The staff are great here also, really friendly and helpful on all occasions that we've visited here.
Whether you like football or not, if you are visiting Pride Park in the future then I do recommend a visit to The Yard.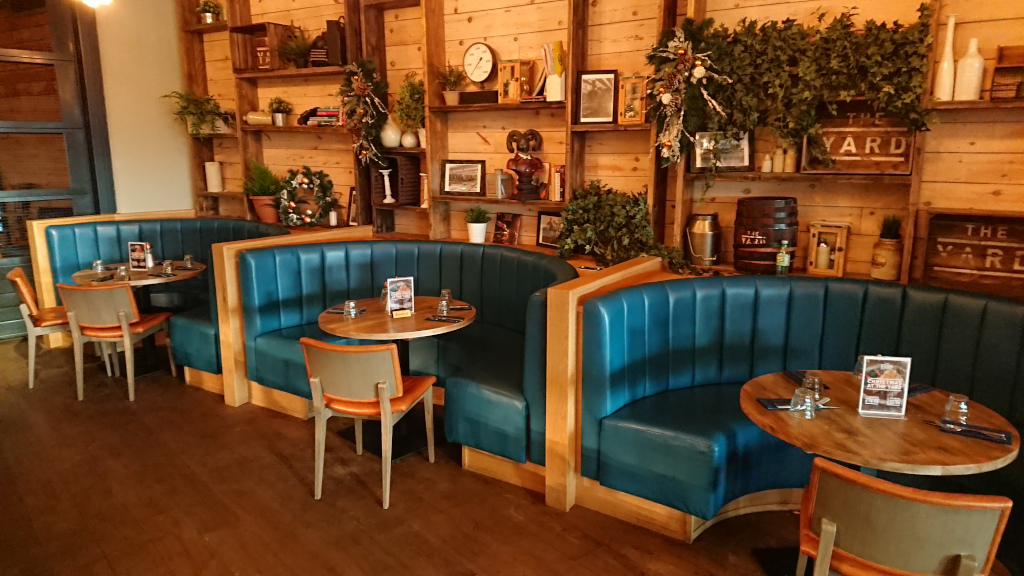 Getting to The Yard
The Yard is located at Pride Park Stadium in Derby, and is a 20-30 walk from the city centre. A small number of buses run to the stadium from the city centre, and Derby Railway Station is a 10-15 walk away from the stadium.
Address – The Yard, Pride Park Stadium, Pride Park, Derby DE24 8XL
Website – https://theyardderby.co.uk/
Facebook – https://www.facebook.com/theyardderby/
Twitter – https://twitter.com/The_Yard_
Instagram – https://www.instagram.com/the_yard_restaurant_/

Post Tags
Post Categories