Bus Route Review – Trent Barton Red Arrow
Posted on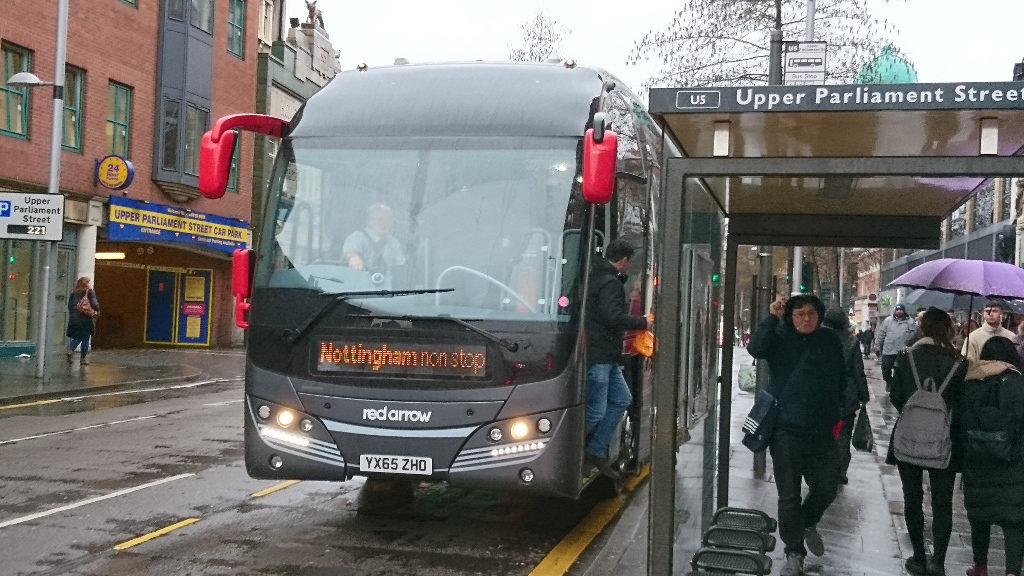 Originally published on worksbyadam.com on 26th March 2018. Post now republished here and updated following more improvements to the service.
Anyone who knows me well will be able to tell you that I like to get out and about whenever I can, whether it's to visit a micropub, to attend an event, or generally just to get out of the house. Often when traveling is involved I do when possible prefer to leave the car at home and opt instead to travel by bus.
Now all too often you hear only negative stories about bus travel whether it be about fare increases, service cuts, dirty buses, overcrowding, etc. However there can also be a lot of positive things about bus travel that can outweigh the negatives, but often don't get publicised enough for my liking. Often when I travel by bus I do so because in most cases I find it cheaper than driving when you consider fuel costs, depreciation, parking fees, etc – and then there's the job of actually finding a parking spot in the first place.
So at least with the bus I can just get off at my destination without the hassle of parking, something that I can often do without especially when visiting a city destination. One bus service that is a prime example of this hassle-free travel option is Trent Barton's Red Arrow service that links the East Midlands cities of Derby and Nottingham.
An alternative to driving?
Red Arrow is a fast and direct coach service that runs every 10 minutes Monday-Saturday daytime. The service also runs in the evenings, Sundays, and there are even late night departures in the early hours every night except Sundays (Mon-Sat 24 hour service was added in September 2018). It goes along the main A52 dual carriageway that links Derby and Nottingham, thereby mirroring the route that most car drivers would take when traveling between the two cities. It is mostly a non-stop service, stopping only in both city centres as well as at Nottingham's Queen's Medical Centre (QMC), near the University of Nottingham.
My Red Arrow Journey
On this particular occasion I decided to use Red Arrow to transport me to Nottingham where I would attend a special Tequila launch event (well obviously driving would be a bad idea full stop). So it was simply a case of getting to Derby Bus Station, find the Red Arrow bay, 'tap on' using my Mango card (more of which later), find a seat, and relax. What's more there is also FREE WI-FI on board the coach (though it is capped) as well as folding tables and USB ports in front of the seats, so you can browse the web and charge your phones and tablets whilst being driven to your destination – BONUS!!
The journey from Derby to Nottingham on Red Arrow would be scheduled to take around 35 minutes, but on this particular occasion the journey actually took around 40 minutes due to an incident on the A52. Now delays due to accidents can be a regular occurrence especially with the amount of traffic on today's roads, and in most instances buses will simply get caught up in the delays (along with all other delayed vehicles) and therefore the buses (and more specifically the drivers) can not be blamed at for being late as a result. Besides I did leave myself more than enough time to get to my destination on time, and the delay did allow more time for my phone to charge so it wasn't all bad news. Roadworks are all too often another cause of delay for buses in general, but again the buses and drivers can't be held at fault here.
Accident passed and I eventually arrived in Nottingham, as said 45 minutes after leaving Derby due to the mentioned incident, and apart from the delay the journey was rather pleasant. As well as the high-tech creature comforts the coaches also have comfortable reclining seats, air conditioning, reading lights, and curtains. The return journey later that evening was quicker, obviously due to the time of day and there being no incidents to delay us further.
Fares and payment
In terms of fares Red Arrow is good value for money when compared to driving. The initial journey from Derby to Nottingham cost me £4.88 on my Mango card, and the whole days travel was capped at just £5.50. This is because Mango has a daily cap meaning that you can make as many journeys as you like on Red Arrow and all other Trent Barton buses in one day without paying any more than the daily cap in total. In this case I made two Red Arrow trips and a late evening journey on another Trent Barton service, so my 3 trips would average out at around £1.83 each.
This daily cap does represent really good value for money especially when you consider how much you would have to pay to park your car in the city centre, and don't get me started on how much you would spend on a taxi instead!!!
Please note though that the £5.50 cap does not apply for journeys made before 9:00am on weekday mornings.
For non-Mango users your best option would be to buy a ZigZag ticket, which again allows all-day travel on Trent Barton buses.
Go Red Again?
I've been a fan of Red Arrow for a few years now and have seen the service improve a lot during such time – more frequent coaches, USB ports, WI-FI, etc. Add to that the excellent drivers and the fast route and is clear to see why I think Red Arrow is a fantastic bus service, and why it will always be my number 1 choice of transport for traveling from Derby straight to Nottingham (and back).
Website – https://trentbarton.co.uk/services/redarrow
Disclaimer – All views mentioned above are 100% my own and are not necessarily representative of Trent Barton. Prices mentioned correct at time of original publication (26th March 2018) and given in good faith.
Post Tags
Post Categories