Nomade Micropub, Lyon
Posted on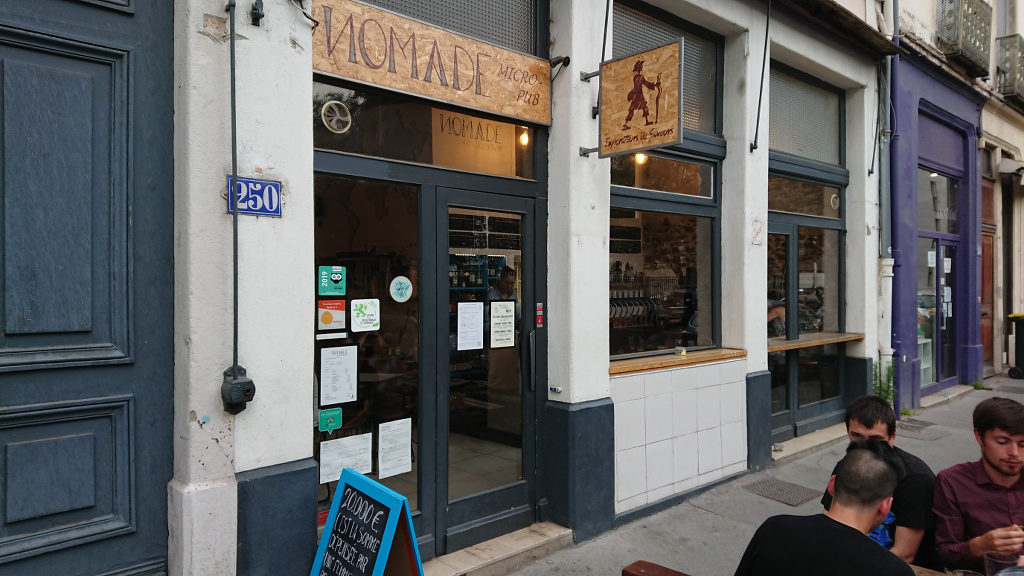 I don't need to remind you about how big a fan I am of the micropub movement having visited several such small watering holes in and around the Midlands area. So imagine my delight (and surprise) when I discover that there is a micropub in…. Lyon in France.
That's right, when I found out about a micropub in the French second city that I would be visiting for a few days my immediate thought was that I've just got to pay this little boozer a visit – and so I did.
Bienvenue au micropub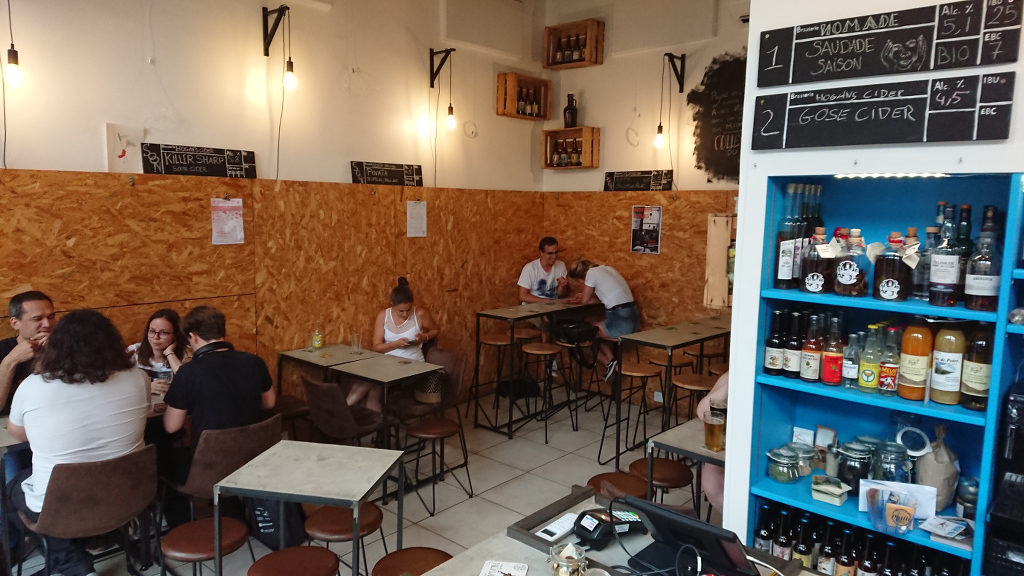 The micropub in question is the Nomade Micropub, located in Lyon's 3rd district (arrondissement). For us getting to the micropub involved a 30-40 minute walk from our apartment on what was a hot and humid day, so we were relieved when we finally arrived at the venue, and even better was that the venue was air-conditioned throughout. Outdoor seating was also available but we wanted to take advantage of the cooler indoors, plus we felt it was too warm and humid to stay outside.
Livres et Jeux (Books and Games)
At the Nomade there are plenty of books available for your reading pleasure (both in French and English), as well as a selection of popular games (all in French). Also of interest, above the books and games, is a rather cute world map.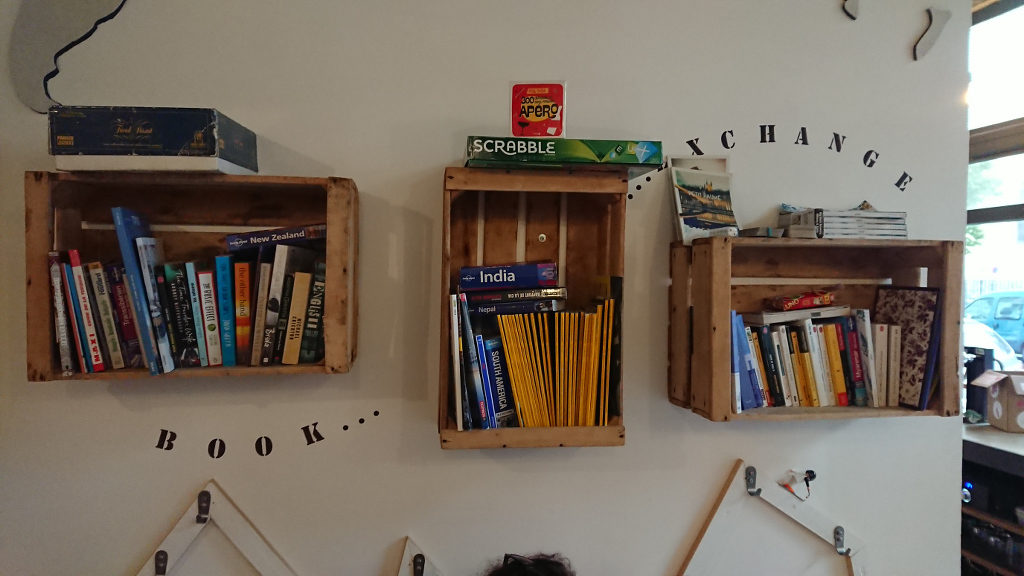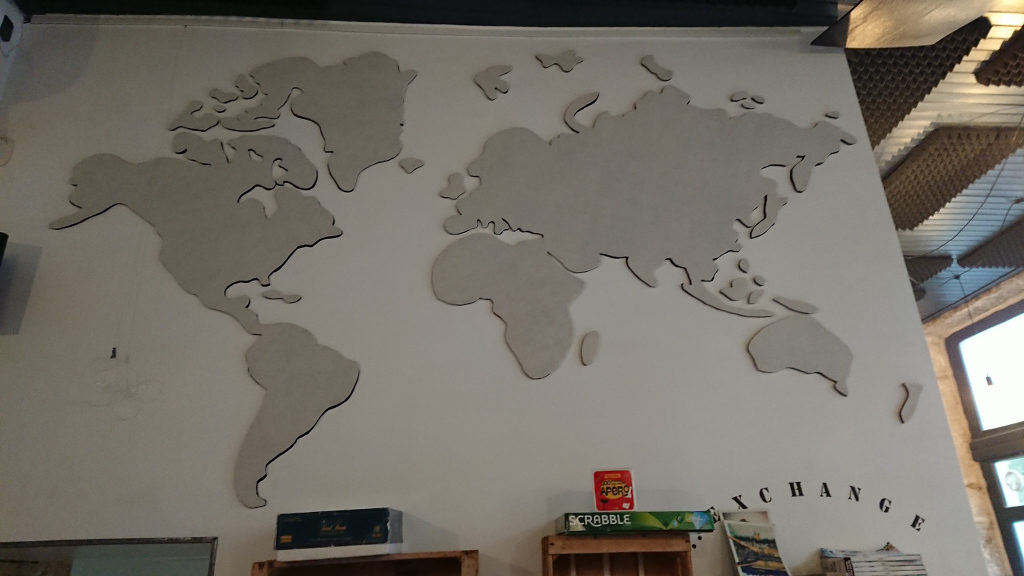 Un real ale (ou deux)
s'il vous plaît
So how does the drinks choice at Nomade stack up? Well if real ale is your favourite tipple then you are definitely in for a treat here with 10 (yes, TEN) different ales available to you. Most of the ales on offer are from Nomade brewery but guest ales are also present, both from France and other countries including (on our visit at least) a couple of UK ales.
On our visit we opted to try a couple of Nomade's own brews:
'Go Your Own Way' – a pale ale
'Noire' – stout
Both of these ales were pretty good indeed. The pale ale that I sampled wasn't to dissimilar taste-wise (although slightly more bitter) to the White Feather pale ale that I often have when I visit the Brunswick Inn in Derby.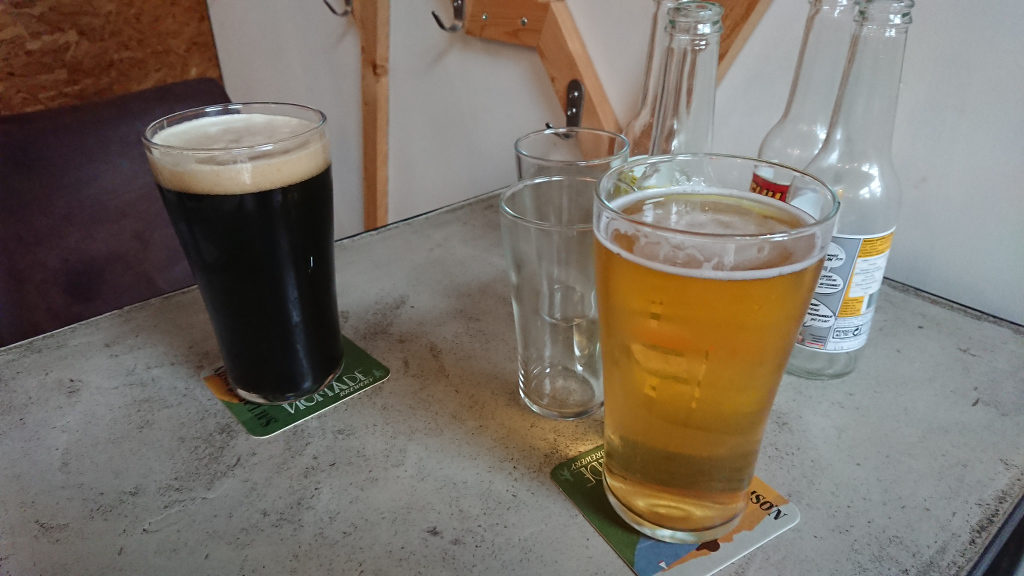 Nomade also sell beers for you to take away, perfect if you want to buy some to take back home with you. Other drinks available include cider, wines, whiskeys, spirits, and soft drinks. We actually started on soft drinks given how warm it was – in this case we each had a couple of glasses of clear cola that did taste quite nice.
Un petite micropub cool (A cool little micropub)
I never imagined that I would visit a micropub outside of the UK so I'm more than delighted that venues such as Nomade Micropub in Lyon exist. It's a cracking micropub with a fantastic range of beers available and the staff are superb as well, even speaking in English when needed (I did try to speak French when I could – it's only polite).
I so want to pay another visit to Nomade Micropub the next time I'm in Lyon.
Location
Nomade Micropub is located in the 3rd district (arrondissement) of Lyon.
Address – 250 Rue André Philip, 69003 Lyon, France
Website – https://nomadebiere.fr/en/micropub_en/
Facebook – https://www.facebook.com/nomademicropub/
Instagram – https://www.instagram.com/nomade_brewery_/
Post Tags
Post Categories