The Hole In The Wall, Mickleover
Posted on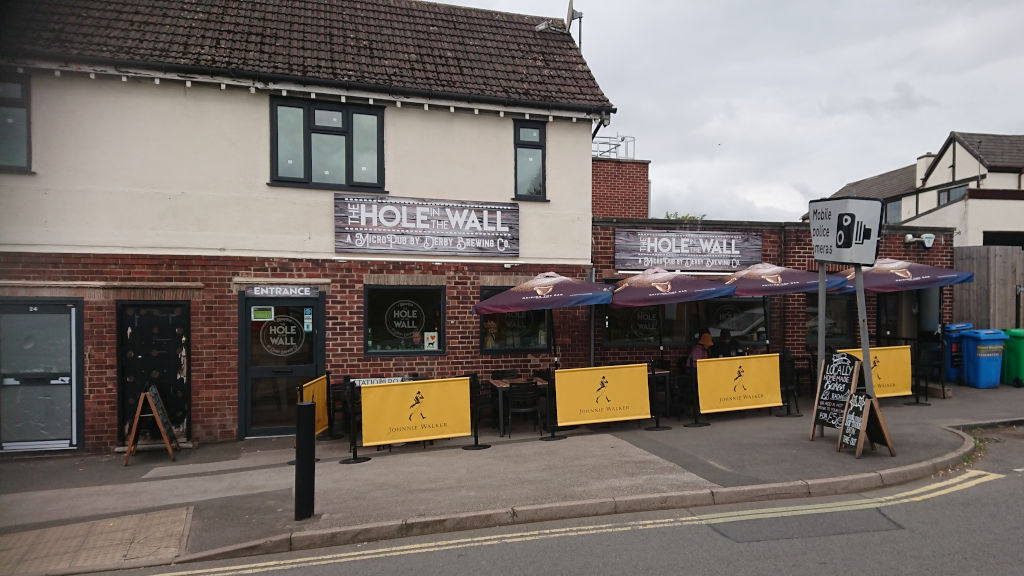 Believe it or not it's been 2½ years since I last visited a new micropub for the first time. This was back in February 2020 before the first Covid lockdown when I visited the Dog & Parrot and The Millipede micropubs in Nottinghamshire. Fast-forward to September 2022 and it was time to do something about this lack of visiting new micropubs by, yes you've guessed it, visiting a new micropub. In this case a trip to the Derby suburb of Mickleover, first to watch a Derby County Women's football match then followed by a visit to The Hole In The Wall.
My bank's now a micropub
This is another venue opened up by Derby Brewing Company, who have a great track record of taking over vacant buildings and transforming them into thriving watering holes. A prime example being The Greyhound, which was vacant for a while before being brought back to life. Having previously breathed new life into bigger-sized units such as The Greyhound, The Hole In The Wall would be Derby Brewing's first venture into small watering holes.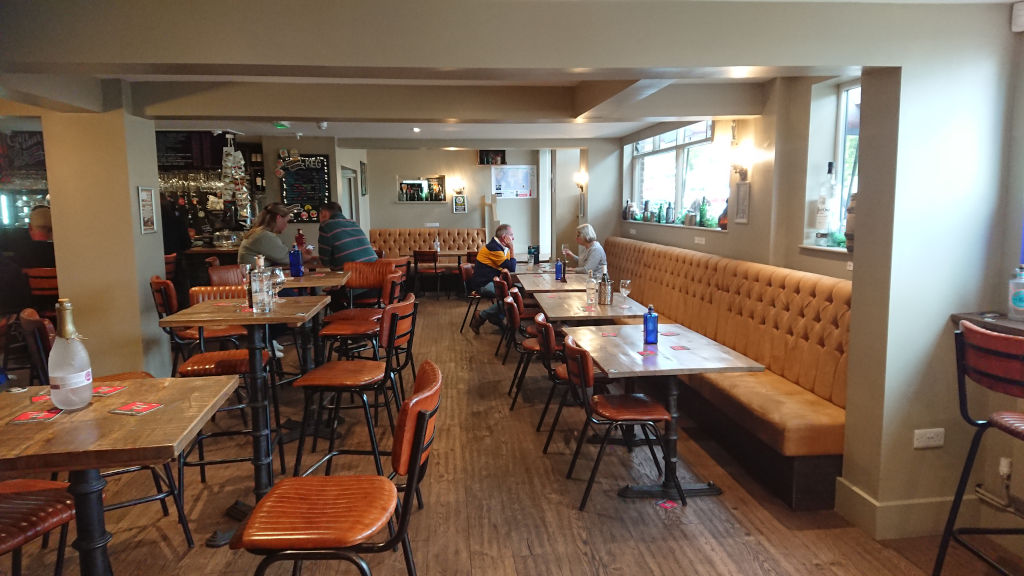 The name of this micropub is a rather big clue to what this place used to be before it became a small watering hole. Yes you've guessed it – a bank. The phrase 'hole in the wall' is used as a nickname to the ATM's, or cash machines to you and me, where people withdrew cash. Now this building serves a different purpose, one where upon making a payment to the bar-person you can now withdraw beer and other liquid refreshments.
Now I mentioned about this venue being a small watering hole, but actually this is anything but small. There is plenty of space here with several tables and chairs to boot. There's also outdoor seating available right by the front entrance to the venue.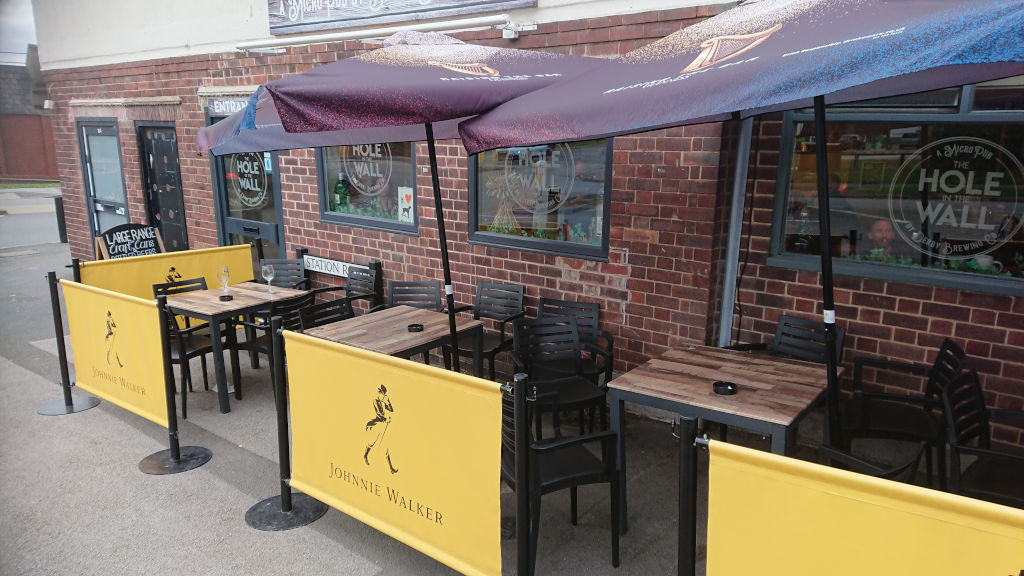 Cheque-ing out the beer range (excuse the pun)
As is the case with all other Derby Brewing Company venues The Hole In The Wall has an extensive range of liquid refreshments available to suit all tastes. Starting with the beer range there is a choice of up to six cask ales here with a mix of Derby Brewing beers along with guest ales. As is often the case when I visit a micropub I would opt for a cask ale – in this case I sample a pint or two of 'On Clowes 9' one of Derby Brewing's special pale ales and named in honour of David Clowes, the new owner of Derby County Football Club.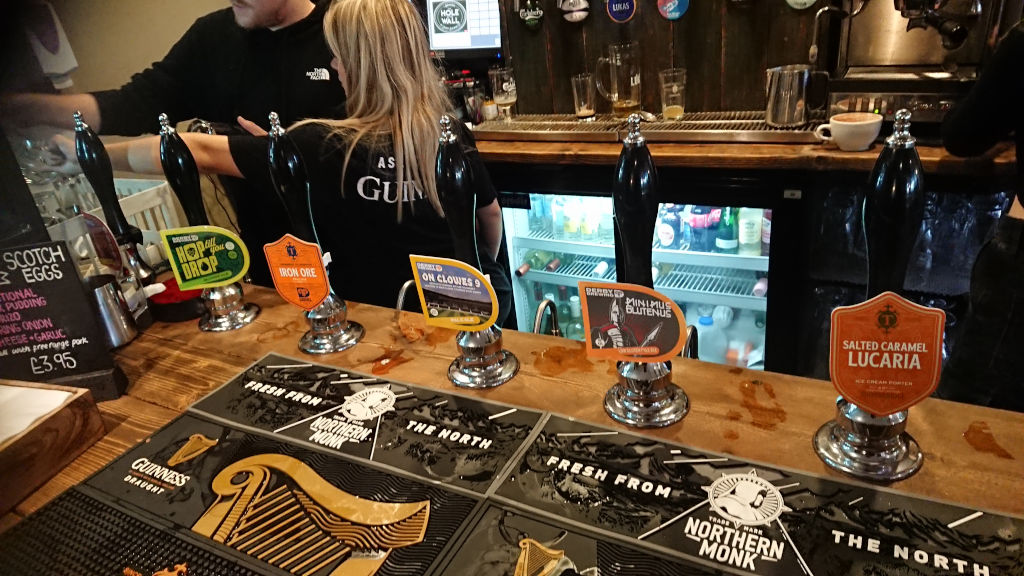 There's also a wide selection of keg beers, bottled beers, gluten-free and alcohol-free beers, gins, wines, spirits, whiskys, and soft drinks available. If you fancy a nibble to go with your tipple then you have pork pies, scotch eggs, crisps, and nuts among the snacks available here.
A micropub you can bank on
The Hole In The Wall is another shining example of old units being given a new lease of life, and it was certainly lively on my visit (on a last Sunday afternoon). There was a good atmosphere here and if what I witnessed here is anything to go by then it's fair to say that this is a very welcome addition to the micropub scene in Derby.
Getting to The Hole In The Wall
The Hole In The Wall is located in Mickleover, Derby and is easily accessed by local bus routes that serve the area.
Address – 22 Uttoxeter Rd, Mickleover, Derby DE3 0ZQ
Nearest buses – Trent Barton's Mickleover and Villager routes stop right outside the venue
Useful links
Website – https://www.holeinthewall-dbc.co.uk/
Facebook – https://www.facebook.com/theholeDBC/
Twitter – https://twitter.com/theholeDBC
Instagram – https://www.instagram.com/theholedbc/
Post Tags
Post Categories