Breakfast at Annie's Burger Shack
Posted on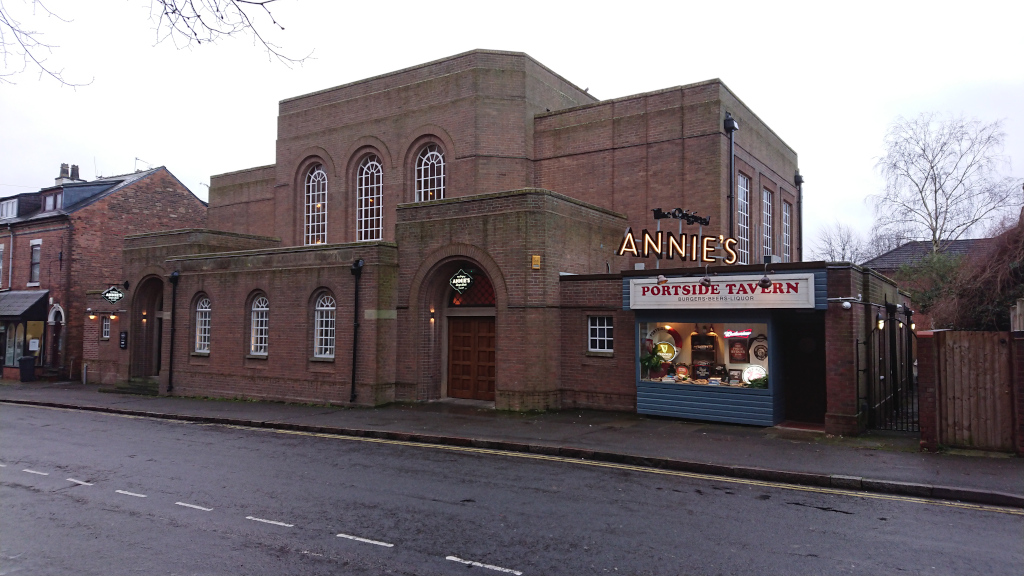 INVITED – Press Breakfast Event
Occasionally my blogging work gets noticed by various businesses and I may even get contact from PR agencies on behalf of an establishment, or even receive contact from a business direct, with an invite to a particular event associated with the business concerned.
Now I don't expect to receive such event invites as such, but it's always a nice feeling when an invite does arrive in my inbox. One such special invite would be sent to me in February 2020 when I was invited to attend a press breakfast event at Annie's Burger Shack in Derby.
Another date with Annie
Now this wouldn't be my first experience at Annie's Burger Shack having already eaten at their Worcester restaurant (currently closed at time of writing), but I've always wanted to dine at their Derby shack – and now here I am (but not for a burger – YET!).
Annie's Derby shack is located in a former church building just outside of the city centre. The building has been beautifully decorated inside and out for its new life as a bustling burger restaurant. We would learn more about why this particular building was chosen for Annie's Derby shack later.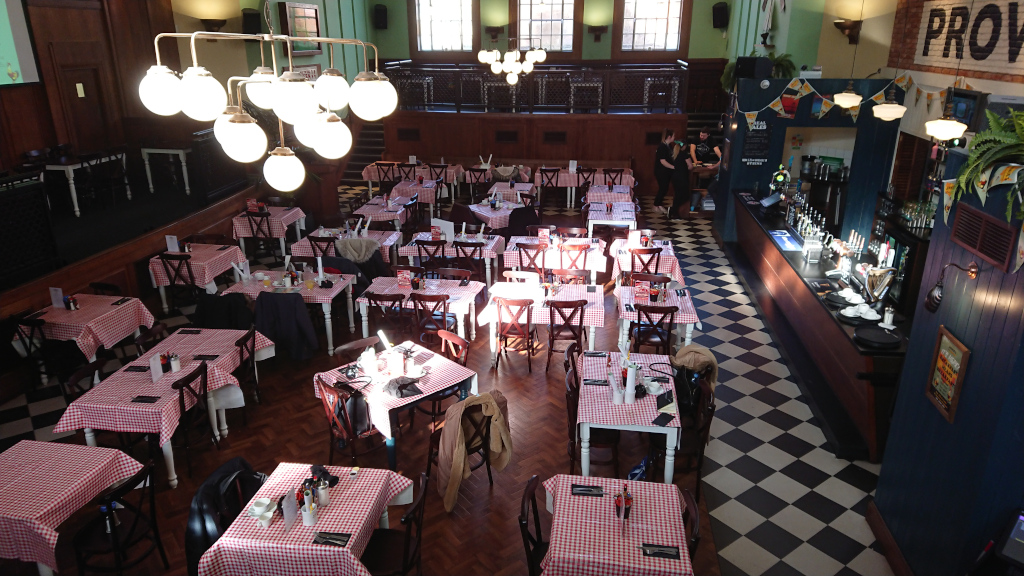 First, let's hear from the lady herself
Upon being seated we'd all make our breakfast choices (more of which in a moment) and receive complementary hot drinks (a pot of tea for me). Before we could enjoy our chosen morning grub we were treated to a special presentation from none other than Annie herself A.K.A. Anmarie Spaziano, the owner of Annie's Burger Shack.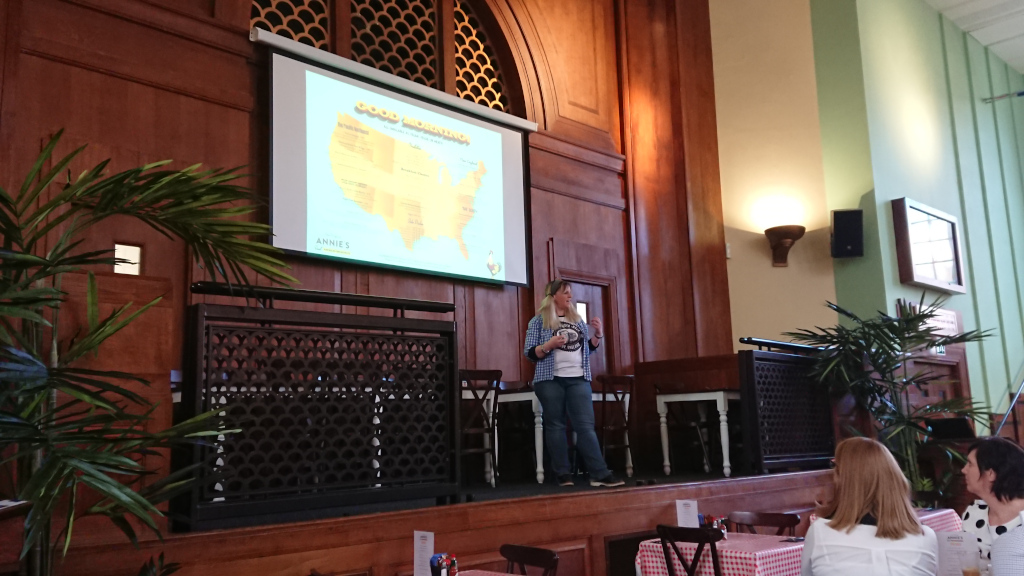 Here Annie talked about her journey so far including her early times at Rhode Island, why she moved to the UK (more particularly the East Midlands), and what she aimed to achieve by setting up a burger restaurant here in the UK (and how it would be different from other restaurants). Annie also spoke about the inspiration behind some of the dishes on offer, including how the UK inspired some of the American classics on offer.
Big Breakfast Choices
With the initial presentation over it was time to tuck in to our breakfast choices that we ordered earlier. The breakfast menu at Annie's Burger Shack offers a huge range of different morning dishes including fry-ups, toasts, burrito, pancakes, waffles, and so much more. Whatsmore the menu states that every dish is available as vegan, veggie or meaty – so I decided to put this to the test big-time with my order.
I opted for The Lumberjack, a hearty breakfast that normally consists of 3 eggs, 3 bacon rashes, 4oz sausage patty, 3 buttermilk pancakes, and either homefries or hashbrowns. However I asked for mine without eggs, and also asked (here I'd test their vegan-veggie-meaty claim) for half-vegan half-meat on both the bacon and sausage.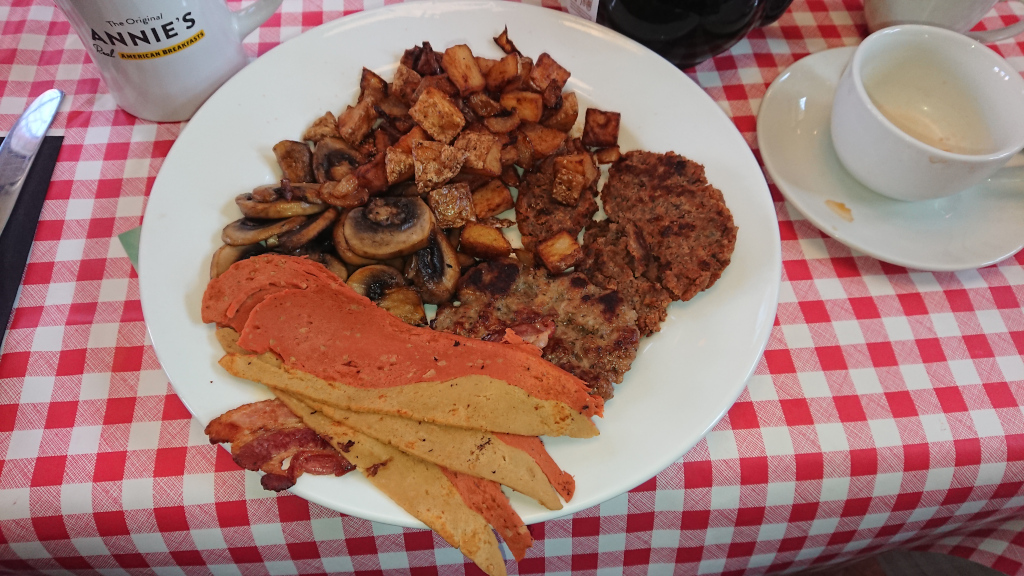 Now I didn't ask for a mix of meat and vegan just to be awkward (honest) but I wanted to taste both the vegan and meaty meats by way of comparing them. The vegan sausage was not too bad and is something I could have again. The vegan bacon was OK but did taste rather rubbery and bland compared to the meaty bacon. Again though the vegan bacon wasn't too bad. Truth be told though I did prefer the real meaty items.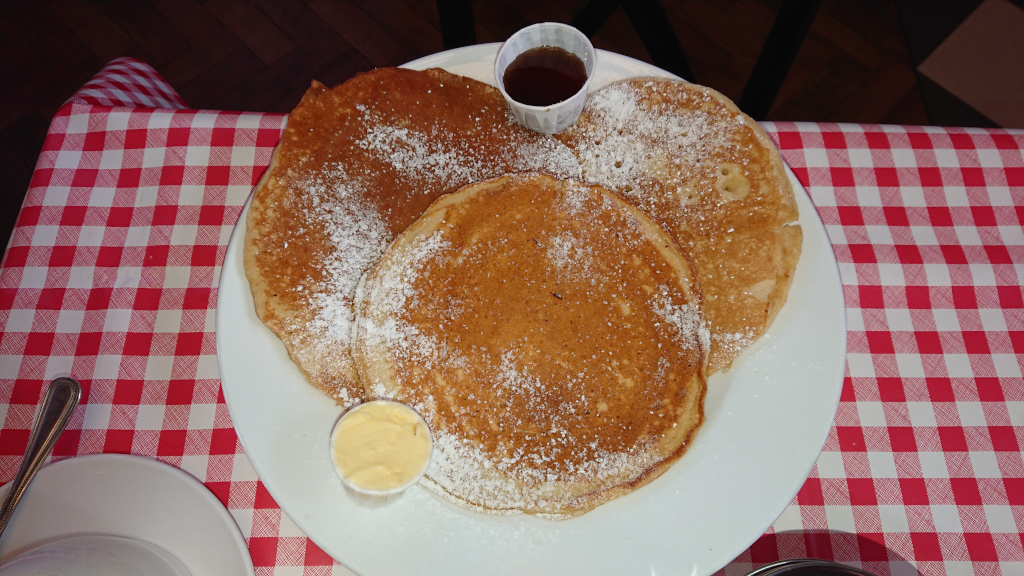 The buttermilk pancakes were nicely done and not too sweet. I ended up eating these plain (leaving the syrup and butter that came with them), but sadly I couldn't manage all three pancakes. This was a huge breakfast and not one that I could have often. Maybe I could manage a smaller version of this breakfast dish in the future.
Just for good measure I asked for another pot of tea, because it would be wrong not to.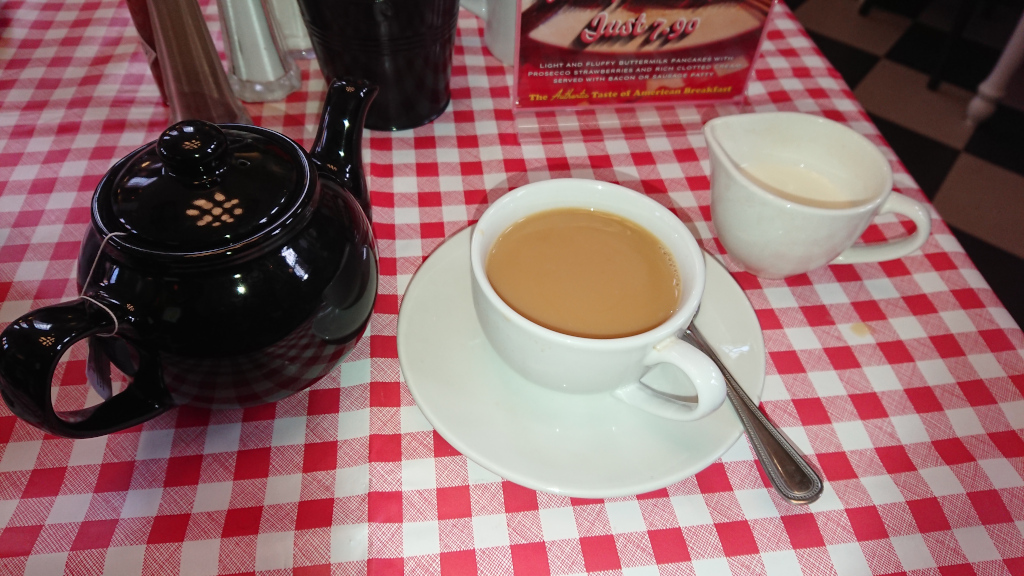 Now to tour the shack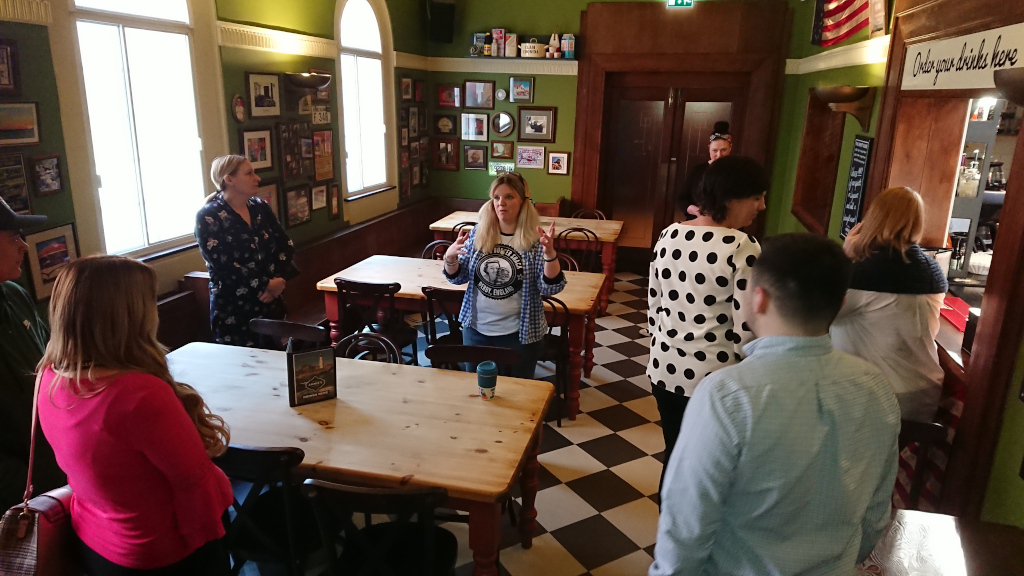 With breakfast well and truly over we were all then treated to a tour around the shack. We'd be taken to several parts of the building including the kitchen, beer cellar, and smaller dining areas. Several items of memorabilia adorn the venue throughout including plenty of framed pictures and family photos (which Annie spoke about in great detail). Also of note around the inside are some rather fetching interior artworks including a hand-drawn 'PROVIDENCE' sign above the main bar.
During the tour we would learn more about why the venue was chosen for the shack, and of Annie's love for old buildings and architecture. You only have to walk round the venue yourself to fully appreciate the grand job that Annie and her team have done to the building. There's just so much to like about the venue's interior.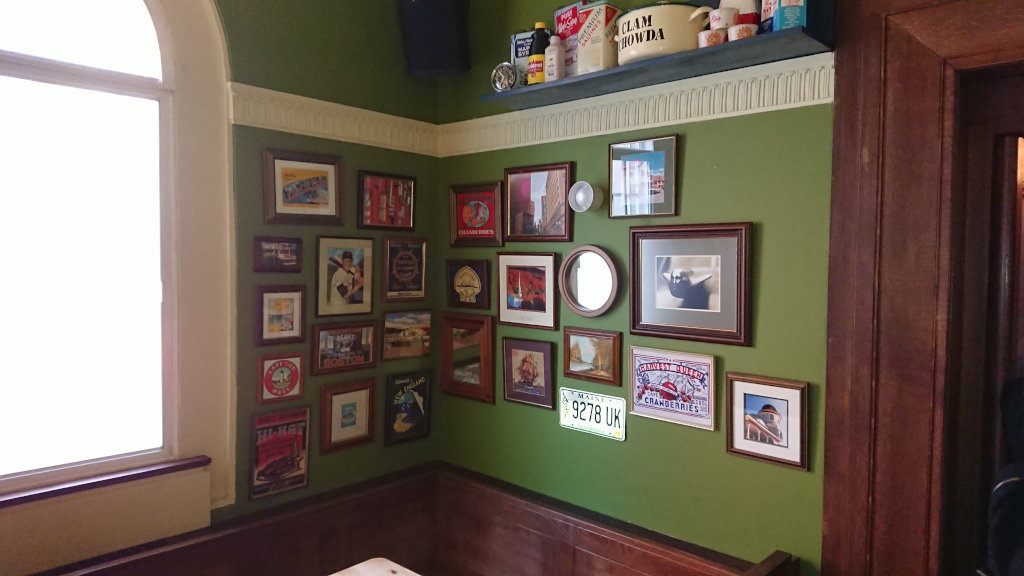 We were also shown the Portside Tavern, a smaller pub right next to the main restaurant area. If you don't fancy food at Annie's then you can simply head to the Portside for a drink. Plenty of ales, beers and soft drinks are among the tipples available here. I may just have to pay a visit here soon.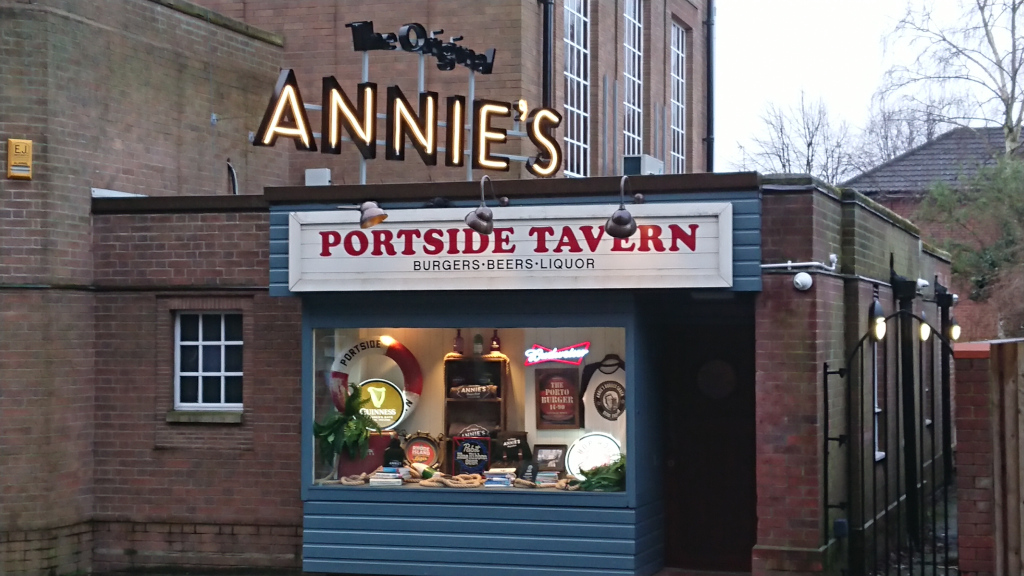 Thank you Annie!
I had a fantastic time at Annie's Burger Shack for several reasons. The breakfast was good and very hearty. The staff were brilliant, welcoming and helpful at all times. Oh, and not forgetting Annie herself – one of the coolest ladies you could ever meet!
It goes without saying that I'm already looking forward to visiting Annie's Burger Shack again soon. Only next time for a nice juicy burger (EDIT – I would eventually do so at Annie's Derby shack in February 2023).
Disclaimer – I was invited to this complementary press breakfast by Annie's Burger Shack. All food and drink was provided free of charge. All views in this article are my own and are not influenced by the establishment in any way.
Finding the venue
Annie's Burger Shack is located on the edge of Derby city centre, and is within easy walking distance from the city's main bus and railway station.
Address – Friary St, Derby DE1 1JF
Website – https://anniesburgershack.com
Facebook – https://www.facebook.com/AnniesDerby/
Twitter – https://twitter.com/annies_derby
Instagram – https://www.instagram.com/anniesburgershackderby
Post Tags
Post Categories