Annie's Burger Shack, Worcester
Posted on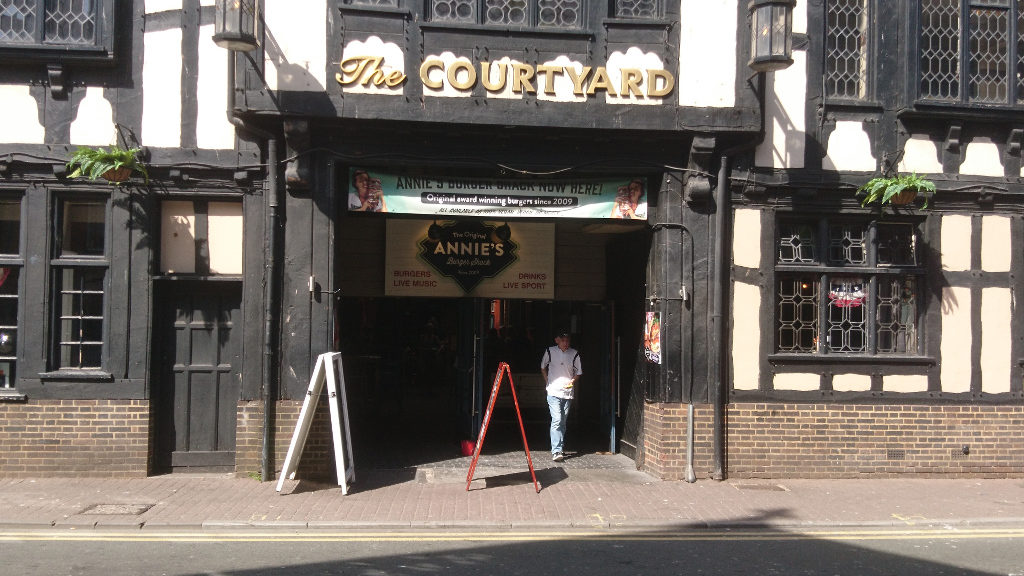 On what turned out to be a glorious, sunny Easter weekend a day trip to Worcester was in order, mainly because there was the small task of picking up a special birthday cake (not for me though). Having decided to pay for up to six hours parking we would have plenty of time to kill checking out the city. After spending some time checking out the charity shops (well we all like a good bargain, don't we?) it was time to grab some lunch.
Now, always wanting to try out an independent eatery we stumbled across Annie's Burger Shack, a small burger restaurant chain where all their burgers are available as either meaty, veggie or vegan. So with my vegan dining partner with me it was time to enter the burger shack.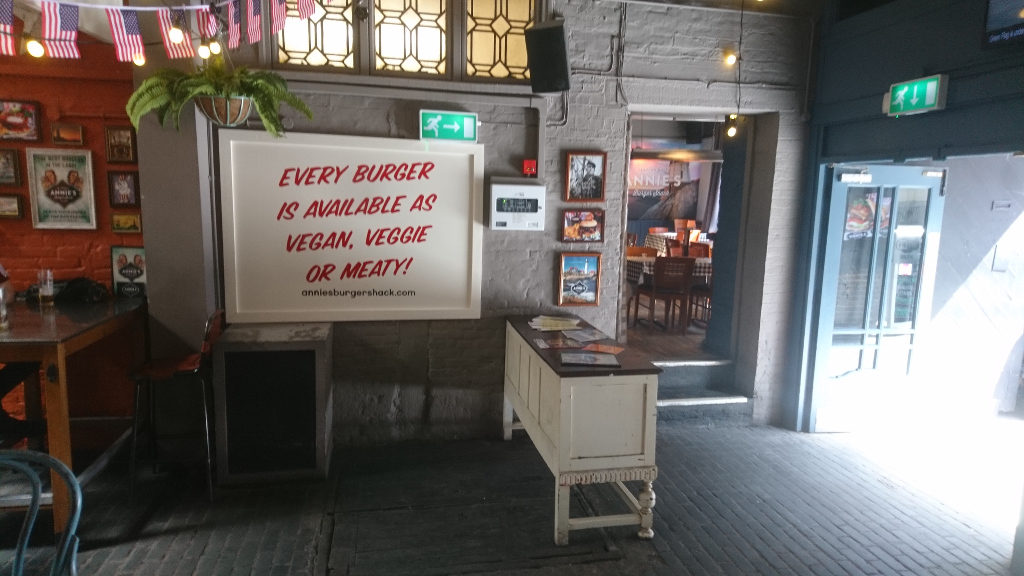 Annie's Worcester restaurant is located in an old black and white building known as The Courtyard. Now I've always liked the idea of old buildings being used for new purposes and this particular venture is another prime example of this.
Take your seat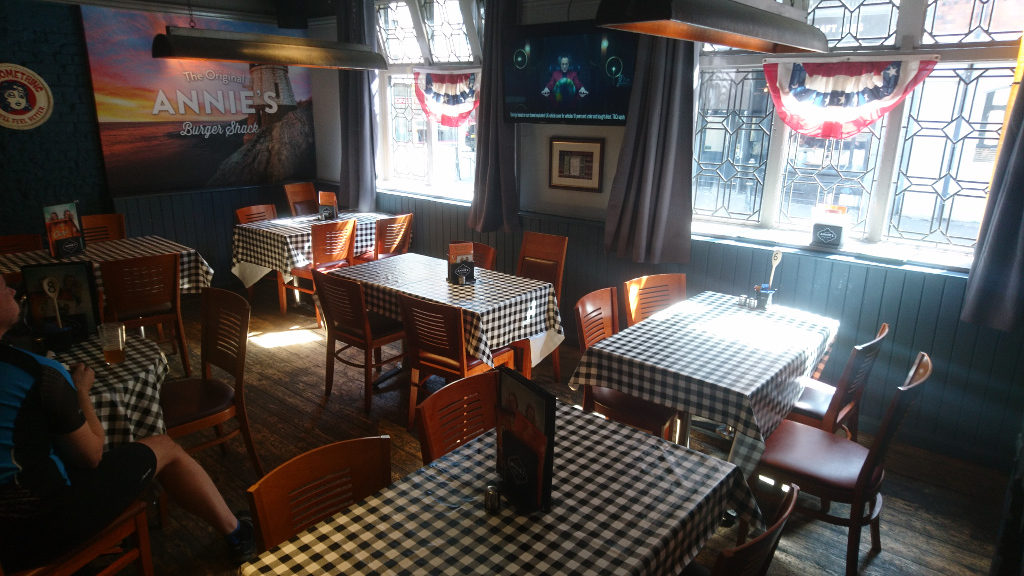 So having set foot inside the restaurant (on a Saturday lunchtime) it was a simple case of where to sit, and there are several seating areas to choose from here. After initially checking out the front dining room we opted to move to seats at the rear of the venue – it wise move for various reasons:
It was cooler than the front room, which was rather warm due to the hot weather – plus the radiator was on as well.
The back seats and tables have there own charging points including USB ports, so you can charge your phone and tablets whilst enjoying your burgers.
They also have there own TV's showing live sport – and on our visit the venue was screening live football.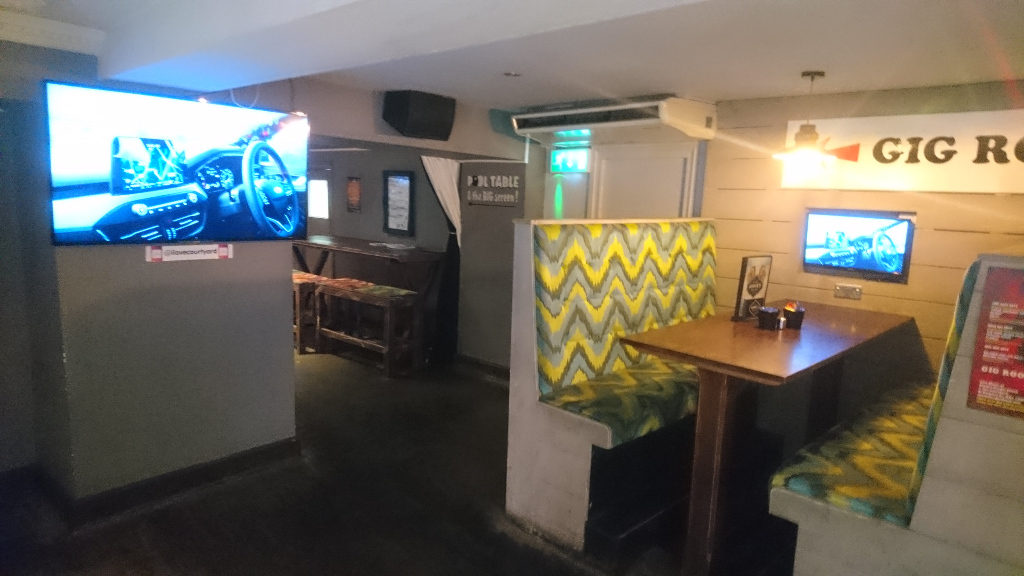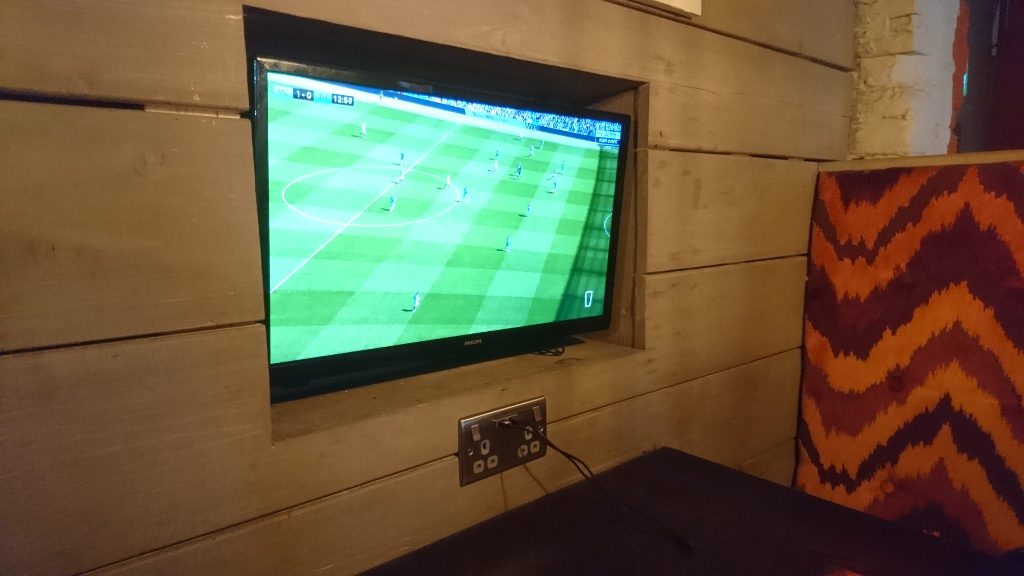 Among the other seating areas available are a sports room with pool table and big screen TV, which doubles up as a gig room for music events.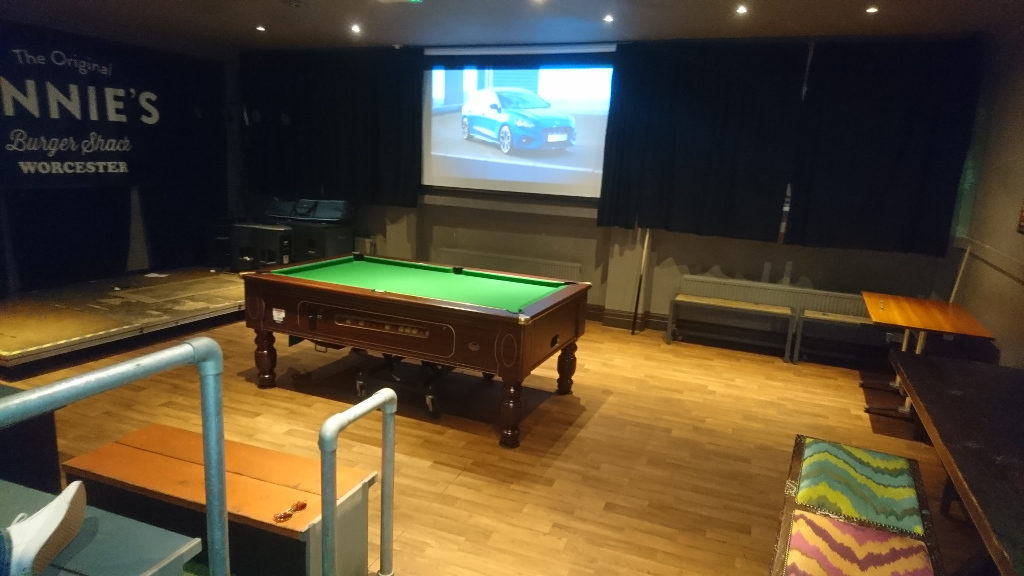 Burger Time
So with us at our seats for the big match it was time to choose from Annie's burger menu, and there are so many different burgers to choose from.
My choice was the BB King burger, consisting of chicken breast smothered with BBQ sauce. The burger also comes with lettuce, tomato slice and mayo – except I asked for mine without the tomato or mayo.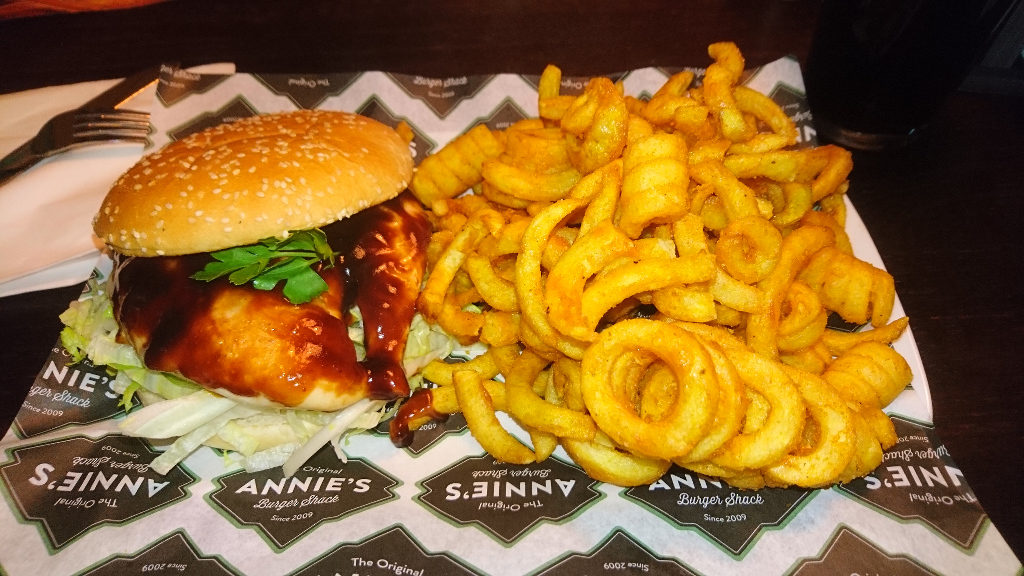 The burger as a whole was very tasty, if not a bit messy (that's the sauce's fault). The chicken breast was well cooked and there was a good amount of lettuce included too, though I'm not sure if there was enough for it to count as one of your 5-a-day.
All burgers come with a choice of potato side including straight fries, curly fries and wedges. I opted for the curly fries and WOW, you do get a rather generous portion of these. It was fair to say that I did not go hungry for a few hours after this meal.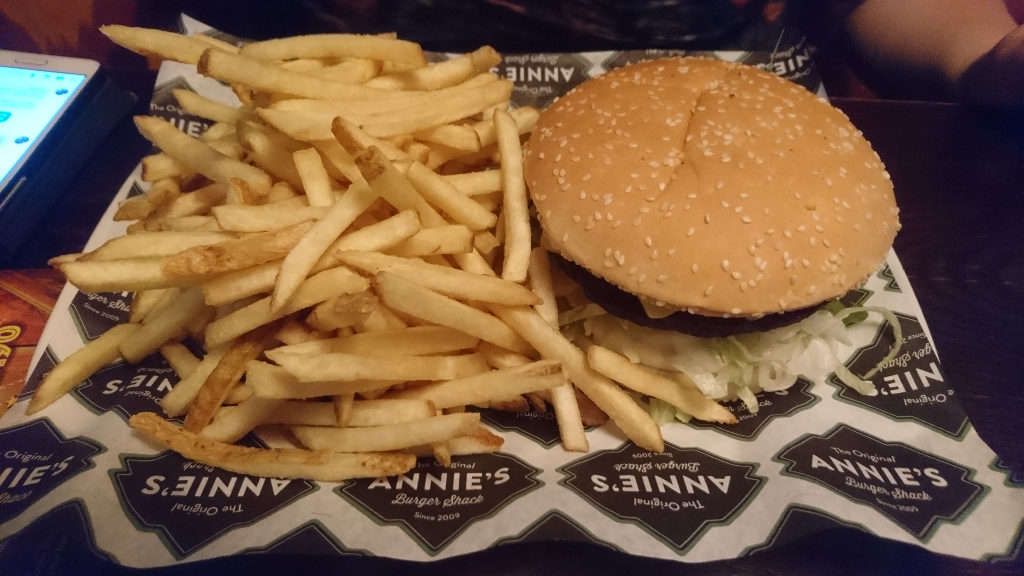 My dining partner went for the vegan Classic burger along with straight fries, and again a generous portion of these were provided. I tried a bit of the vegan patty myself as I wanted to find out how it tasted, and it was tasty enough. However we both agreed that it was not the best vegan burger that we've had, probably due to the after-taste that seems common with most vegan versions of meat foods. Indeed a small number of chain restaurants offer vegan burgers that taste just like a meat burger (or near enough), and these are the types that I would prefer myself if I were choose a vegan burger. Maybe Annie's could look into offering this in the future?
One other positive about our order was that both meals arrived approximately 10-15 minutes after we ordered, and both burgers were cooked perfectly. It was a quiet-ish Saturday lunchtime though so presumably waiting times will be longer during the busier evening periods.
Overall, we like the Burger Shack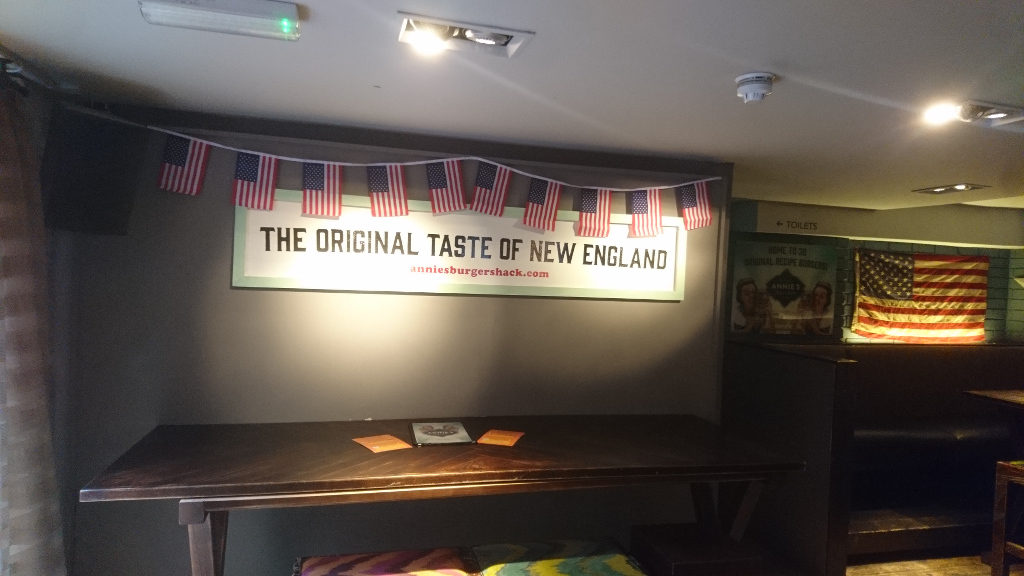 There are so many good things about Annie's Burger Shack that I'm already looking forward to paying another visit in the future. The meals overall were very good, the staff were attentive and helpful when needed, and the venue itself has a really good feel to it. Another plus point on our visit was that the venue was air-conditioned throughout, which was very handy considering the hot weather that day.
I simply can not wait to return to Annie's Burger Shack again soon.
Finding the venue
Annie's Burger Shack is located in Worcester City Centre, and and is easily accessible via main bus and train services serving the city.
Address – 11, St Nicholas Street, Worcester, WR1 1UW
Website – https://anniesburgershack.com/restaurants/worcester
Facebook – https://www.facebook.com/AnniesWorcester/
Twitter – https://twitter.com/Annies_Worcs
Instagram – https://www.instagram.com/anniesburgershackworcs/

As well as Worcester Annie's Burger Shack also have restaurants in Derby and Nottingham.
Post Tags
Post Categories