The Duck Truck, Cambridge
Posted on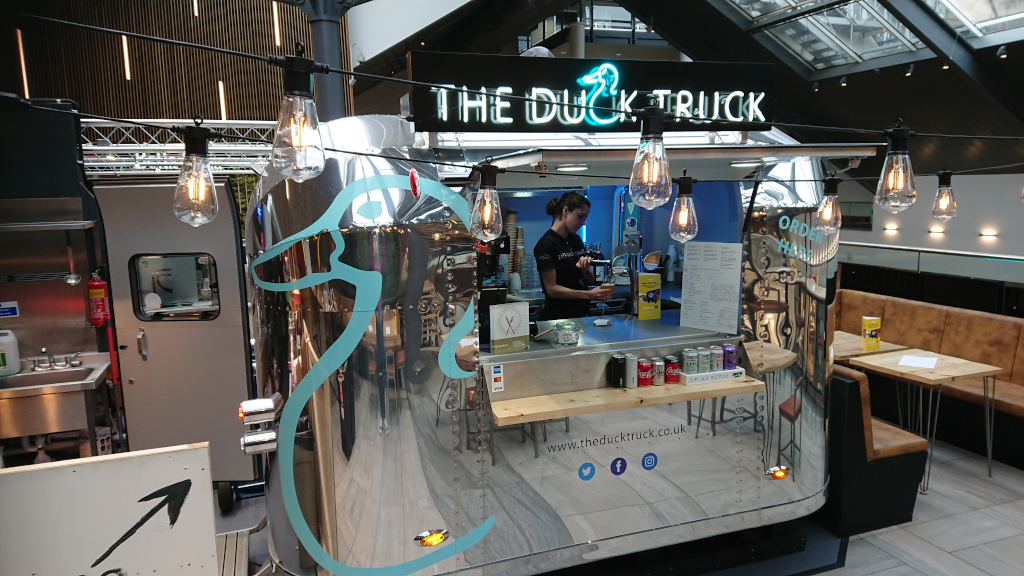 By the time you read this post TryJanuary will have come to an end for 2020, and with it as will my TryJanuary series that I've been running on my Facebook, Twitter and Instagram channels. Now whilst I've been trying to do my bit for providing ideas for places for you to try out I do like to find more new places to try myself.
Thankfully Cambridge has recently seen a raft of new independent food outlets open up, and it's all thanks to the Food Social complex at the Grafton Centre located within the city centre. So all the more reason for me to get out and try somewhere different.
For what will hopefully be the first of many visits to Food Social I decided to try out The Duck Truck, a small street food business which (as you might guess here) specialises in tasty duck dishes.
An outside-inside feel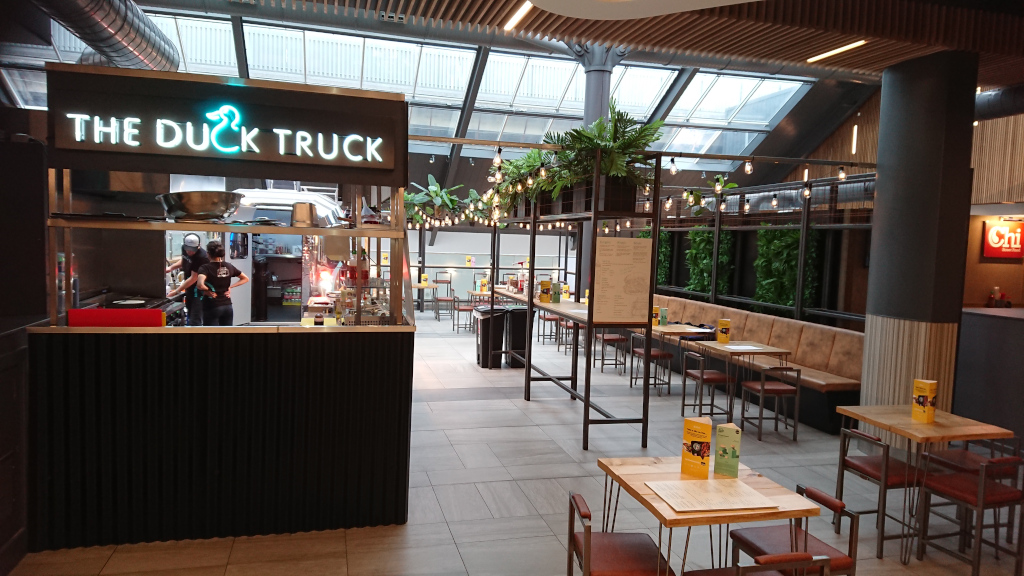 Being a food court some of the outlets at Food Social will be open-plan as opposed to being in an enclosed shop unit, and The Duck Truck makes good advantage of this by providing a sort of 'outside but inside' feel. You will not be able to miss the shiny actual Duck Truck inside (it's a truck, get it?) because that's where you will go to order your food and drinks. It's actually a cool looking truck with a rather fetching Duck Truck neon light logo at the top. The kitchen is situated right next to the truck, and depending on whereabouts you are sitting (I sat right opposite the kitchen) you can see the chefs preparing your dishes (just to make you all the more hungry of course).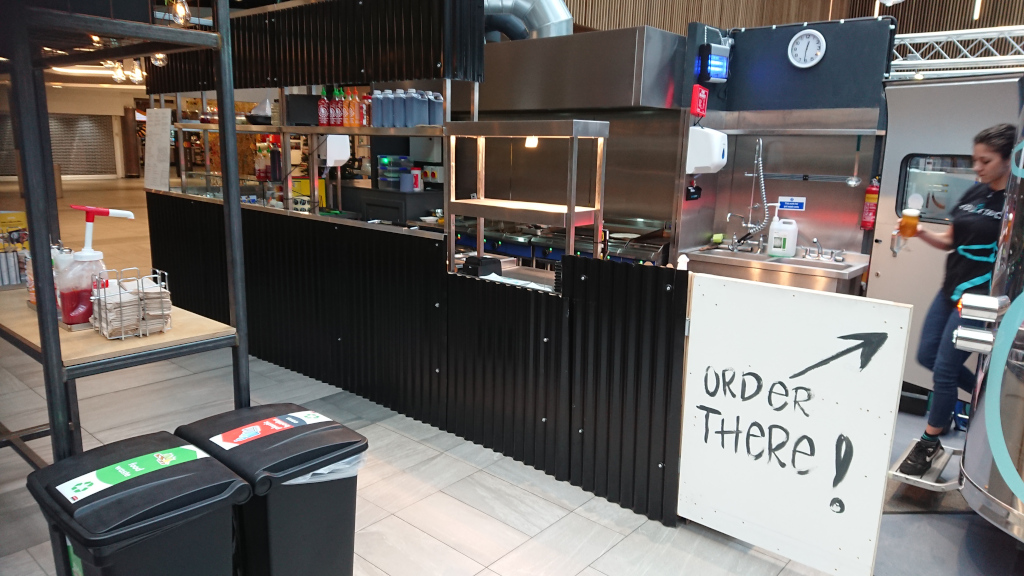 Time to duck in
Choosing what to have at The Duck Truck was not an easy task, especially given that I would be opting for something different from my usual fussy tastes. I initially opted for Confit Duck Leg but was informed that this option was only available at weekends, so after a little re-think I settled for the Crispy Duck Wrap.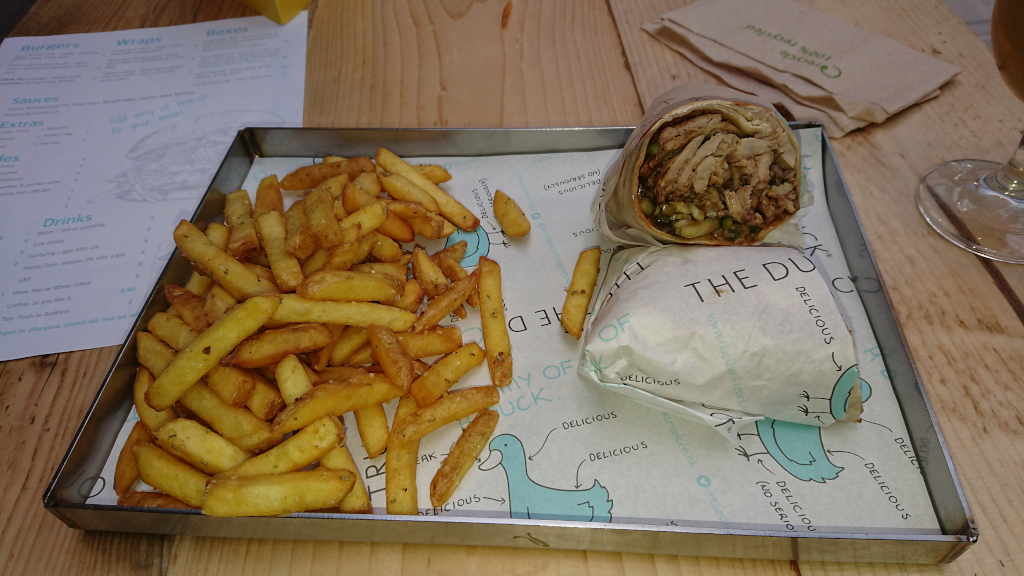 The wrap consisted of two half wraps filled with plenty of duck plus hoisin sauce, cucumber and spring onion. Just one bite was enough to tell me that I made an excellent choice of dish here. The duck was so lean and tasty, there was the right amount of cucumber and spring onion inside without overshadowing the duck meat, and the hoisin sauce added a little but right amount of flavour. The wrap was so good that I was actually glad that my initial choice of the duck leg was not available.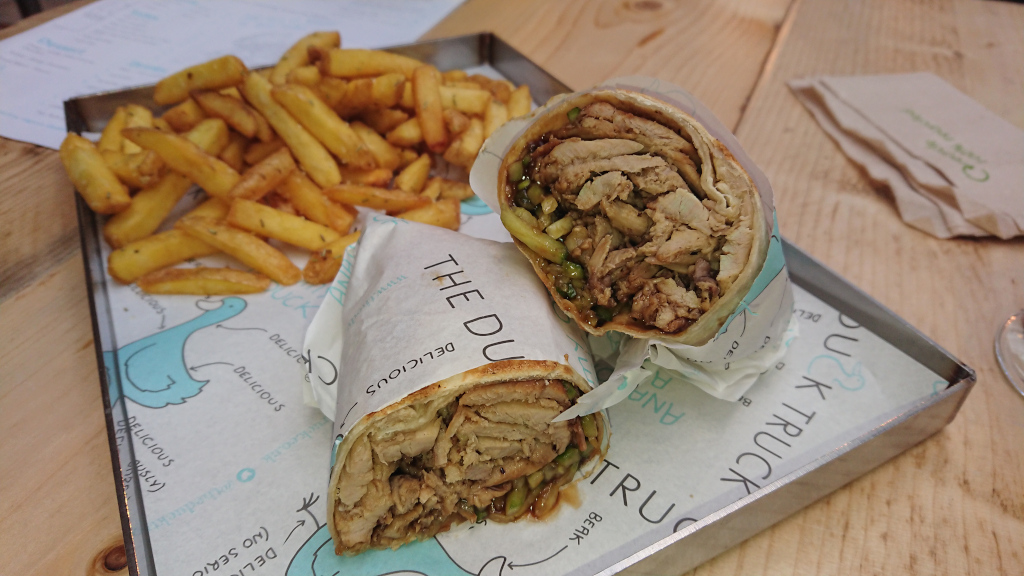 To go along with the wrap I also ordered a side serving of Duck Fat Frites, and as fries go these were some of the best that I've ever tasted. Every single one of these fries was crispy (just how I like them) and with a pleasant but not overpowering duck fat taste. I'd happily have these frites every day if I could (YES, they're that good!).
More than just duck
If duck is not for you then The Duck Truck do have non-duck options available including chicken burgers and wrap, and for vegetarian and vegan diners there is a plant burger available, which I'm told is really good.
Ducking amazing
Words just can not describe how brilliant The Duck Truck is, but let's give it a go. The food was amazing, the staff were brilliant and incredibly helpful, and the overall experience was simply WOW! I left the premises simply wanting more, and even thinking 'move over chicken' – YES, I think I'm a duck convert now.
A word of warning – it's not cheap here. The frites alone cost £4 which is a bit expensive, however they taste so good that you could argue that for a treat they are worth it.
Cost aside I was blown away by the whole Duck Truck experience and will certainly be back there in the future.
Getting to The Duck Truck
The Duck Truck is located within the Food Social zone at the Grafton Centre in Cambridge. They also have a branch at Spitalfields Market in London.
Address – The Grafton Centre, Cambridge CB1 1PS
Website – http://www.theducktruck.com/
Facebook – https://www.facebook.com/theducktruck1
Twitter – https://twitter.com/TheDuckTruck1
Instagram – https://www.instagram.com/theducktruck/
Post Tags
Post Categories