La Raza, Cambridge
Posted on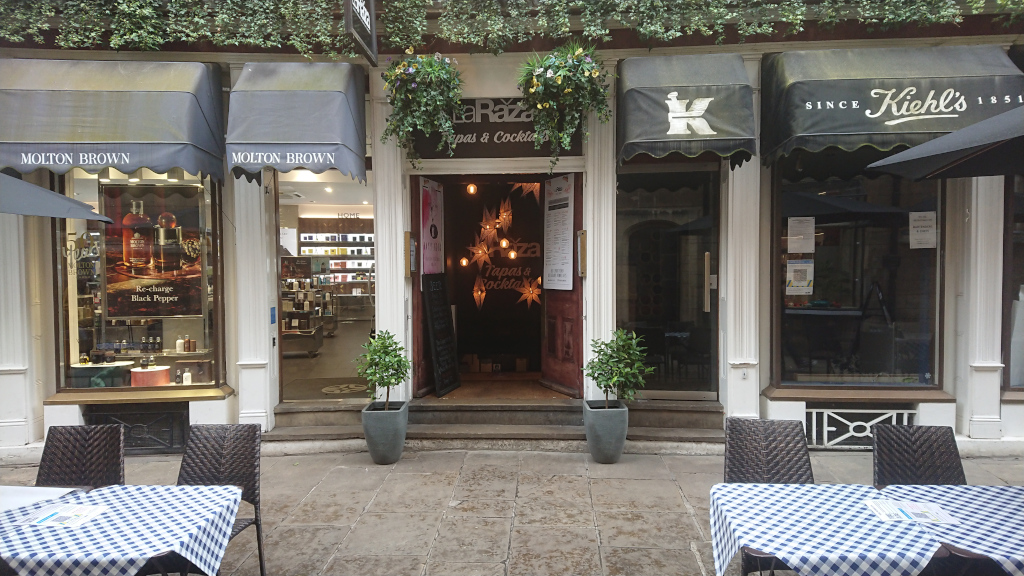 Now that indoor hospitality is once again allowed pubs and restaurants that were previously only able to offer outdoor catering have been able to open up the inside of their establishments to hungry and thirsty customers. Indoors does have its advantages such as protecting you from the elements, as I found out on a recent visit to Smokeworks in Cambridge when only outdoor catering was allowed, plus it allows you to check out an establishment's interior surroundings. Anyway I chose to wait for the return of indoor hospitality before paying a visit to La Raza, a Mediterranean cafe-restaurant and music venue in Cambridge.
Going Underground
After a brief look at the menu, which incidentally was different from the one I'd previously viewed online, it was down the stairs I go to the main restaurant area. So in effect I'd be in an underground dining area, something that I am quite a fan of.
Plenty of Covid protection measures were put in place inside the venue. The most noticeable of these being the overhanging plastic screens separating each table.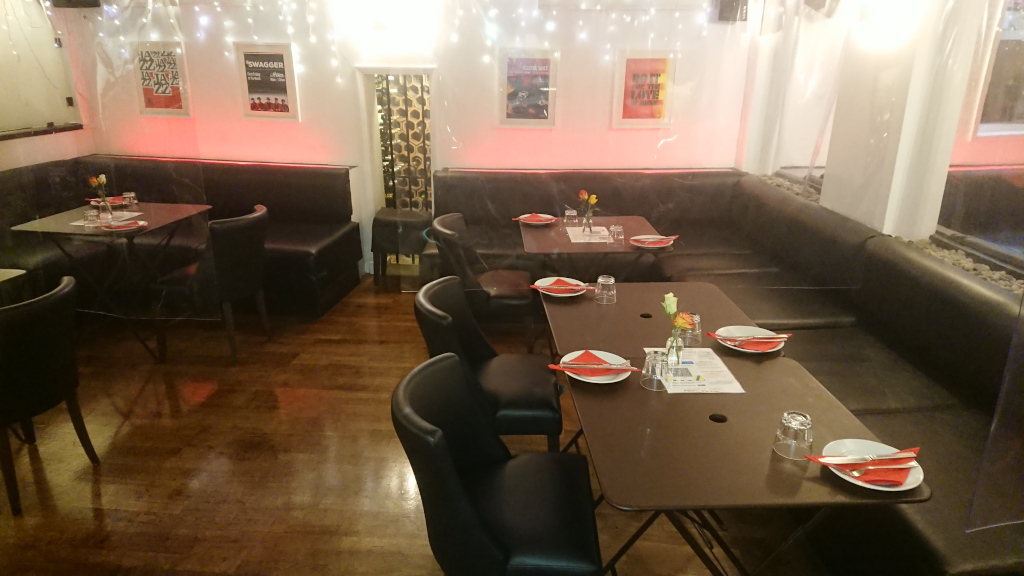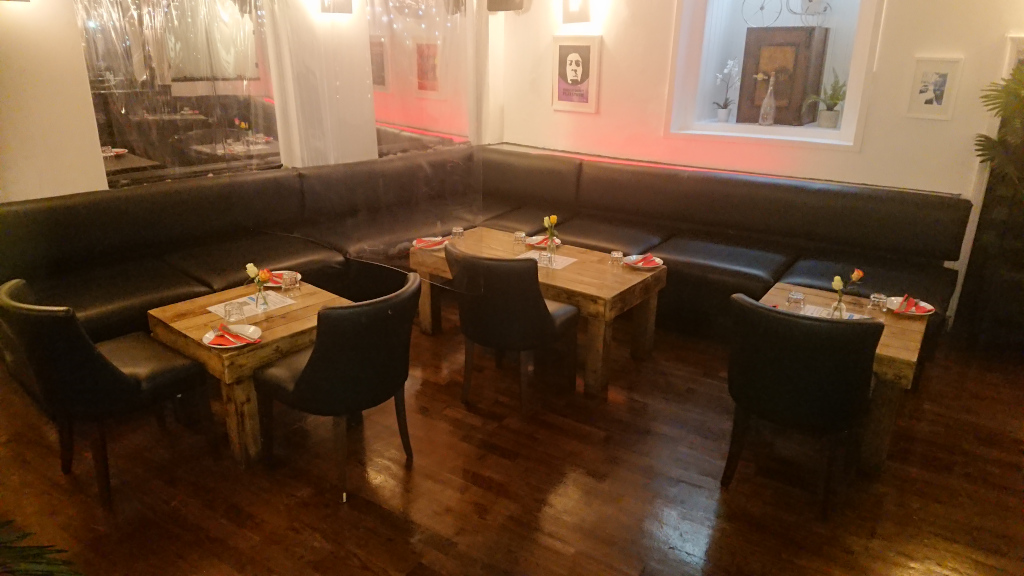 Tap, Pay and Dine
Due to the current ongoing pandemic ordering food and drink at La Raza was not the traditional case of giving your order to the waiter. Instead you need to scan a QR code at your table using your smartphone, and then select your table number, order your food and drink, pay for your order, and wait. This online ordering process is similar to those used by some of the bigger hospitality chains. There are advantages to ordering with your smartphone at your table, the main one for me being that you can order when YOU are ready to do so without having to wait for a waiter to attend to you. For anyone unable to use this method I think the traditional payment methods are available.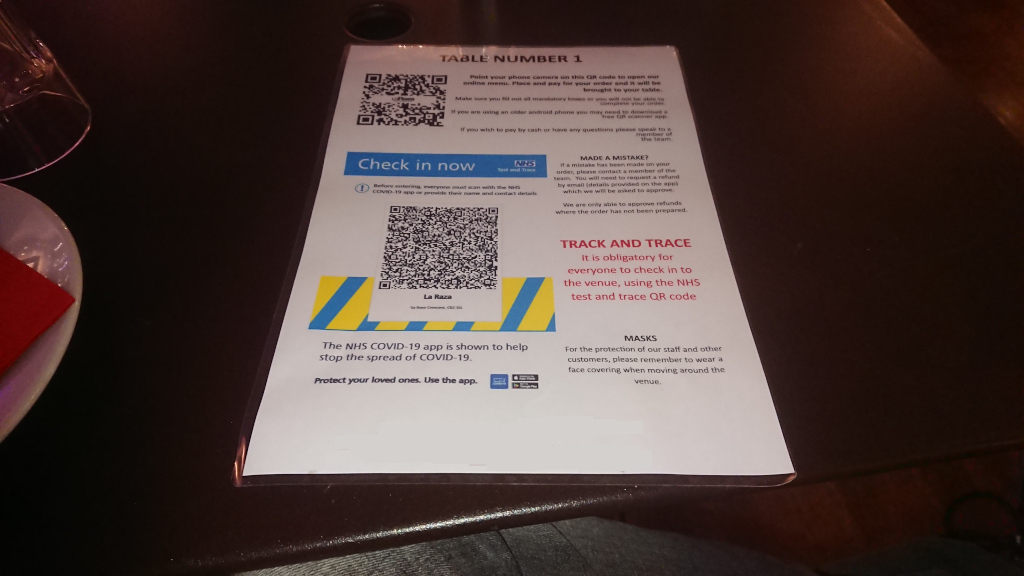 But, still ask the staff
Whilst ordering with your phone is quicker sometimes you may need clarification on one or two little details, and thankfully the team at La Raza were more than happy to help out here. The menus include a recommendation of ordering two tapas dishes per person plus one side dish, but also advises checking the portion sizes if in doubt. With a couple of dishes in mind I indeed asked about the portion sizes and was actually told that ordering just the one tapas dish should be enough, something that made my choice of dishes a bit easier in the end.
Right, let's dine
So with clarification over portion sizes sorted and my order made it was just a case of waiting for my food to arrive, and it was only a few minutes before my choice of tapas was brought to my table. I opted for the chicken breast strips with lemon, thyme and moscatel sauce served on a bed of lettuce leaves, along with a side serving of fries.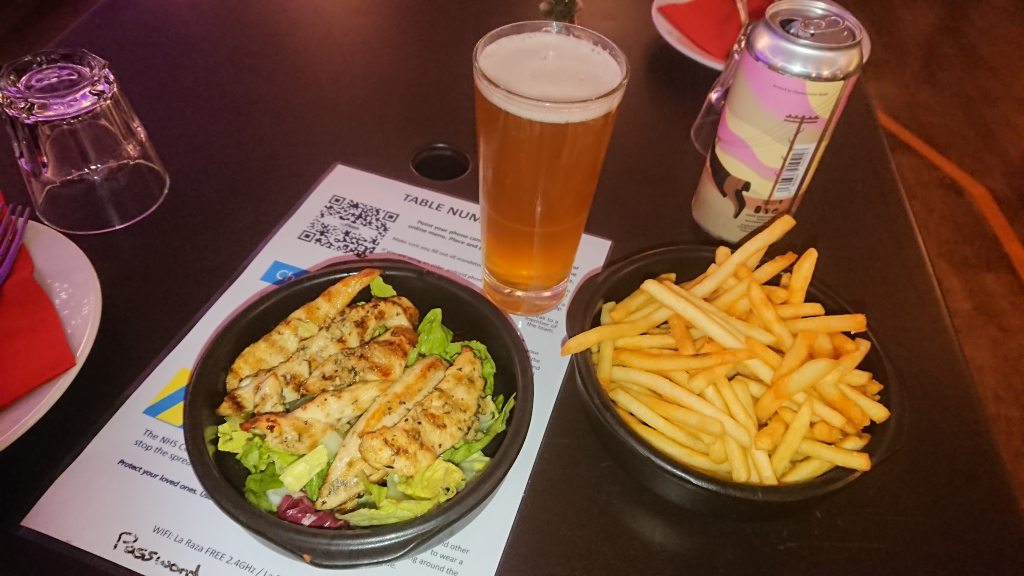 The chicken was well cooked and succulent throughout, and the lemon, thyme and moscatel sauce added a nice flavouring to the dish. Add in the lettuce leaves and this definitely goes down as one of the healthiest dishes that I've enjoyed on any restaurant visit that I've undertaken in a long time. I did have to check if the dish came with vinegar, which thankfully it did not! Not really much to say about the fries, they were crispy, tasty and made for a good side accompaniment.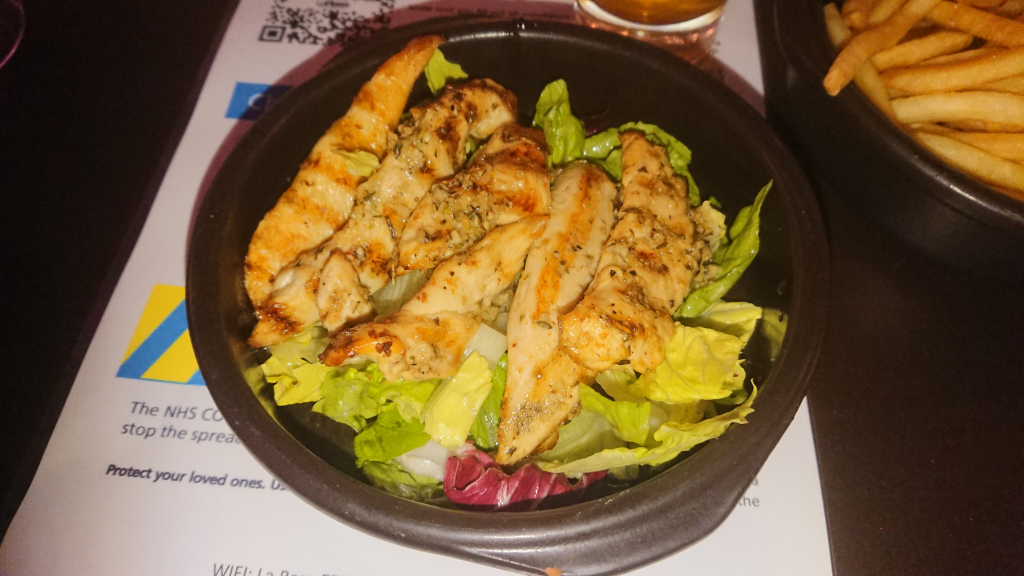 Going underground again?
I thoroughly enjoyed my lunch experience at La Raza for several reasons including great service from the staff, really enjoyable & tasty food, and I'm always partial to dining underground. The idea of ordering via smartphone wasn't an issue for me, although for some people this might be off-putting for them. Whether La Raza decide to retain such ordering methods post-pandemic remains to be seen – if so then I'll be happy to order again this way due to the convenience. Overall there is so much to like about La Raza and I'll no doubt be returning there again in the future.
Getting to La Raza
La Raza is located in Cambridge city centre and is within walking distance from major bus services in the city.
Address – La Raza, 4-6 Rose Crescent, Cambridge, CB2 3LL
Website – https://laraza.co.uk/
Facebook – https://www.facebook.com/LaRazaCambridge/
Twitter – https://twitter.com/larazacambridge
Instagram – https://www.instagram.com/larazacambridge
Post Tags
Post Categories