Return to The Taproom, 3 years later
Posted on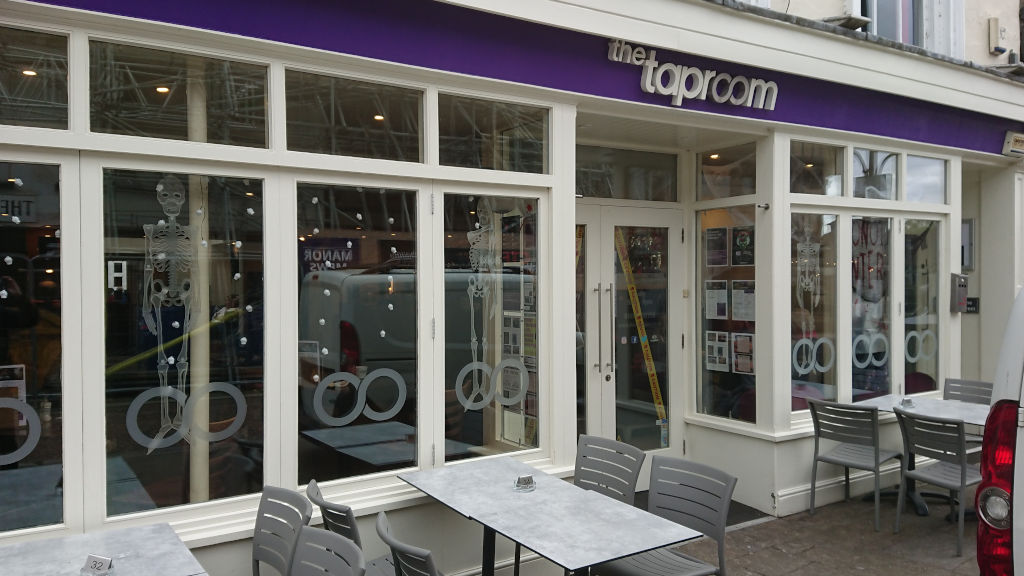 It had been exactly three years to the day since we last visited The Taproom in St Ives, Cambridgeshire, and as we know the hospitality industry has had to grapple with a certain pandemic that has brought misery to many pubs and restaurants. Fast forward three years and many independent hospitality businesses are back up and running, and we were well overdue a return visit to this particular cafe bar.
A scary return here?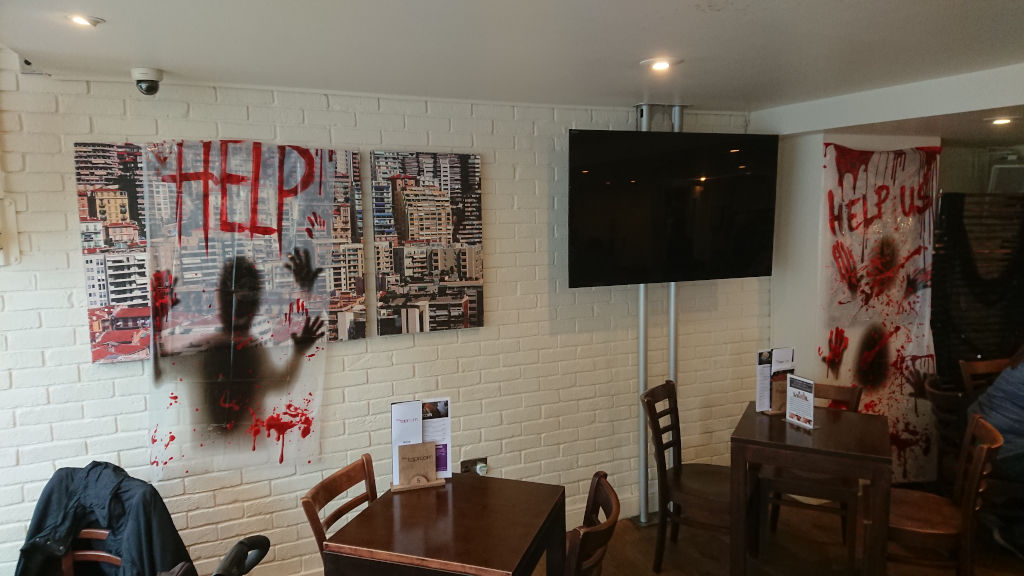 Our return visit to The Taproom would take place during Halloween season, same as our previous visit of course. On that occasion the venue was decorated with a few scary touches. Fast forward to this particular visit and again there were Halloween decorations on show, this time including skeletons hanging off the front windows, cobwebs, pumpkins and some scary blanket sheets on the walls.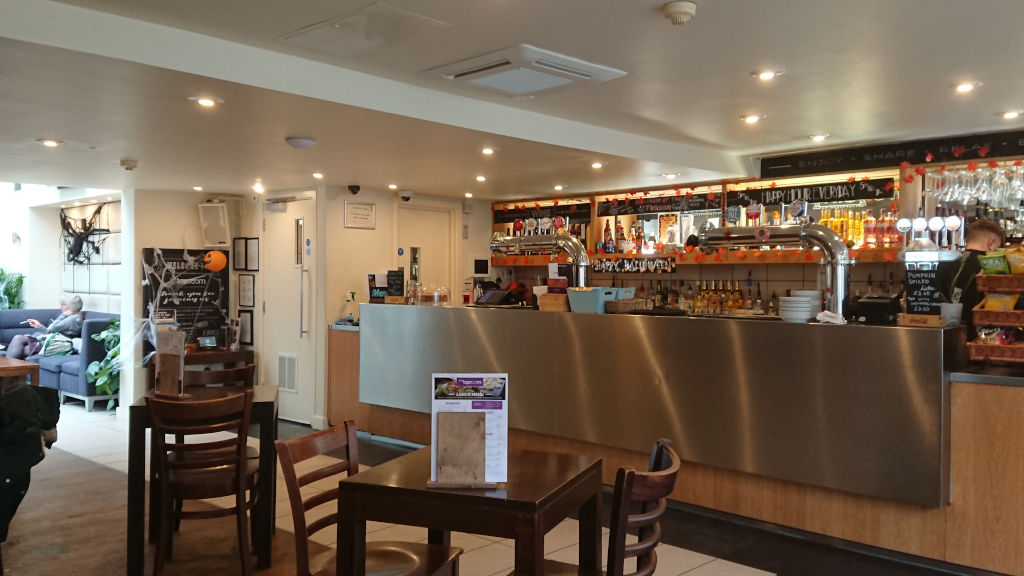 Streamlined choices
The menu at The Taproom appears to have been rather streamlined since our initial visit with fewer dishes available, something that I've been informed is due to covid-related issues (see postscript below). Despite this there is still a good range of dishes available including breakfasts, burgers and breaded dishes.
For this particular visit to The Taproom we opted for burger meals. Not surprisingly I chose the chicken burger, which had the choice of peri-peri or cajun marinate – or I could have had it plain. Now the old me would have just gone plain but not this time, I instead went for the cajun option. The decision to go for the cajun burger proved to be a good one. There was a good, subtle kick to the burger but without being overpowering, and was rather tasty throughout.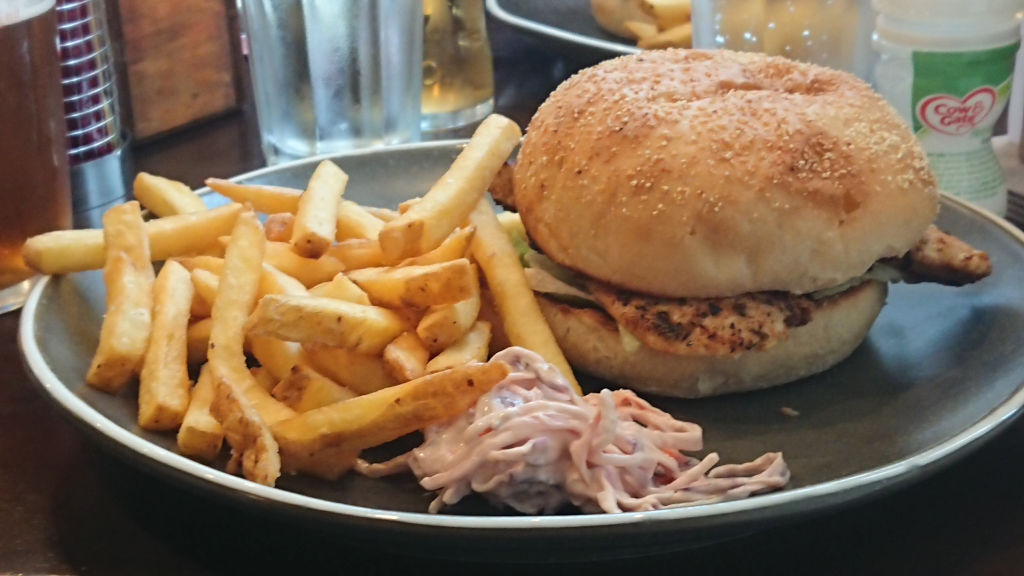 My dining partner went for the vegan burger on offer – the Beyond Meat Vegan Burger, served with pickled gherkins and topped with mustard mayo. The verdict here was again positive – a very tasty and enjoyable burger meal.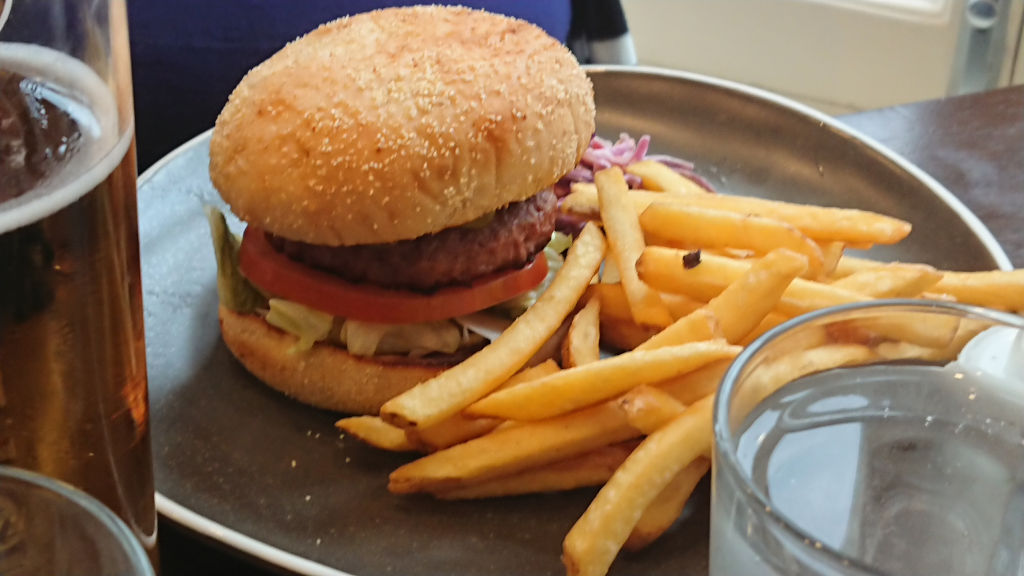 Both of our burgers came crispy lettuce and tomato along with an obligatory side serving of skin-on fries and coleslaw. Except that my burger didn't come the tomato as I asked for mine without it.
We did have a 'pudding' to finish off the meal here – ice cream for me, coffee for my dining partner.
Tap in again?
Even though we'd only visited The Taproom once prior to this return visit we became fans of this Cambridgeshire eatery and were keen to return here. Fast forward three years and we can happily say that the wait was worth it. The Taproom still has a special charm inside, the staff were incredibly helpful and welcoming throughout our visit. If you are ever in St Ives then I strongly recommend that you call in at The Taproom, even if it's just for a drink (and there are plenty of liquid refreshments available, both alcoholic and non-alcoholic). Hopefully our next visit here will be in less than three years from now.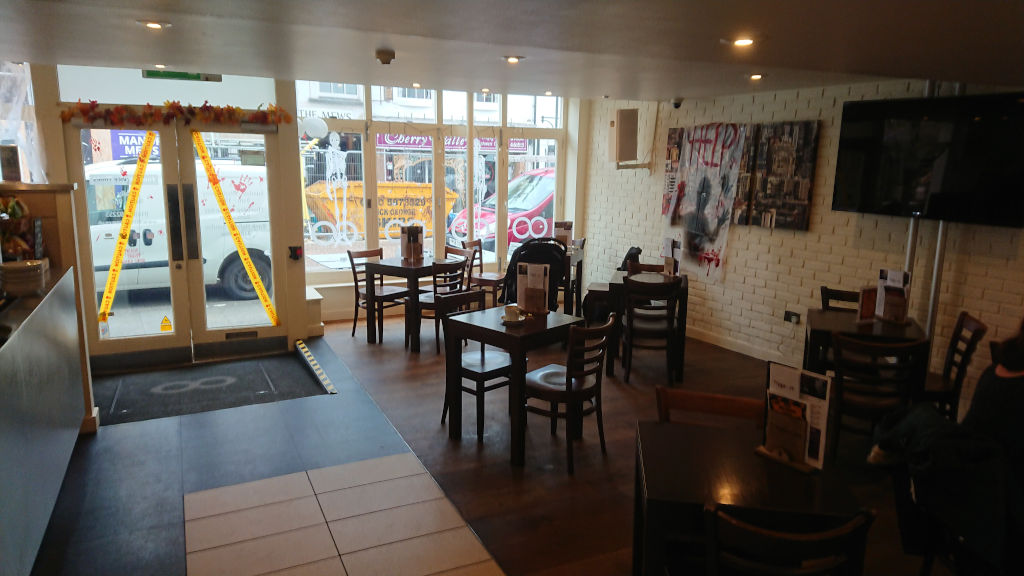 Postscript
Since publishing this post The Taproom have been in touch to clarify a couple of things:
The streamlined menu is due to covid and staffing issues, something that I did suspect but didn't want to speculate on originally. The onwers have informed me that the venue now has a full staffing team again and that the menu will grow in due course.
Since our visit The Taproom has had a small renovation with new seating and interior decorations.
I'll no doubt be keen to check out the bigger menu and new look on a future visit to The Taproom.
Finding the venue
Address – 23 Bridge Street, St Ives, Cambs PE27 5EH
Website – https://www.thetaproom.co.uk
Facebook – https://www.facebook.com/thetaproomstives/
Twitter – https://twitter.com/thetaproom
Instagram – https://www.instagram.com/taproomstives/
Post Tags
Post Categories