Gelatis, Ross-On-Wye
Posted on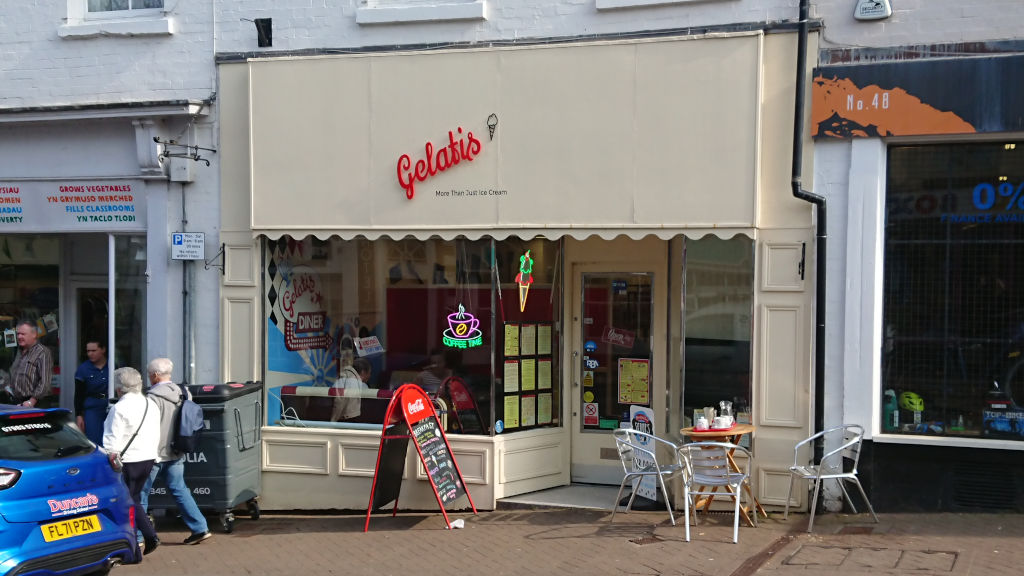 Everytime I pay a visit to the picturesque market town of Ross-On-Wye in Herefordshire I always look forward to eating out at one of the many independent pubs and restaurants in the town. Whilst the usual suspects are always treated to a visit (namely The Tap House micropub) I do like to try out new establishments from time to time. So we did just that in March 2022 when we paid a visit to Gelatis, a family-run American diner and ice cream parlor situated in Ross town centre.
Have I been to something like this before, no REALLY?
This was the first time in years that I've visited an actual American diner, in fact I'm still trying to remember the last time I visited such an establishment (and no, certain fast food chains do not count). To be totally honest I can't remember the last time I visited an American diner, in fact I'm really not sure if I've ever visited one. But let's not dwell on that too much and instead let's see what Gelatis is like.
Upon setting foot inside Gelatis you are greeted to more or less everything that shouts US diner with vintage advert displays as well as classic American record covers and vinyl discs among the interior decorations here.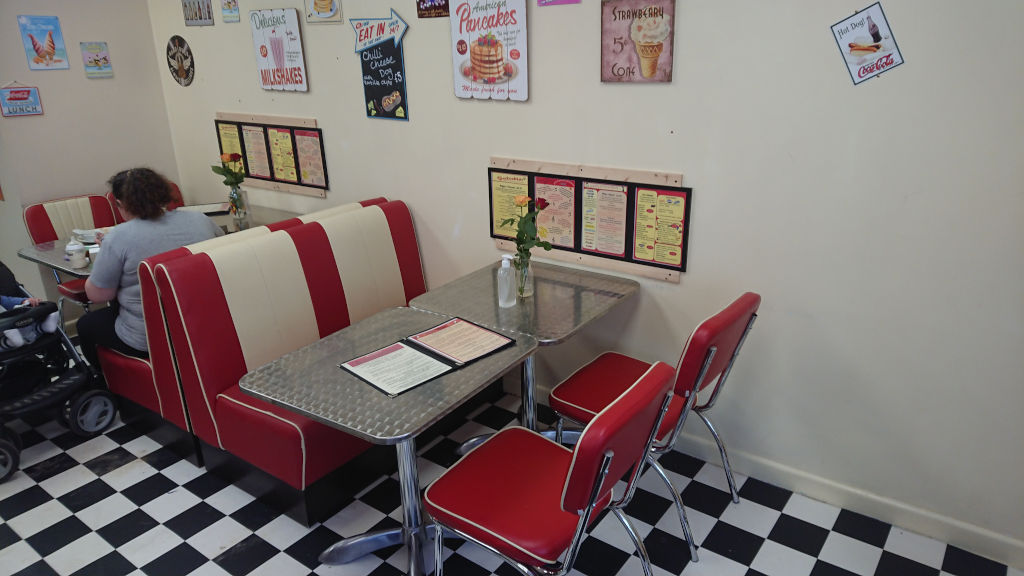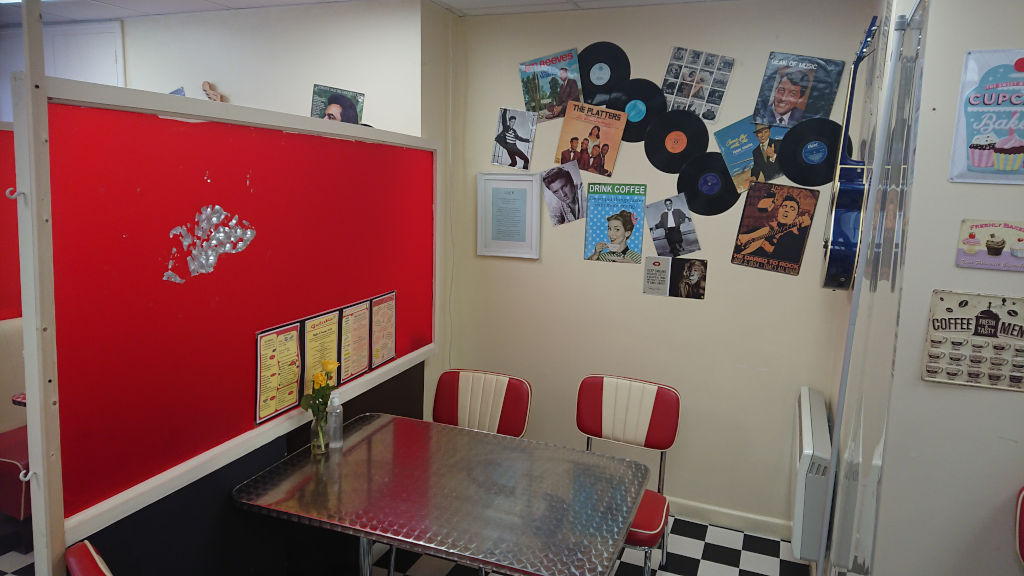 So what of the food offering?
As far as the menu at Gelatis is concerned there's quite a mix in terms of the main food and drink offerings. You have your usual American dishes such as burgers, hot dogs and milkshakes but there are also tex-mex dishes as well as home-made special offerings.
After some deliberation it was one of the home-made dishes that I would opt for on this occasion. In this case it would be the Beef Lasagne – Home made red wine and Herefordshire beef, layered with bechamel sauce and cheese, served with garlic bread and dressed side salad. The actual lasagne was OK but it was very greasy, perhaps due to a bit too much cheese used? Granted I wasn't expecting the kind of fine dining lasagne that you'd get at an Italian restaurant, but I wasn't exactly blown away with this particular dish. Don't get me wrong it wasn't awful at all (I did eat most of it), and even though the garlic bread served with this dish was fine I don't think I'll be having this dish here again.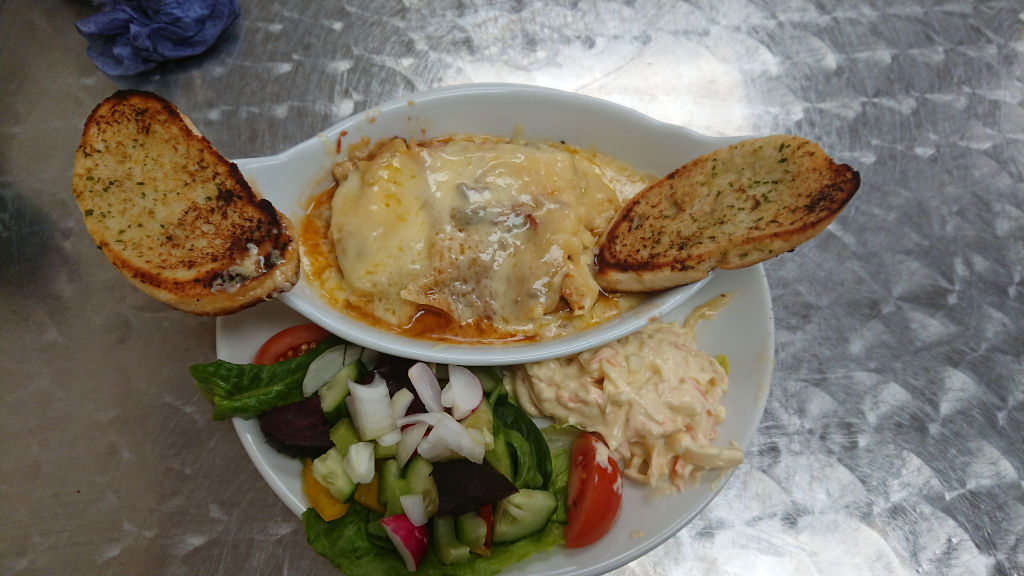 My dining partner opted for one of Gelatis' tex-mex dishes, the vegan nachos – Warm tortilla chip`s topped with vegan chilli, vegan cheese and served with vegan mayo. This looked like a far more appealing and appetising dish, one which perhaps I should have gone for myself.
I mentioned earlier that Gelatis is also an ice cream parlor, and although we didn't indulge in any sweet treats here I will give these a mention. Both real dairy and dairy-free ice creams are available here as well as waffles, crepes and milkshakes. If you'd rather have a liquid refreshment then a selection of hot and cold drinks can be purchased here.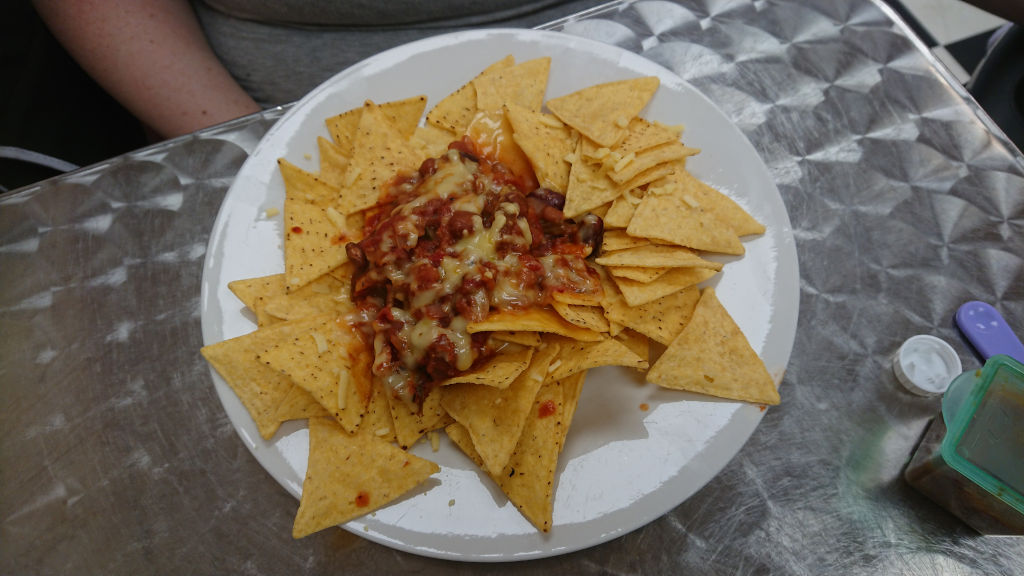 Would I come here again?
Well despite my own dish not being as good as I'd hoped I'm not at all put off making another to Gelatis when I'm back in Ross-On-Wye. In fact I definitely plan to pay another visit here soon, only next time I might opt for the burgers or tex-mex offerings. Besides there are plenty of good things about Gelatis including a wide range of dishes, sweet treats and drinks, plus the staff are very accommodating. From we we've seen (and as was the case on our visit) Gelatis is proving popular with locals and visitors, and long may it continue – I'll certainly be back here.
Getting to Gelatis
Gelatis is located in Ross-on-Wye town centre and is easily accessible via main bus routes serving the town.
Address – 47 Broad St, Ross-on-Wye HR9 7DY
Facebook – https://www.facebook.com/pages/category/Ice-Cream-Shop/Gelatis-564587027397783/
Instagram – https://www.instagram.com/gelatisross/
Post Tags
Post Categories