Burgers and Beers at The Tap House
Posted on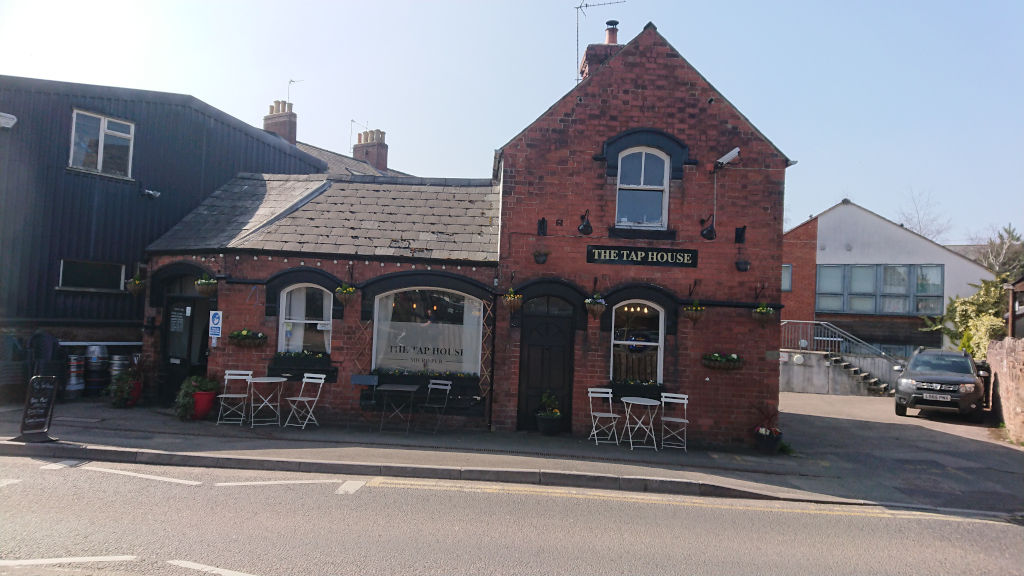 The Covid-19 pandemic has led to a huge change in the way that many hospitality businesses operate. During the various lockdowns that occurred several pubs, restaurants and other hospitality establishments adapted their businesses by offering new ways to continue serving customers with various innovations including delivery services and takeaway beers. Some establishments even used the pandemic as an opportunity to work on projects to further develop and future-proof their businesses.
One small business that has worked on such post-pandemic innovations is The Tap House micropub in Ross-On-Wye, Herefordshire, and one of these innovations (which was spurred on by the pandemic) is a new hot food offering including burgers. And so in March 2022 me and the family decided to pop over to the Tap House for a lunchtime treat of burgers and beers.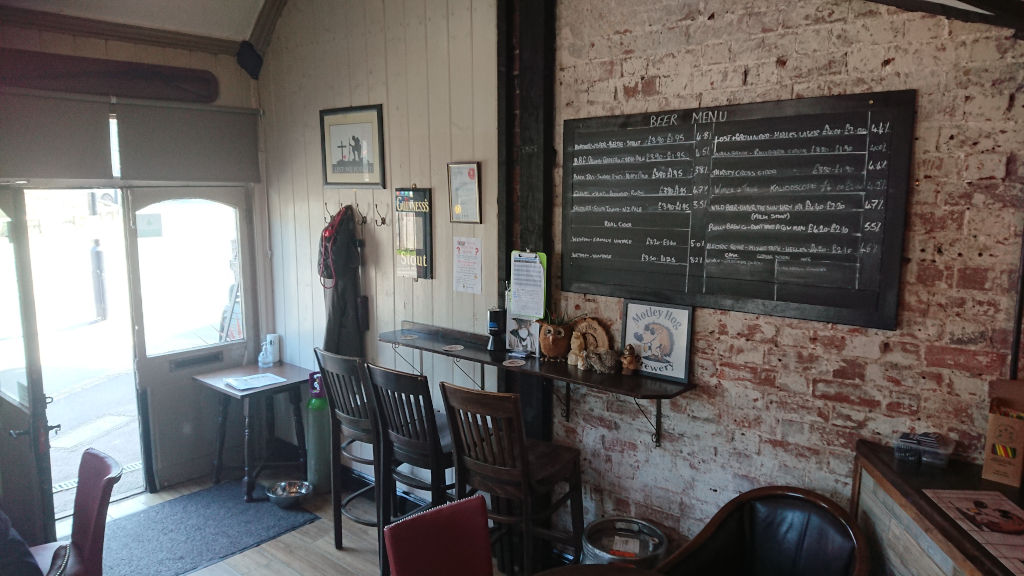 Hot meals in a micropub?
When micropubs first came on to the scene they had a general emphasis on only selling drinks and basic bar snacks such as crisps, nuts, pork pies, sandwiches, etc and that no hot meals would be provided. This is one way of keeping running costs down along with not having TV's, gaming machines, background music, or anything else that would incur added running costs.
Now whilst most micropubs still conform to these ethos today a small number of these establishments have broken ranks as such for one reason or another. The Tap House has done exactly that by introducing a hot food offering as a way of providing the business with an additional revenue stream following what has been a difficult time for them. Now a debate may open up on whether the Tap House can be classed as a true micropub or not due to their hot food offering; some people may say it isn't anymore whilst others may say it still is. I personally say that all things considered, and based on this particular visit, The Tap House is still a proper micropub – end of discussion, OK!
Enough of the debate – let's eat (and drink)
Now that we've concluded that this venue is still a proper micropub let's get back to the pressing topic of burgers and beers. My choice of burger was not surprisingly the chicken burger served with lettuce, tomato and coleslaw – only I opted for just the lettuce, oh and it also came with a generous portion of skin-on fries.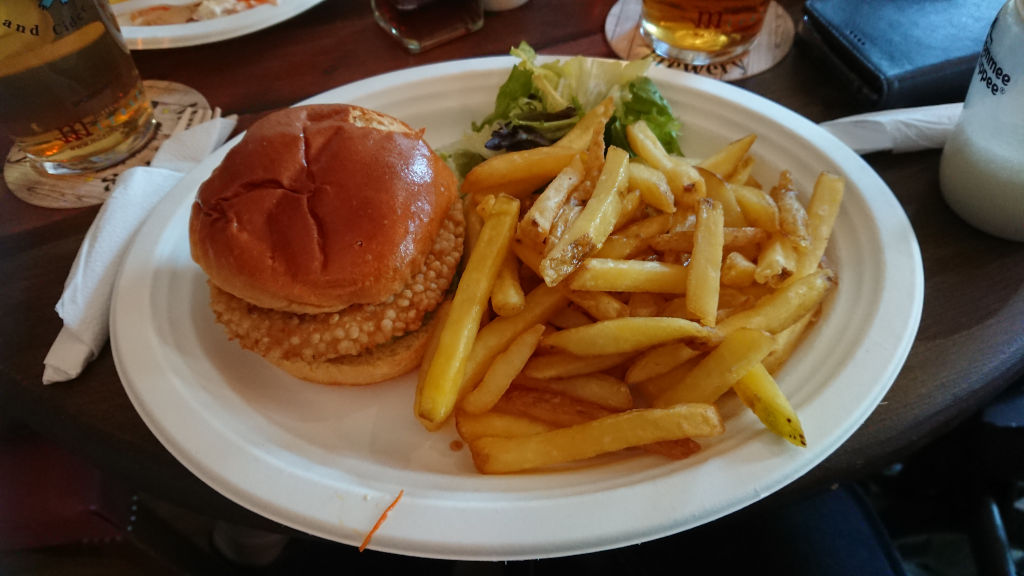 My dining colleagues all opted for the vegetable burger, again served with lettuce, tomato, coleslaw and fries. From what I remember the coleslaw here is freshly made and can be made vegan. Indeed the vegetable burger itself is suitable for vegans.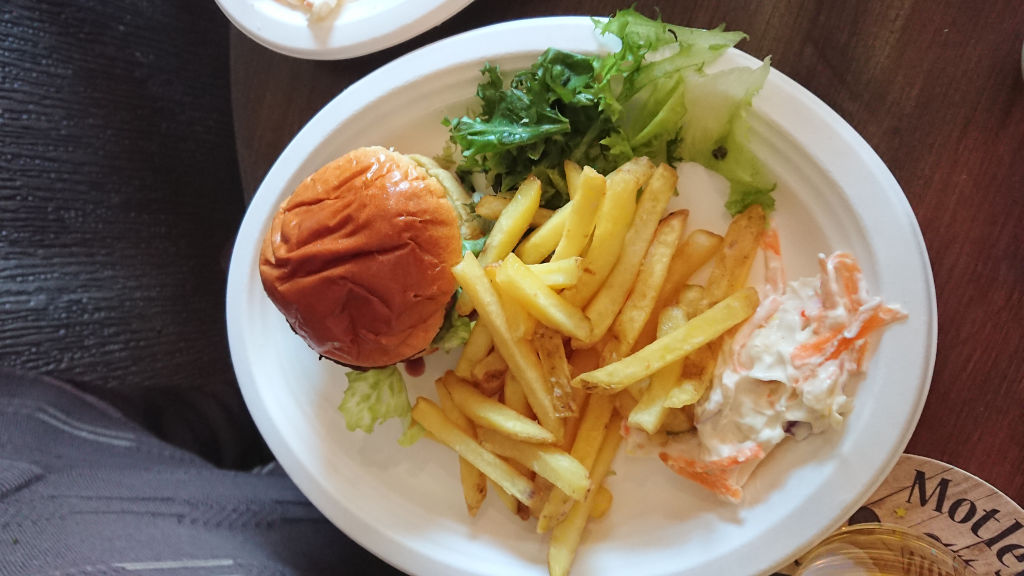 We all enjoyed our various burgers and all thought that our meals as a whole were excellent. For me the burger was tasty and succulent, and the fries were nicely cooked with a good amount of crispiness provided. Also of note was the price of our meals – all burger meals at The Tap House, which include fries and toppings, cost £9 (except the vegetable burger which is £8) which I have to say is rather good value when compared to what you might pay at some bigger burger chains.
It's not just burgers that are on offer at The Tap House. On our visit there were also smokehouse treats available including port ribs and BBQ wings.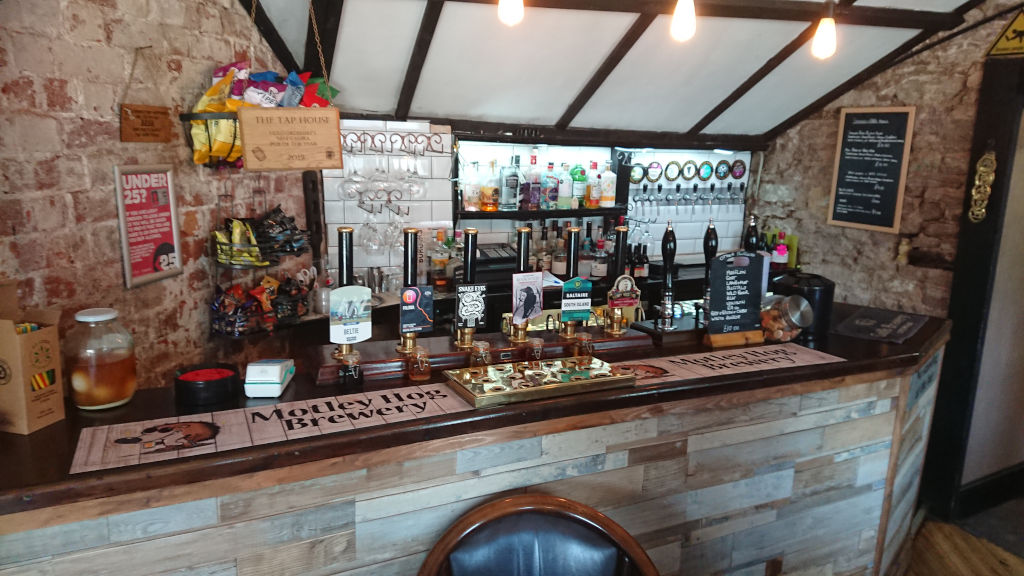 Of course as we are in a micropub so of course we have to indulge in a good pint too, and there is now even more beverages for drinkers to choose from. As well as the usual array of cask ales there is now a selection of keg beers and ciders available, served on tap from the back of the bar area. Being real ale fans we opted for the cask beers again.
Another change at The Tap House since is a new snug room next to the main pub room complete with log burning fire, books, and games.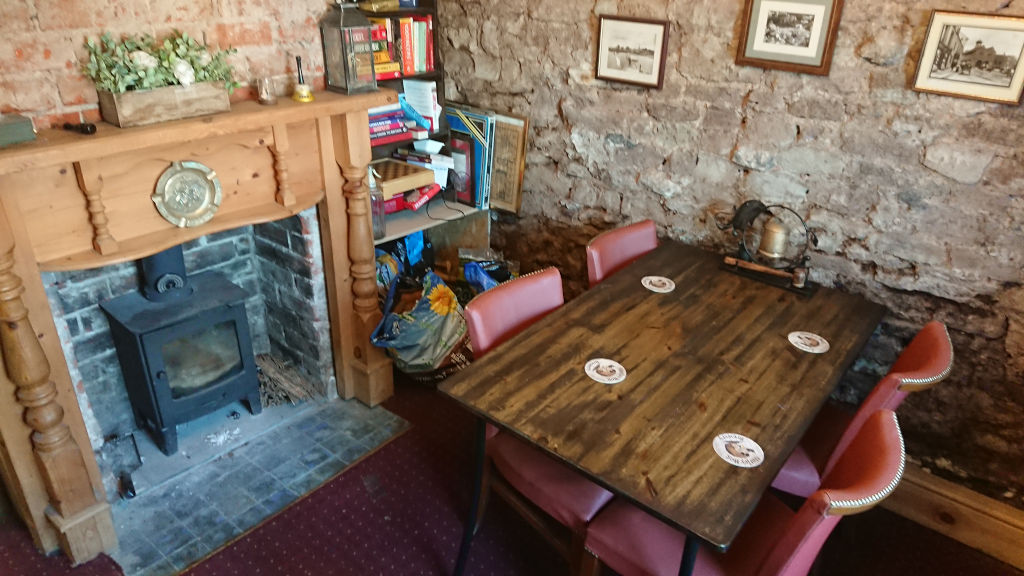 A Grand Tap Return
It's always great to see small, independent businesses still going after a very difficult time for the industry, and The Tap House is a good example of how a small hospitality establishment has battled back after the pandemic. Here's to more success for The Tap House.
Finding the venue
The Tap House is located in Ross-on-Wye town centre and is easily accessible via main bus routes serving the town.
Address – 1 Millpond Street, Ross-on-Wye, Herefordshire HR9 7BZ
Facebook – https://www.facebook.com/RossTapHouse/
Post Tags
Post Categories