Ice Pub and Robotic Bar, Prague
Posted on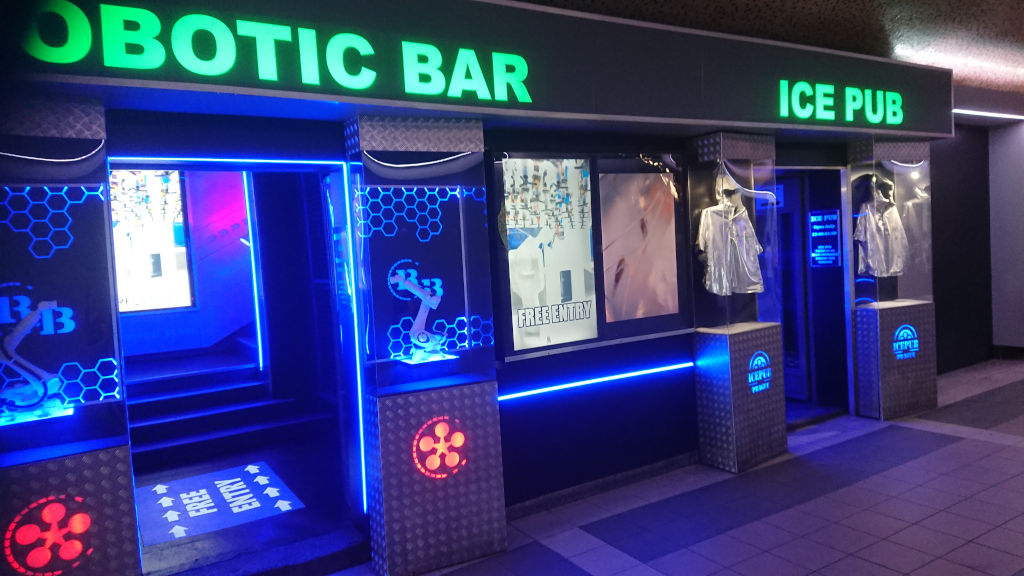 Picture the scene – it's a hot day, you're in a pub, and you're thirsty. What you want is an ice cold drink. Now imagine that it's hot and you are indeed having a cold beverage. Oh, and the pub itself is also ice cold – literally. Funnily enough in Prague we found a pub that was indeed ice cold, and it's actually named as such. Time to call in at the Ice Pub.
Ice-see – a pub made out of ice!
There are actually two parts to this venue; there's the Ice Pub itself and also the Robotic Bar. As soon as you enter you are greeted to a very futuristic feel, something that is carried out throughout the whole venue with appropriate neon strip lighting to boot.
Now you can't just step inside a freezing cold pub without wearing appropriate clothing. No I'm not taking about thick coat, jumper and gloves – that would be daft when it's hot outside. What I'm referring to is a thin thermal overcoat that you are provided with before entering the ice pub itself, just to stop you from freezing to death (not that that'll really happen here).
Ice, Ice, Sculpture, Drink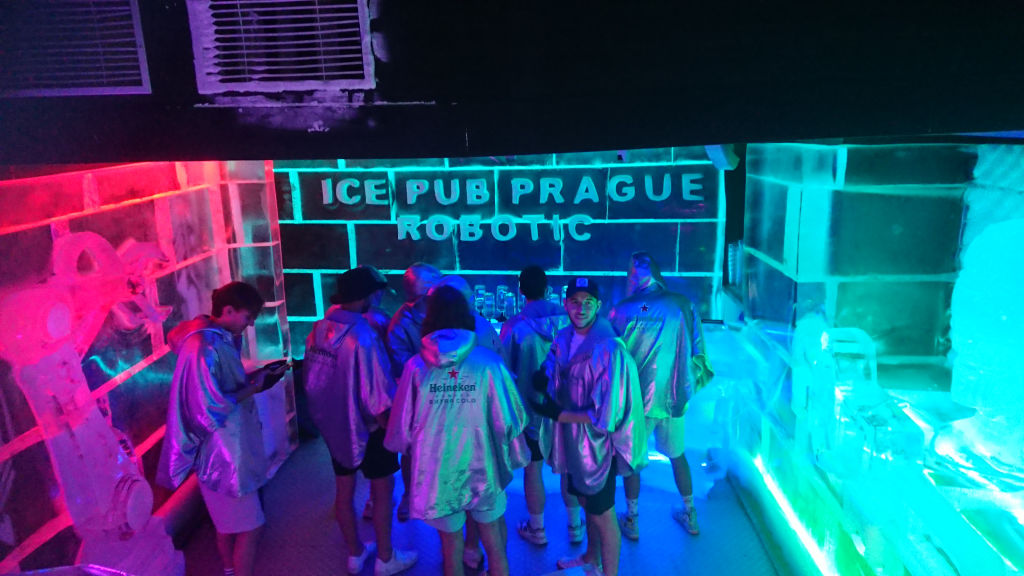 Once inside the Ice Pub proper you have a 20-minute slot to enjoy a cold cocktail drink that is included in the price of your visit. Your drink is served in a cube 'glass' made out of…. go on, guess. There are three different cocktails available here.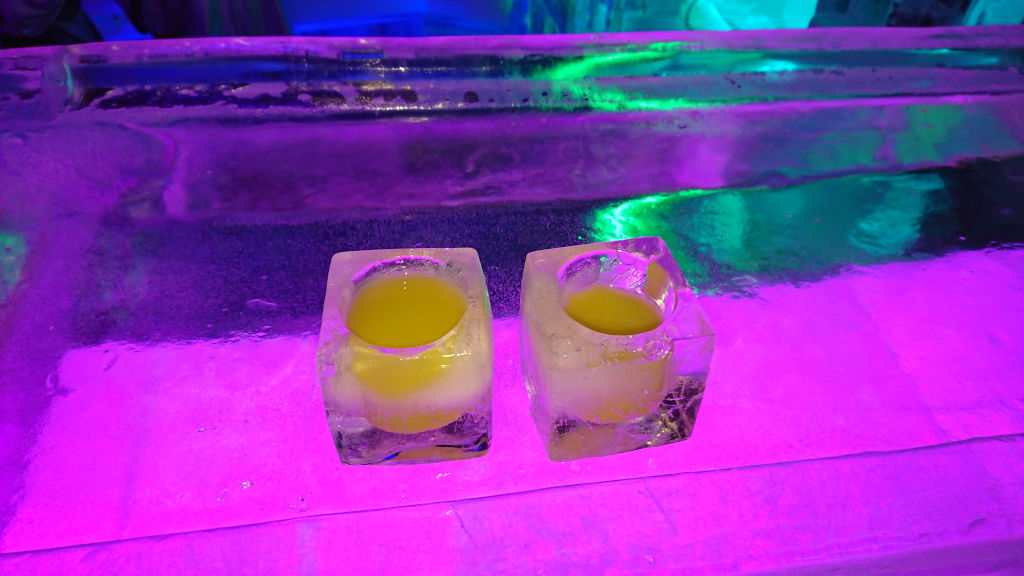 The 20 minutes allocated does give you enough time to check out some of the fantastic sculptures that have been made especially for the venue. You can have a sit down here if you want – oh hang on, I wonder what those seats are made out of.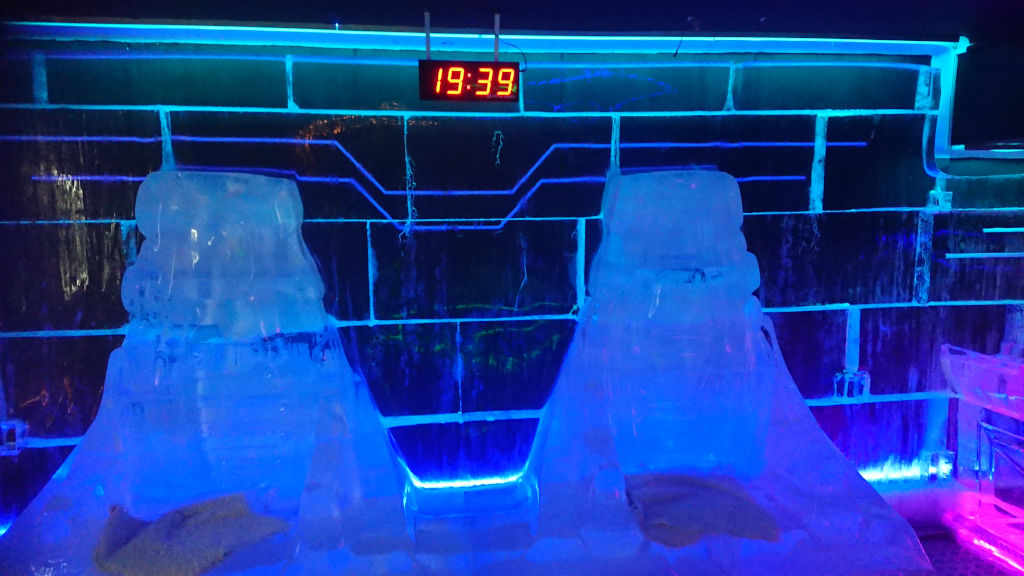 More ice for us
We first visited the Ice Pub back in August 2020, and we would make a second visit here in June 2022. From what we could make out not much had changed between both visits in terms of sculptures (mainly robotic-themed) but from browsing the web I have come across other themes used here (I think I recall a pirate theme used previously).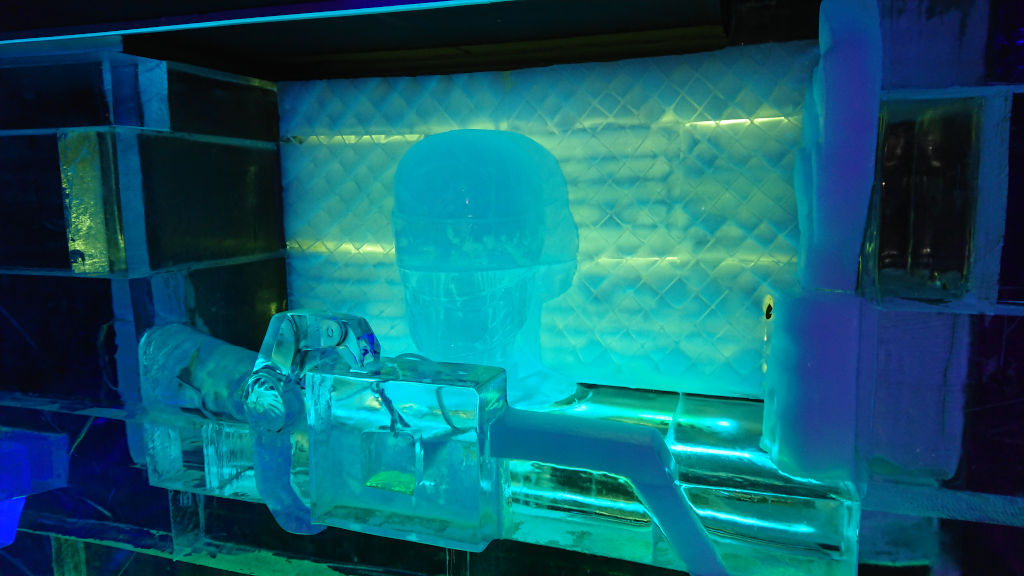 But there's more
If you don't want to step back out straightaway (especially on a hot day) then is another part to this venue – the Robotic Bar.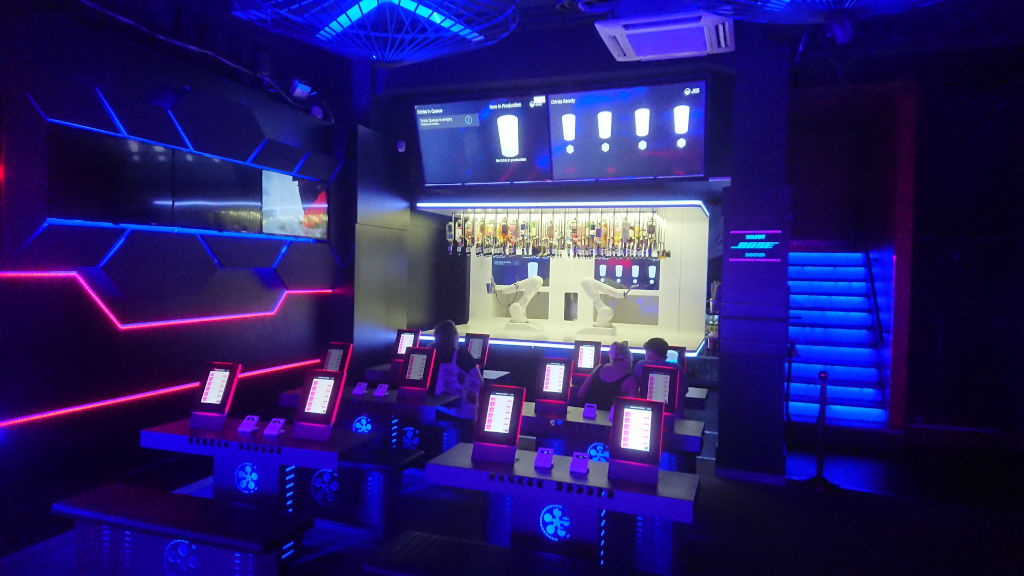 Yes this is literally a bar where everything is operated by machines – two robotic arms which you do get to see doing the important job of preparing your liquid orders. The drinks menu here mainly consists of cocktails and there is a good range to choose from. Once you have placed and paid for your order (using the order screen at your seat) you then wait for (and get to see for yourself) the robots to do their work. It is rather fascinating seeing the robotic arms making your drinks – it does make for a remarkable sight. A human being does come round to bring your finished drinks to you.
When will ice see you again?
This is literally one of the coolest places that you can ever visit, and I can not recommend this place enough especially when the weather outside is so hot. Funnily enough you suddenly notice (and feel) the difference as soon as you leave, which just makes you want to spend more time at the Ice Pub.
Important Ice Details
Address – Ice Pub Prague, Novotného lávka 200/5, 110 00 Praha, Czech Republic
Website – https://www.icepubprague.cz/en/
Post Tags
Post Categories