Savory Açaí House, Valencia
Posted on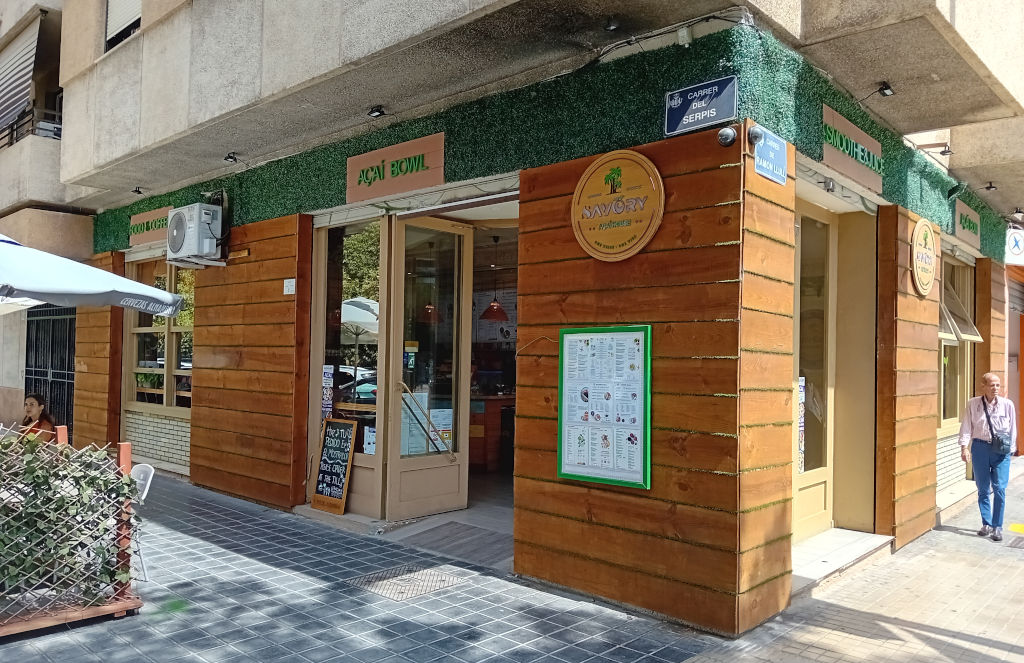 In all the years that I've been running TravelsByAdam I've visited a few independent healthy-eating places all over Europe including So Green in Nice, Rich 'N Greens in Cologne, and Country Life in Prague. These smaller eateries do make for a great alternative to the corporate chains that you'll find all over towns and cities. And we would find another independent healthy-eating venue on our visit to Valencia – so time to try out Savory Açaí House.
Positivity inside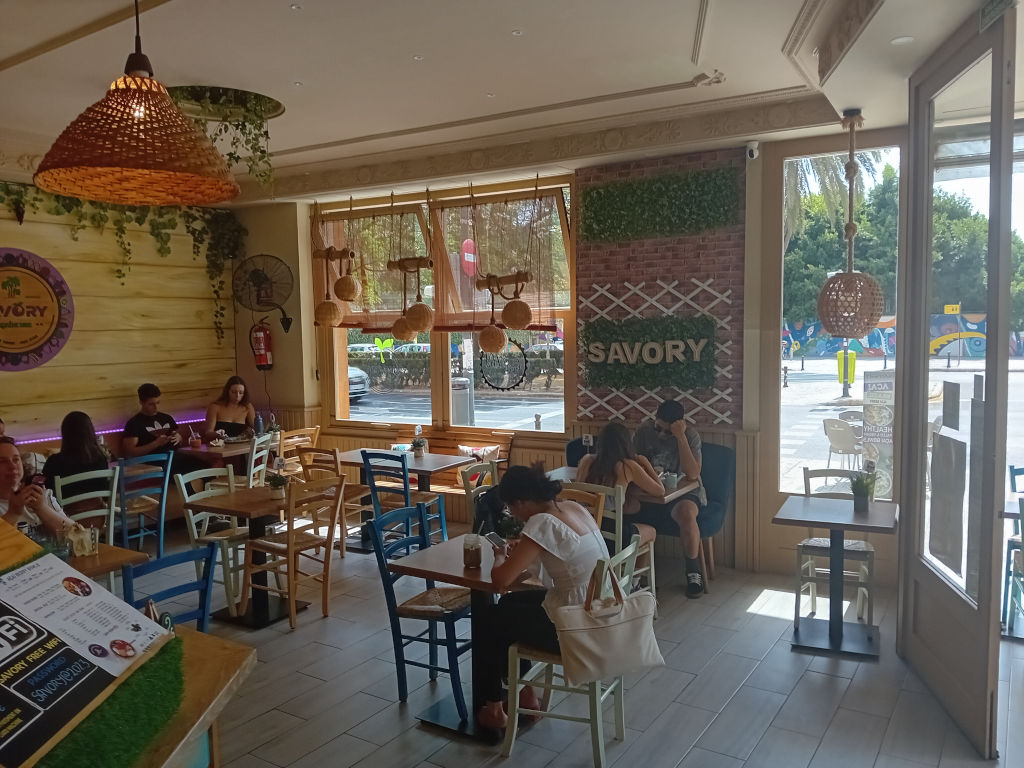 As a general rule healthy-eating establishments are set up with health-conscious people in mind and Savory Açaí House is no exception. Looking in and around the venue though we noticed more than just a healthy-eating place, as there were some other touches inside such as wall plaques with messages of positivity, some subtle greenery dotted around the inside, and in general a bright and welcoming feel throughout.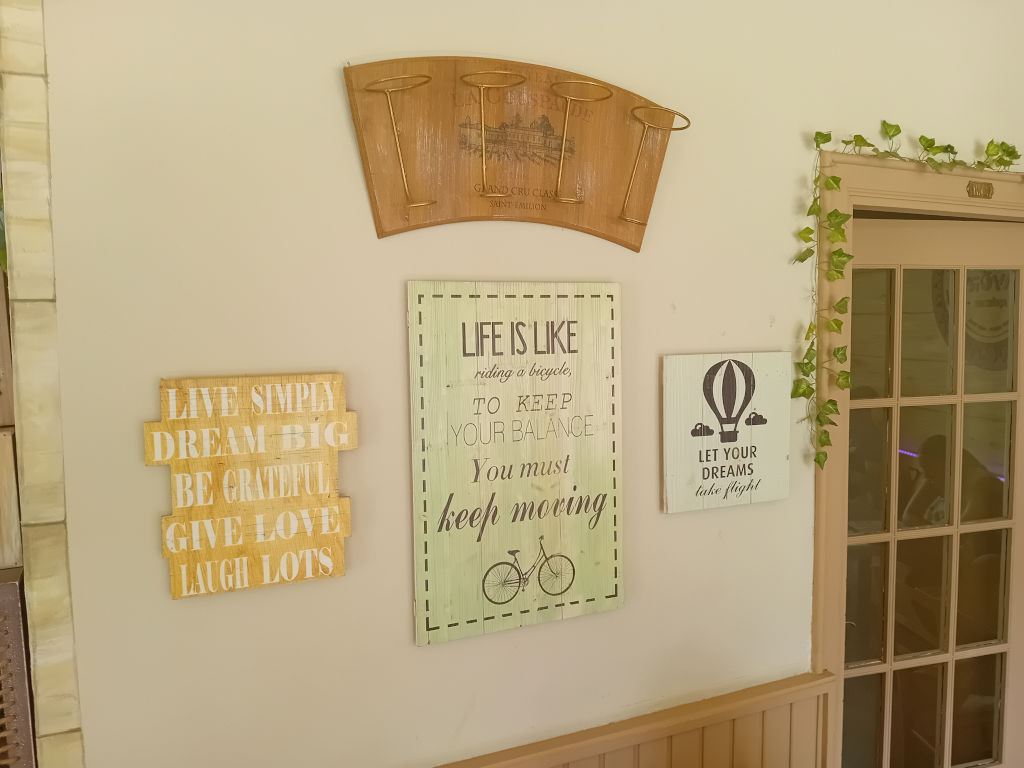 Bagel Brunch
There is a huge variety of dishes available at Savory Açaí House including bagels, salads, toasts, fruit bowls, desserts and more. We opted for the brunch option here which consists of a main dish, two drinks, and a dessert.

For my main dish I chose the Chicken Bagel – bagel with seeds, grilled chicken escalope, melted cheese, yogurt sauce, spinach, tomato and served with a potato waffle (except in this case I asked for mine without the yogurt or tomato). I wouldn't normally opt to have a dish with cheese in it (pizza being an exception), but this time I decided not to have it removed and to be honest I'm glad I kept the cheese in. The bagel as a whole was tasty with the chicken being succulent and well cooked throughout. The potato waffle was alright although I wasn't overly keen on it when eaten on its own. For me the waffle was better when eaten together with a piece of the bagel. Overall though this was a great dish that was filling and plentiful.
My dining partner went for the vegan Heura Burger – bagel with seeds, vegan burger, avocado cream, tomato, lettuce, barbecue sauce and served with a potato waffle. This burger is also available as a vegetarian dish with melted cheese, but for obvious reasons this was omitted on this occasion.
For our dessert choices my dining partner opted for the Sambazon – an Acai bowl with banana, strawberry, granola and peanut butter. I on the other hand just went for a butter croissant. For drinks (remember the brunch option comes with two drinks) we each had a still water and an orange juice.

Superb Savory Brunch
Of all of the healthy-eating places that I've visited on my European travels I have to say that Savory Açaí House is one of the best that I've been to. The food was excellent and the venue itself is just a very pleasant place to enjoy a healthy meal. There were a good number of diners on our visit (mainly youngsters) and it was clear to see why Savory Açaí House is popular. I would certainly recommend this place to anyone visiting Valencia and looking for somewhere to enjoy a healthy dish.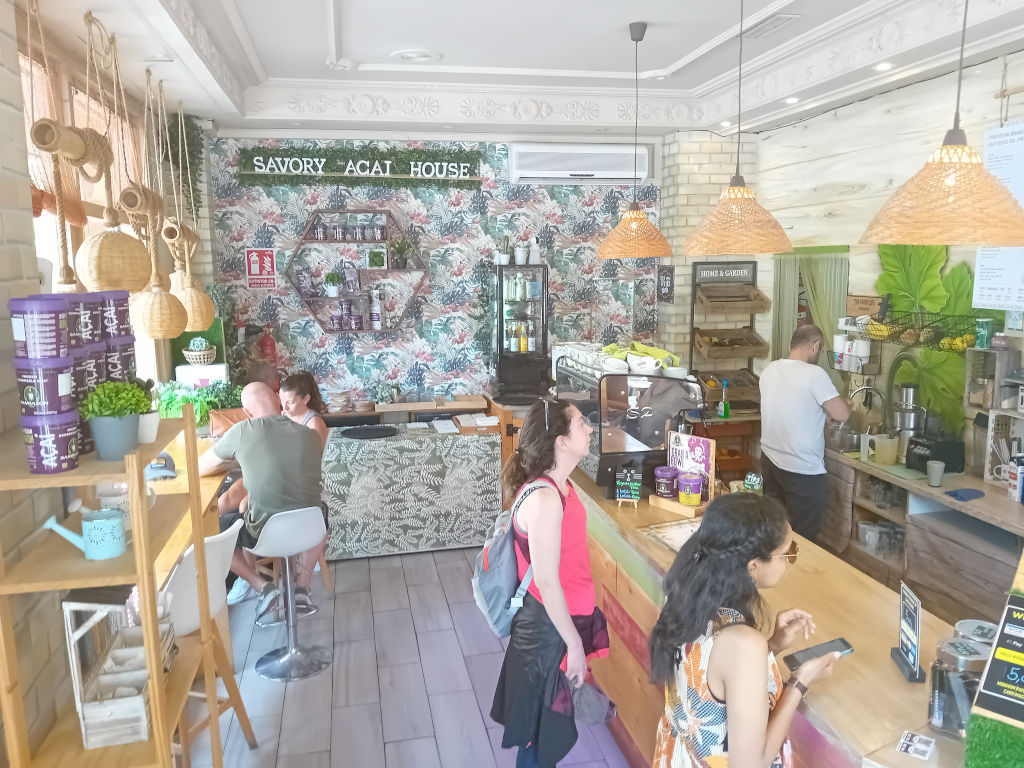 Address and links
Address – Carrer del Serpis, 23, 46021 València, Valencia, Spain
Website – https://savory.biz/
Facebook – https://www.facebook.com/savoryacai
Twitter – https://twitter.com/sambazon
Instagram – https://www.instagram.com/savory_acai_house/
Post Tags
Post Categories