Nightmare Prague Horror Bar
Posted on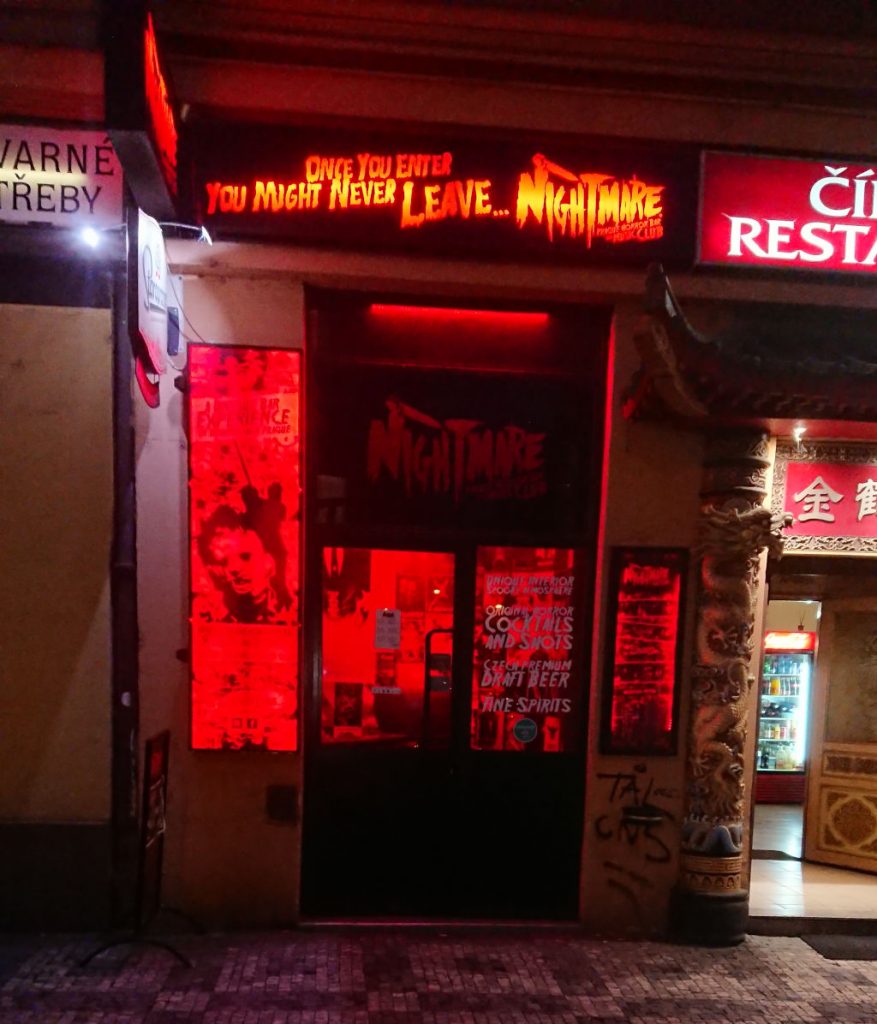 When on holiday and the weather is hot one of the natural things to do, especially in the evening, is to find a nearby pub or bar and enjoy a nice cold drink. Now like all the major cities Prague has of its fair share of establishments providing essential liquid refreshments. Most of these are traditional pubs and bars, but there are also a small number of the more quirky type of drinking venue. One such venue is an underground bar that may give you nightmares – I am of course talking about the Nightmare Horror Bar.
Twisted venue, literally at first
Upon setting foot inside the venue you are immediately faced with your first challenge – getting to the main bar area. To do this you simple have a walk down a twisted stairway – simple, but this a horror-themed bar so it's not necessarily for the faint-hearted. The stairway is dark with fading red lights and horror-themed posters to boot. But don't be scared – everything is just fine.
You've made it, now take a seat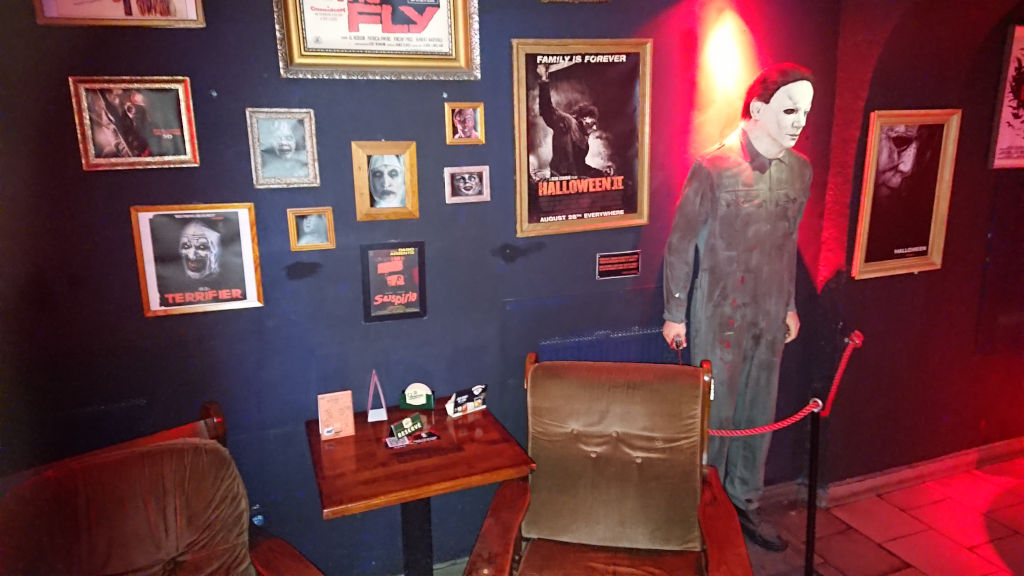 Now that you've successfully made it down the stairs you can find a table and check out the rest of the horror inside. There's actually a lot of interesting items to check out including posters, dolls (my favourite being the Chucky doll) and other decorations to complete the horror theme. There's even a projector screen playing old movie trailers, horror ones of course.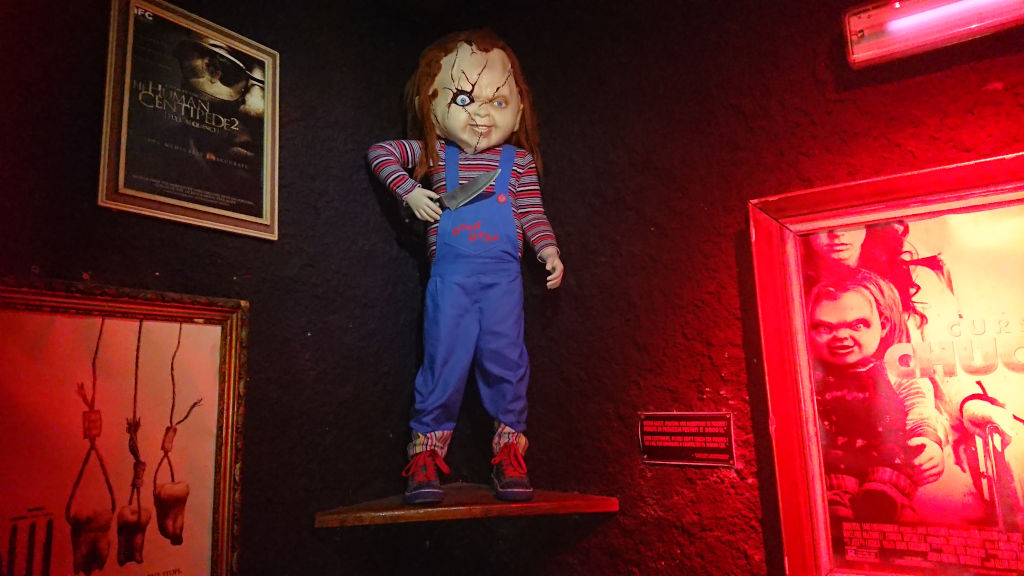 Now to the bar, get a drink
Now that you've found a seat all you need to do now is to order a liquid refreshment. Whatsmore there is plenty to choose from here including cocktails, beers, wines, shots, spirits, and plenty of non-alcoholic offerings including mocktails. At first we opted for a traditional Czech beer, something that you must have whenever you visit Prague or anywhere else in the Czech Republic, but later on we would try out the cocktail offerings.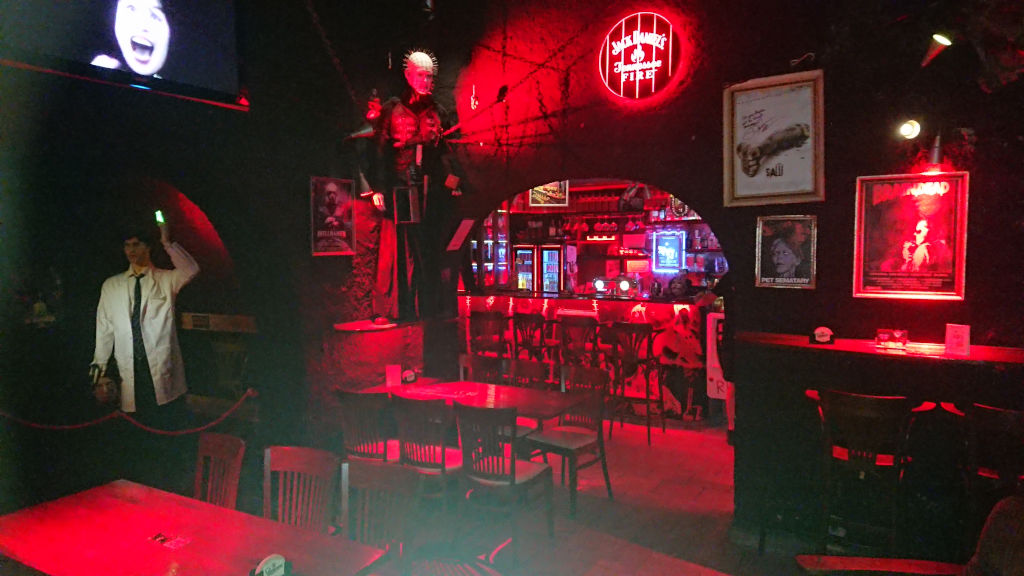 Now we have a small confession to make – we actually made two visits to Nightmare. Yes we loved it here so much on the first night of our stay in Prague that we just had to return the following evening. On the first night I only opted for the beer but on the second night I did go for a cocktail. If I recall correctly I chose the 'Nightmare' cocktail consisting of vodka, tequila, whiterum, cola, and sweet and sour lemonade. It was such a good cocktail that I do wish I had this earlier and even tried out a few other offerings.
Have more nightmares
We've completed our mission of entering and spending time at the Nightmare Horror Bar, and we leave with plenty of nightmare memories.
OK all jokes aside this is a fantastic quirky bar that we thoroughly enjoyed visiting. The setting is top notch, the staff were absolutely brilliant, the drinks range is superb. It did of course help that it was nice and cool inside, something that was needed given the hot weather outside.
It also doesn't matter if you are a fan of horror or not (I'm not myself) as the Nightmare bar is rather relaxing (I don't recall loud music playing when we visited). This quirky venue is definitely worth visiting, providing you're not easily scared of course.
Some Nightmare-ish details for you
Address – Újezd 598/5, Praha 5 – Malá Strana
Website – https://www.nightmare-bar.com
Facebook – https://www.facebook.com/nightmarehorrorbar
Instagram – https://www.instagram.com/nightmare_horror_bar/
Post Tags
Post Categories