Au Bonheur des Chats
Posted on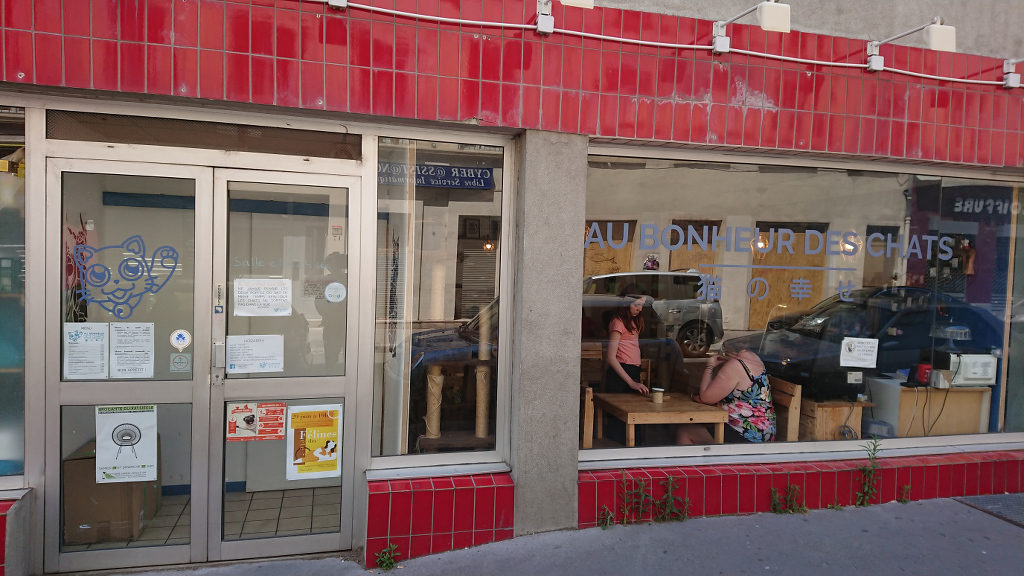 Now before I go any further I need to point out that I'm not really a huge fan of cat cafes in general, mainly because I feel that they can be somewhat unhygienic. The thought of having cats jumping on to your table whilst you're trying to eat, and then try to eat (or at least lick) your food, isn't exactly something that gets my approval. That said though this doesn't seem to put off a lot of people who visit these establishments so maybe it's just a personal gripe of mine.
So you're probably asking why I went to a cat cafe? Well my wife loves cats and really wanted to go to visit a cat cafe whilst we were away, and being a gentleman I was happy to go along.
Off to le cat cafe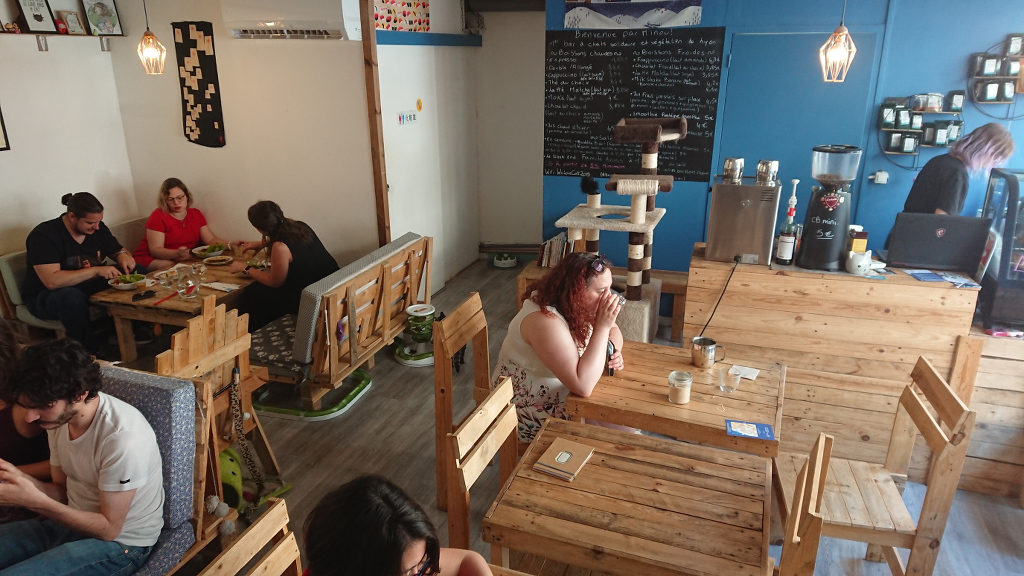 Au Bonheur des Chats is a Japanese-themed cat cafe located in Lyon's 7th District. The name of this establishment translates as 'Happiness of the Cats', which is certainly true of the cats that we saw here – they all seemed happy (although some were fast asleep so we couldn't tell).
OK cats, let me eat please!
The food on offer at Au Bonheur des Chats is all vegan. I opted for a rice noodle dish with tofu, carrot, nuts, with a soya peanut sauce.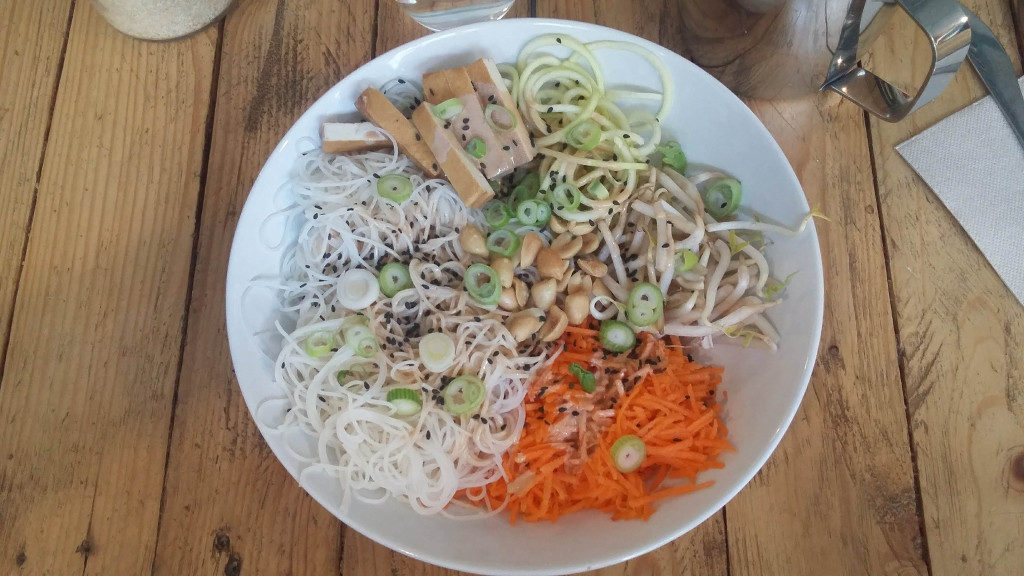 My wife went for the Buddha bowl consisting of rice, carrot, tomato, beans, and cauliflower.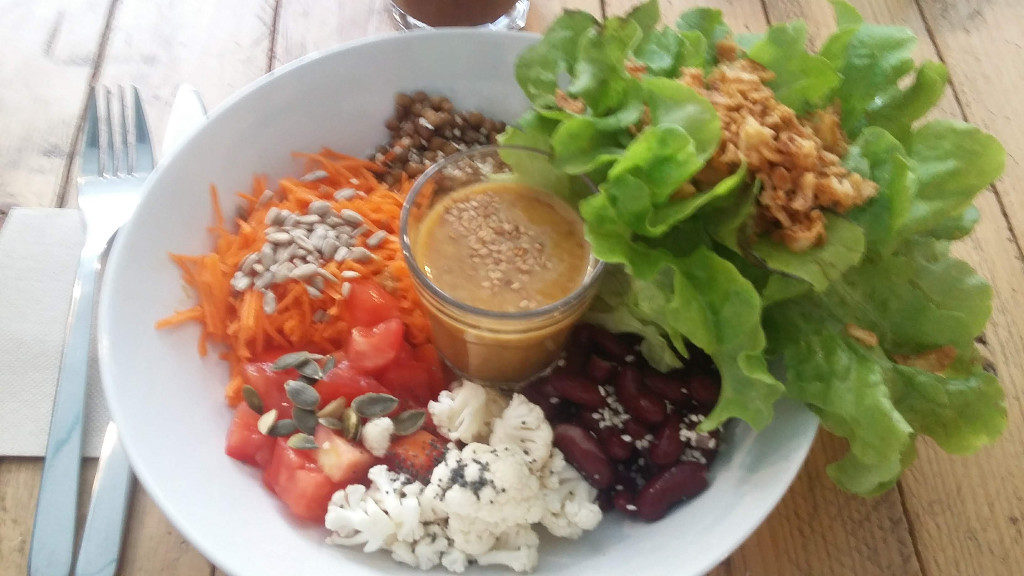 Both dishes were filling and healthy, and I would certainly have the rice noodle dish again. A good range of vegan sweet treats were available for afters including a chocolate & coconut cake.
Most of the cats were well behaved (i.e. sleeping) whilst we were eating but one particular cat couldn't resit trying to eat (steal) our food. Thankfully the owner helped get rid of the would-be thieving rascal by spraying water at him (it was just water), leaving us to continue with our dishes.
Visit again?
I do stand by my initial point about not being a fan of cat cafes, however I would be happy to pay another visit to Au Bonheur des Chats if I do return to Lyon again in the future – but it would need to be with the right person (i.e. the missus). Besides the owners of the establishment were brilliant so on that basis alone I'd happily recommend this place to any cat lover who is planning on heading to Lyon soon.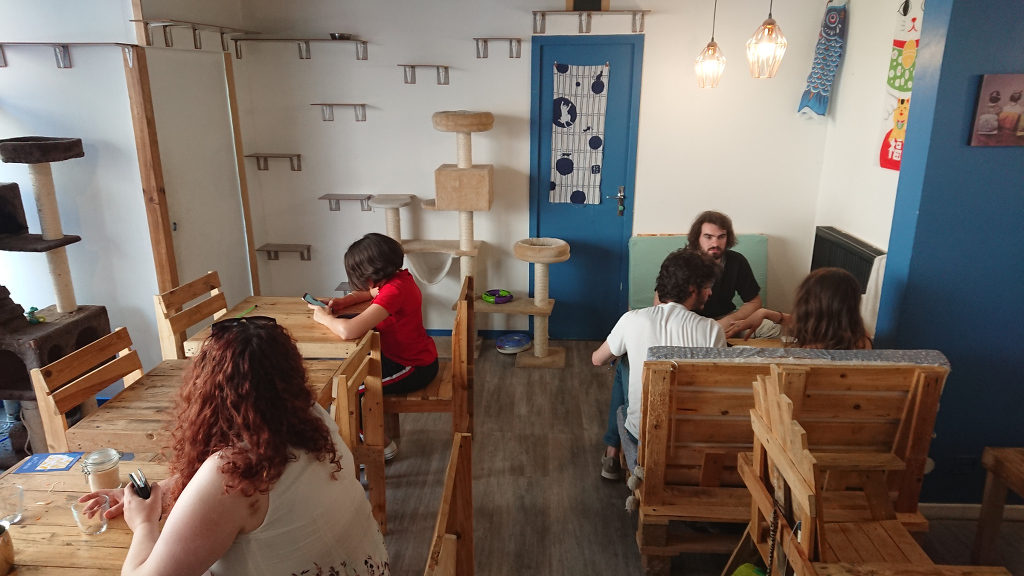 Incidentally you will have noticed that there are no photos of cats in the above post, so just to cheer you cat lovers here's a photo of one of our own cats trying to stop me from going any further with writing this very blog post.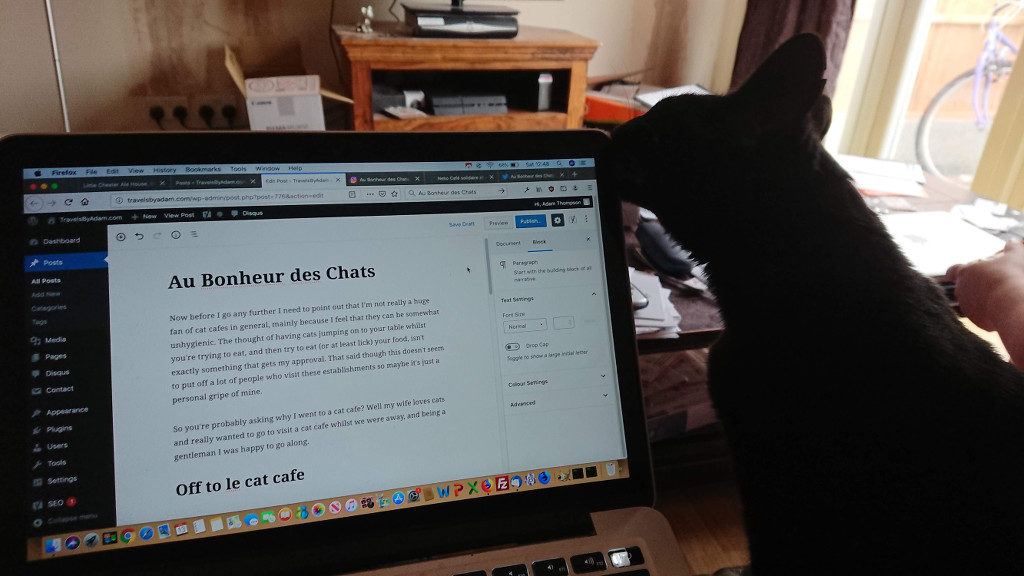 Finding the venue
Address – 20 Rue Salomon Reinach, 69007 Lyon, France
Useful links
Website – http://au-bonheurdeschats.fr/ (in French)
Facebook – https://www.facebook.com/nekobonheur/
Twitter – https://twitter.com/Nekobonheur
Instagram – https://www.instagram.com/nekobonheur/
Post Tags
Post Categories