Interview – Dog & Parrot
Posted on

The COVID-19 pandemic has had a huge impact on the hospitality trade with pubs, restaurants and hotels all having to close their doors during the initial 2 ½ month lockdown. Many establishments, both big and small, were hit hard with several well-known chains closing branches and cutting thousands of jobs.
Micropubs were particularly hard-hit during the lockdown with some unable to trade at all, and some have sadly since closed their doors for good. Other micropubs, however, were able to offer alternative offerings including increased take-outs and delivery.
One such micropub has that managed to keep going during the pandemic is the Dog & Parrot in Eastwood, Nottinghamshire. In addition to continuing trading the micropub has also had involvement with the government task-force on creating pub guidelines. Here the Dog & Parrot's co-owner Kathryn Boam and social media co-ordinator Glyn Hassell give the full lowdown on how the pandemic has effected the business as well as some wider thoughts on the micropub trade going forward.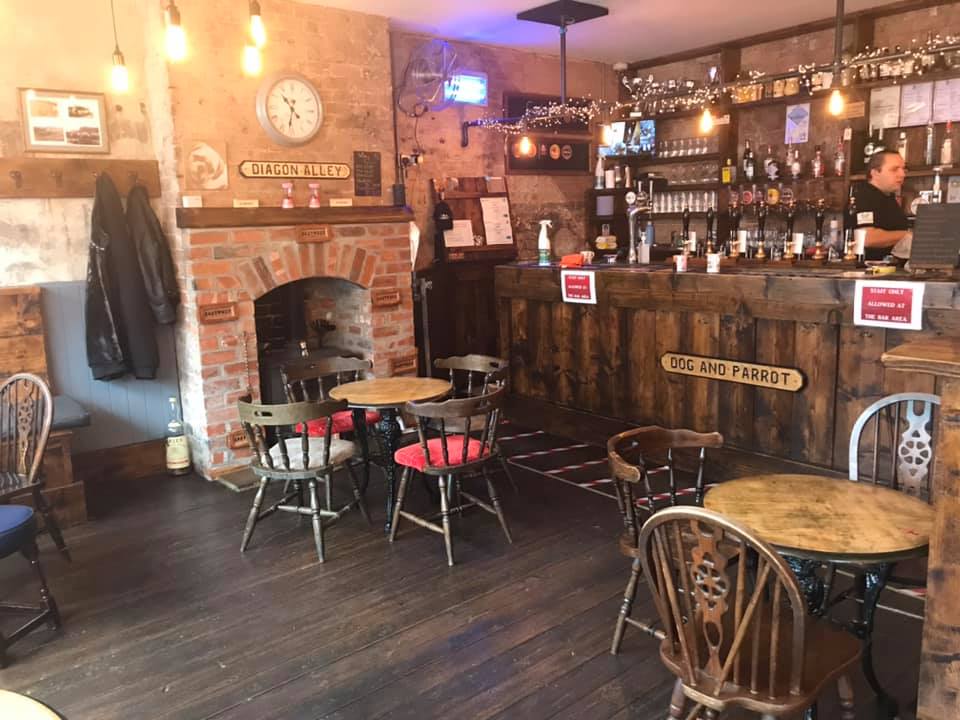 You were able to re-open after 2 ½ months. How relived were you to finally open your doors again?
Very relived, really relived that we were able to start trading again properly. During the lockdown we did the takeouts which we did with the community at the same time, helping out with shopping and picking up prescriptions, and basically just checking up on our most vulnerable customers.
It was nice to see faces coming back, even though there were a few that we've not seen come back yet. There are still some people out there who are wary of coming back, and the new restrictions that have come in (as of 22nd September 2020) have had another knock-on effect.
During the 2 ½ months you were able to continue trading as a takeout service. How has that been for you as a business?
It helped to keep us on the map of Eastwood. We've had people texting us popping in to collect their take-outs. Initially we struggled to get takeout containers, because everyone who had an off-licence licence were thinking the same (offering takeouts). We'd been doing takeouts before lockdown, offering people the chance to buy takeout beer if they wanted to. When we first opened we had a couple of Indian restaurants, one of which didn't have a licence at the time, so people were buying takeout from us to take over to the restaurant so that they could enjoy some real ale or cider with their meals. We are still doing takeouts now and a few people who were popping over during the lockdown for takeouts are continuing to do so.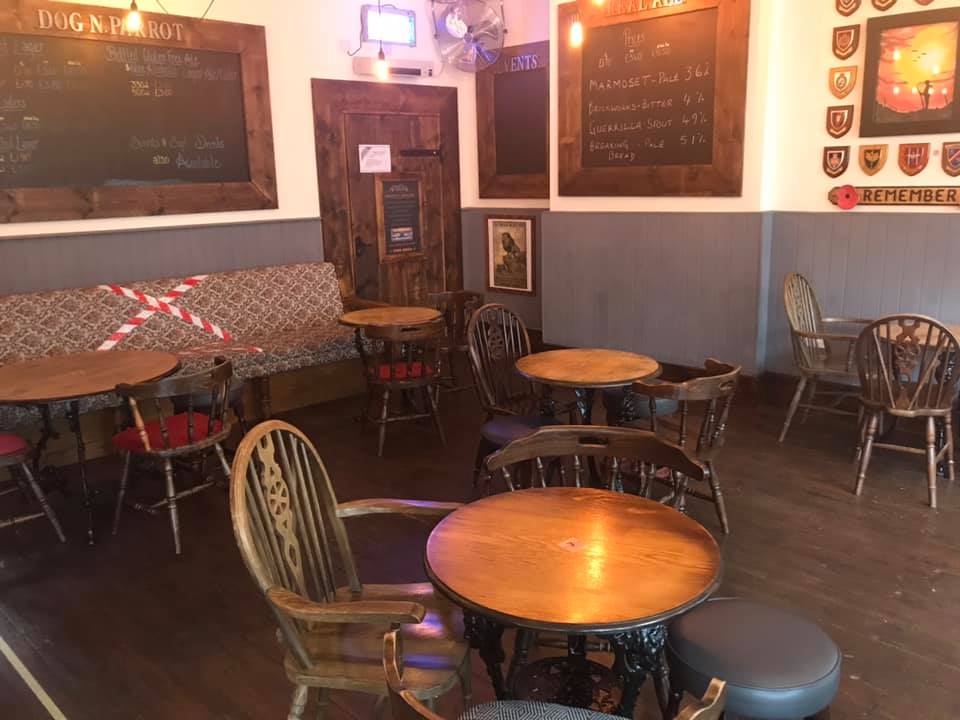 What has been the biggest frustration for the business during the lockdown?
Obviously not being open. We didn't anticipate the lockdown to be as long as it was, perhaps 1 to 1½ months. We knew that for the first three weeks that we wouldn't just be shut down, but it was a long, long time until we actually re-opened. We did get the government grant, which helped us pay for the rent because you've got to pay your bills at the end of the day. The takeaway sales that we did during the lockdown kept us going as well as the local breweries in and around the area, as we always like to support them and we're able to get hold of them for supplies. Believe it or not we were actually struggling to get hold of lager in kegs, but we did manage to source some in the end along with ciders.
What has the response been to you re-opening?
People have really supported the pub, and we can't thank our customers enough. When we re-opened again it was like opening night again, not knowing what to expect. We are grateful that we are still here. The community has really rallied round for us.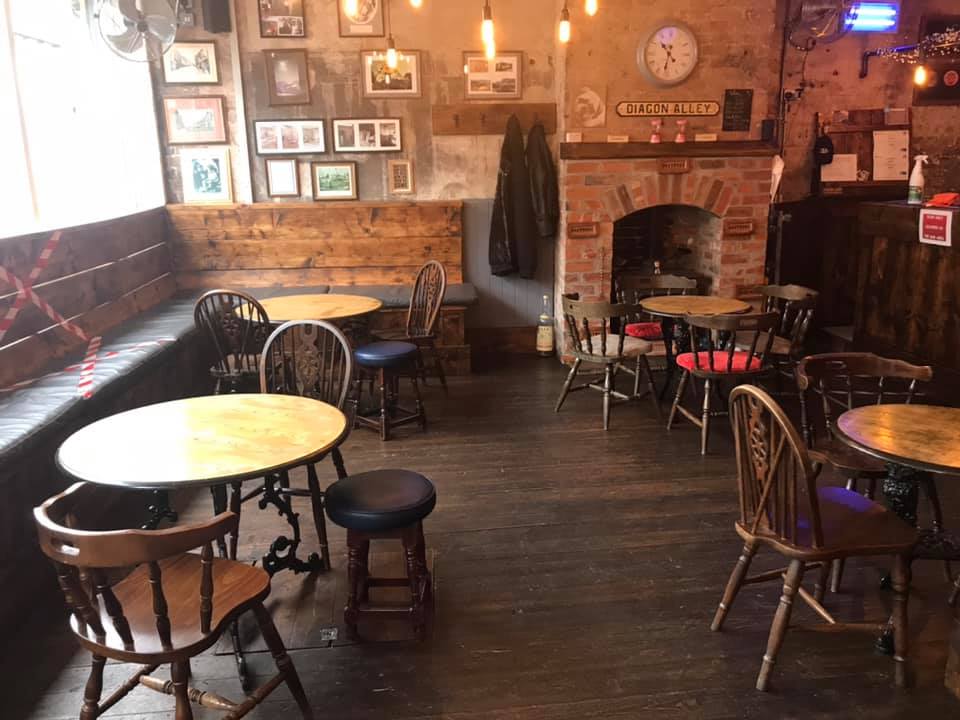 What changes have you had to make to the venue since re-opening (i.e. social distancing measures)?
Our social distancing measures mostly involve how we've set out tables about. At most we've only lost 10 seats – we're a large micropub and are still able to seat around 50 people. We've been doing 'Rule-of-6' since re-opening, something that we were doing anyway, and it's not had a dramatic effect on us. We don't have any customers at the bar, again something that we've applied since re-opening. All of our tables are numbered (for table service), and we have Track-and-Trace (with QR codes) in operation. If someone doesn't have a compatible phone on them then we can take their details. We made the decision to do table service since we re-opened, and it has worked. A lot of people have asked us if we can keep table service once lockdown has finished.
You were involved in the Government task force to create the pub guidelines. How did you come about to getting involved with that?
The government were asking for case studies, and the big companies in the pub sector were all involved. We got in touch with the government asking if they would be interested in hearing from smaller, independent venues like ourselves. They were more than happy for us to be involved as an independent voice, and they have been very supportive throughout. After they said YES we worked on a case study and sent the information through. Unbeknown to us, after we sent everything through the next minute we're in all the national newspapers, several local papers. We've even done some radio interviews including BBC Radio 5 Live and BBC Radio Nottingham. Our local MP even gave us a mention in the House of Commons. The overall reaction has been amazing – all thanks to this case study.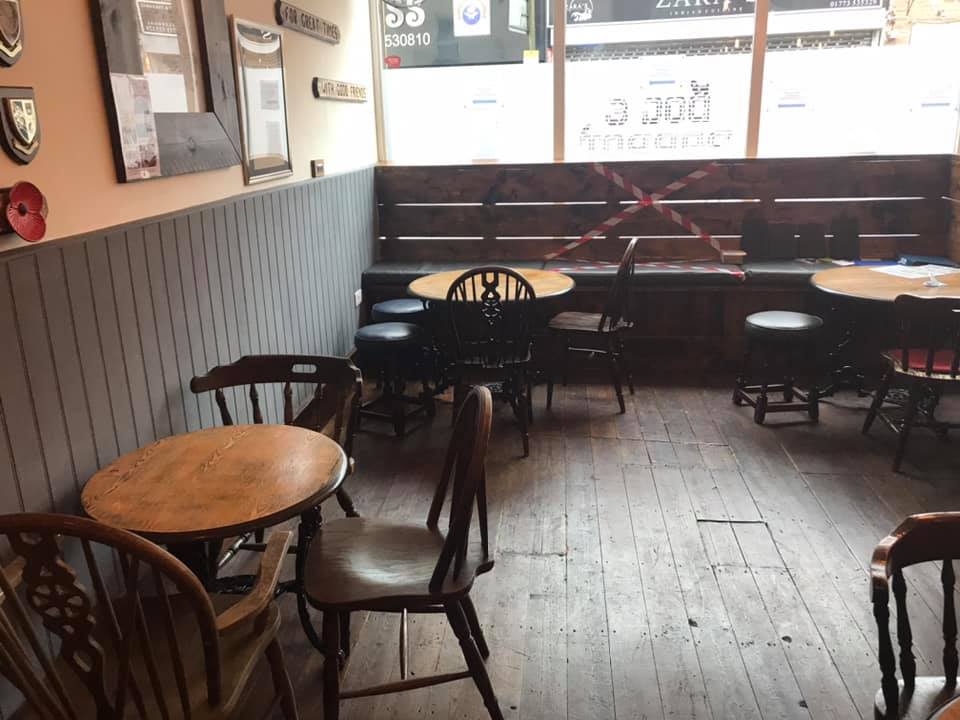 Going forward what do you think the future is for the micropub trade?
Around our area the micropubs seem to be doing OK, whereas some of the bigger pubs are struggling due to footfall not coming back, higher costs (building costs, staff wages, rents, etc). It's sad that there are pubs that are closing. Where the Dog & Parrot is located we're lucky in that there are a few micropubs in and around the area, and people are coming back to the area because they have choice here. Whereas in an area with just the one micropub (and no other pubs) it's very difficult to entice people to come back if they are not guaranteed to be able to go in (due to social distancing). We think a few micropubs will have to tuck their wings in, keep their heads down, and hope that they can ride out the next 6-12 months.
Finding the venue
The Dog & Parrot is located on the main road in Eastwood and is served by several main bus routes from Nottingham and Derby.
Address – 13 Nottingham Road, Eastwood, Nottingham NG16 3AP
Nearest Buses – Rainbow One, Amberline and Black Cat (all Trent Barton)
Useful Links
Facebook – https://www.facebook.com/DogAndParrotEastwood
Twitter – https://twitter.com/DogandParrot
Post Tags
Post Categories