Amelie Flammekueche, Cambridge
Posted on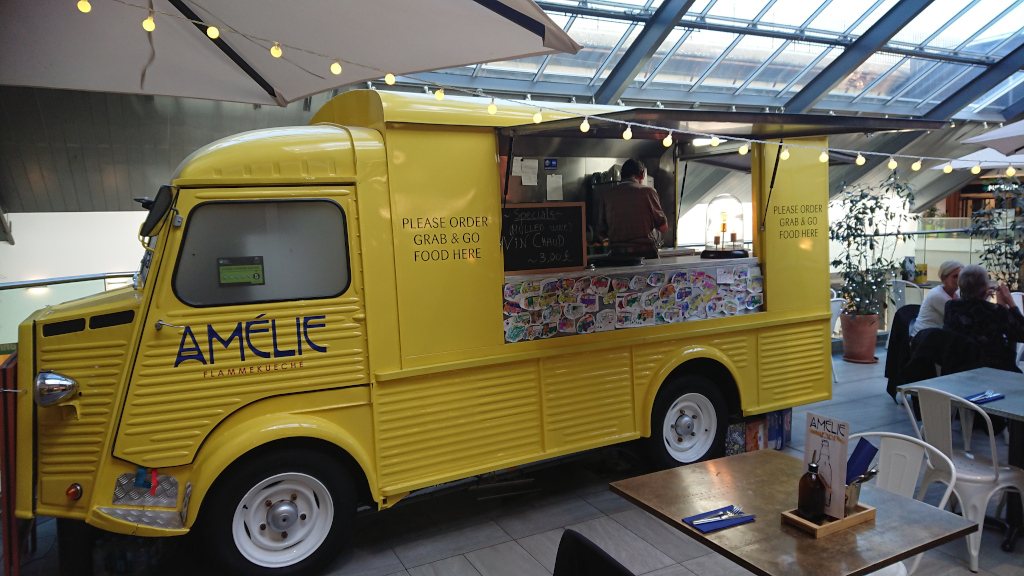 The independent food scene in Cambridge has been going through something of a mini-boom with various outlets opening up in the city's Food Social complex at the Grafton Centre. Now having already tried out one of these outlets, The Duck Truck, it would be rude not to try out another eatery in the centre. My choice this time was Amelie Flammekueche, a small independent outlet that specialises in French-inspired flatbread dishes.
Vintage Touches
The first thing to notice upon entering Amelie's is the vintage yellow van, an old Citroen, which is used as an order point for takeaway food and drinks. The van is certainly eye-catching and does make for a classy focal point to the restaurant – so much so that I couldn't help but admire just how good it looks.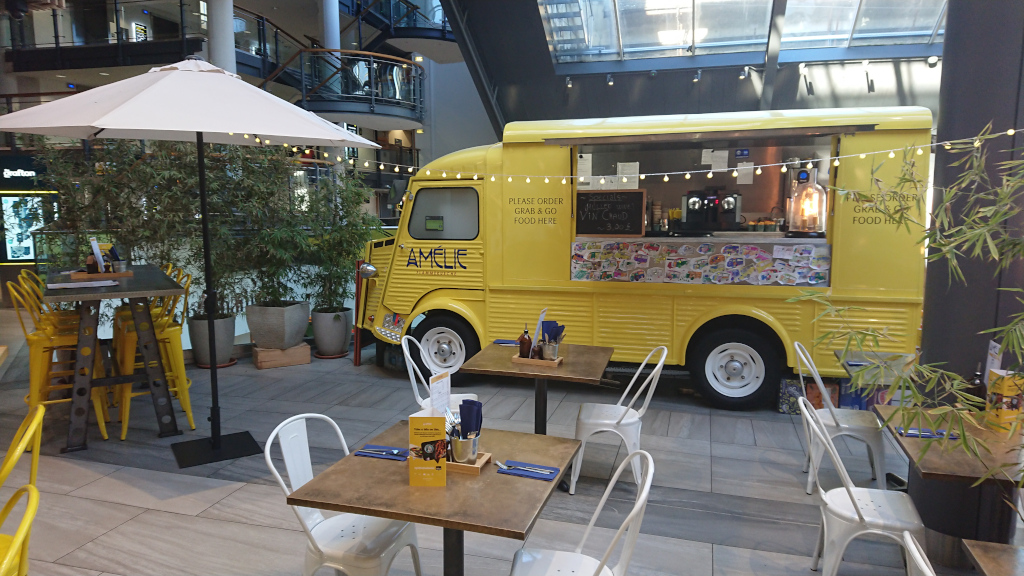 Flatbread, NOT Pizza
The main dishes that are available at Amelie Flammekueche are flatbreads, and are not classed as pizzas even though they may appear as a rectangular version as such. All flatbreads here come with a seasoned crème fraîche base, but if you are vegan or lactose-intolerant you can have a rich tomato base instead. I was happy to go for the crème fraîche base on this occasion just because it was something different for me.
My choice of flatbread dish was the medium Chilli Chicken, consisting of crème fraîche, sliced onions, smoked bacon, spicy marinated chicken breast, sweet red peppers, courgette, yakitori & firecracker sauce.
Even though this was a chicken dish the high amount of vegetables on this flatbread meant that I was more out of my usual comfort zone. Nevertheless I was happy to give this flatbread a go, and I'm so glad I did.
The mix of chicken and vegetables helped make for a tasty and healthy dish, in fact as I was tucking in I kept thinking to myself 'I'm eating vegetables!'. Also of note is that there also a subtle amount of kick thanks to the yakitori & firecracker sauce.
The only minor snag was the the flatbread was slightly burnt at the edges, but this was only little and not a huge issue at all with what was otherwise a great flatbread.
Time for dessert? OK then
I don't often go for a dessert when out dining alone, but on this occasion I really fancied a sweet treat for afters. Now I could have opted for just ice cream but instead I decided to go for the Chocolate Brownie, a warm brownie topped with chocolate sauce, roasted almonds, and vanilla ice cream.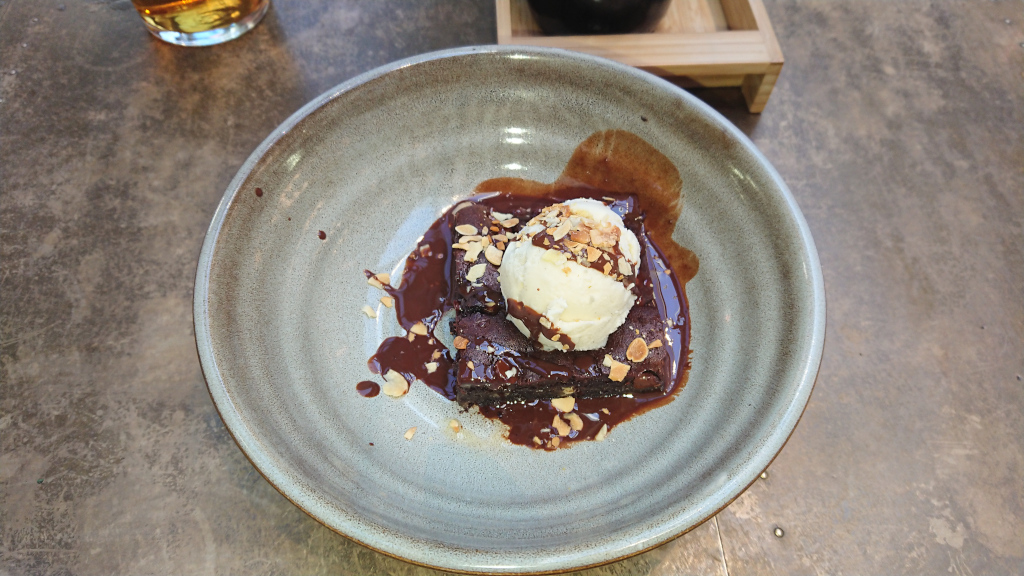 The brownie was pleasant all round and it was pipping hot upon arrival. In fact I ended up having to eat the ice cream first whilst it was still cold (I hate melted ice cream).
All Good, Amelie
So this was another new place for me to try out, and having experienced it it is one that is added to my list of eateries that you should visit yourself. Amelie Flammekueche offers something different from pizza for sure, and the food available here is pretty good to say the least. I really enjoyed my flatbread dish here, and a quick mention for the friendly staff here too. I will be all the more happy to eat at Amelie Flammekueche again soon.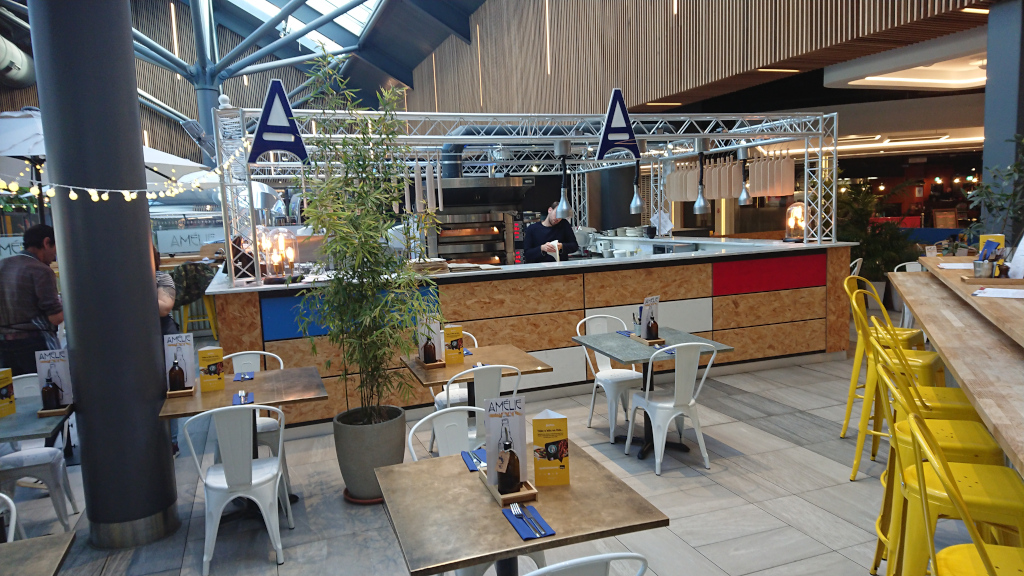 Getting to Amelie's
Amelie Flammekueche is located within the Food Social zone at the Grafton Centre in Cambridge.
Address – The Grafton Centre, Cambridge CB1 1PS
Website – https://www.amelierestaurants.co.uk/
Facebook – https://www.facebook.com/AmelieFlamkuche
Twitter – https://twitter.com/amelie_rest
Instagram – https://www.instagram.com/amelie_restaurants/
Post Tags
Post Categories