Chi Street Food, Cambridge
Posted on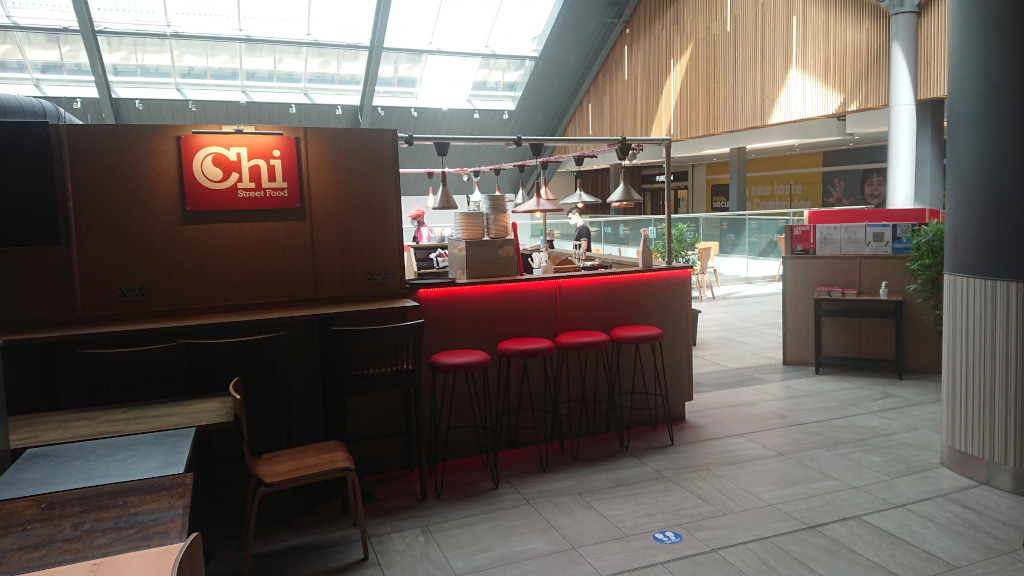 During the early part of 2020 I started paying visits to Food Social, a food and restaurant hub at Cambridge's Grafton Centre. I managed to check out a couple of the eateries located here before the Covid-19 pandemic took hold, which resulted in restaurants having to close (at least temporarily). Fast forward over one year since the start of the pandemic and many restaurants are now back open, and as of 17th May 2021 indoor hospitality is allowed again.
Now since my last visit to Food Social there have been a small number of changes in terms of eateries. A couple of restaurants have left the complex and have since been replaced with new eateries. However one of the restaurants that have remained at Food Social is Chi Street Food, an small chain specialising in Asian street food.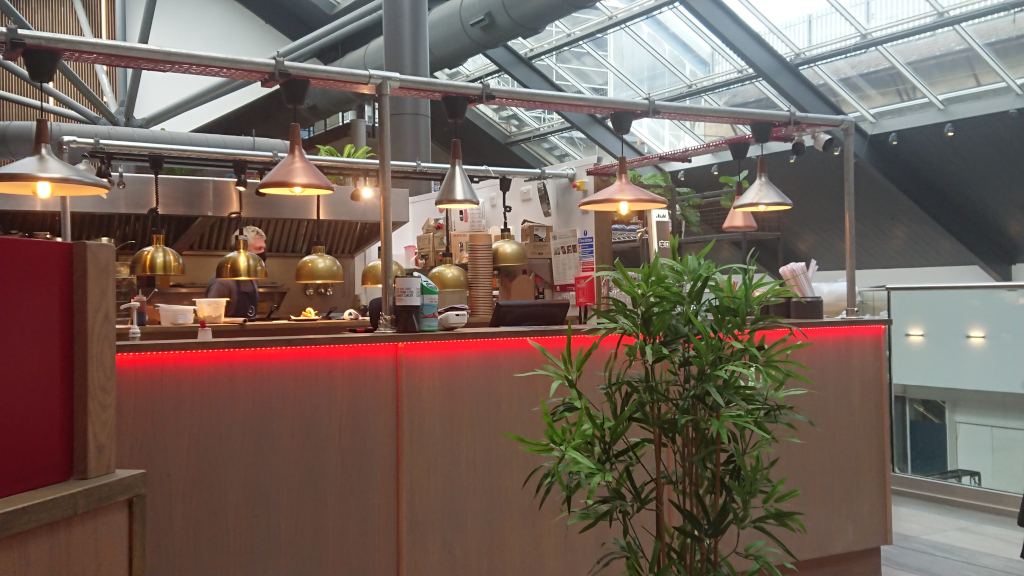 Open Wide
As with a few of the other restaurants at Food Social Chi is an open-plan affair with ample seating available in and around the unit. There are no standout features such as a bright yellow van or neon light signs here, but depending on where you are seated you get to see the kitchen in action, which is nice.
Bao Buns and more
The menu at Chi mostly consists of bao buns, sushi rolls, curries, rice dishes and more. I had my eyes on the bao bun dishes and eventually went for a couple of these.
First the meaty bun – Not surprisingly I opted for a chicken bun, in this case the Kimchi Chicken Bun containing Japanese-fried chicken, kimchi, spring onions & chilli mayo with a house sweet & spicy gochujang sauce.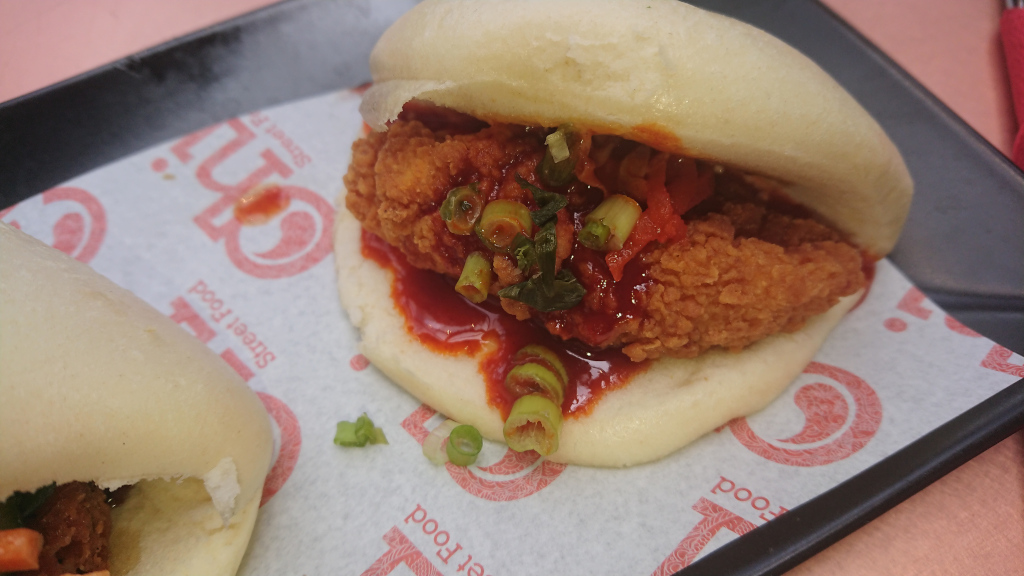 What about my second bao? Well I decided instead of another meaty bun I would try out the vegan bao bun on offer – the Panko Sweet Potato Bun, which contains panko sweet potato, hoisin sauce, crushed peanuts, pickled carrots & cucumber, fresh jalapeno, spring onion & coriander.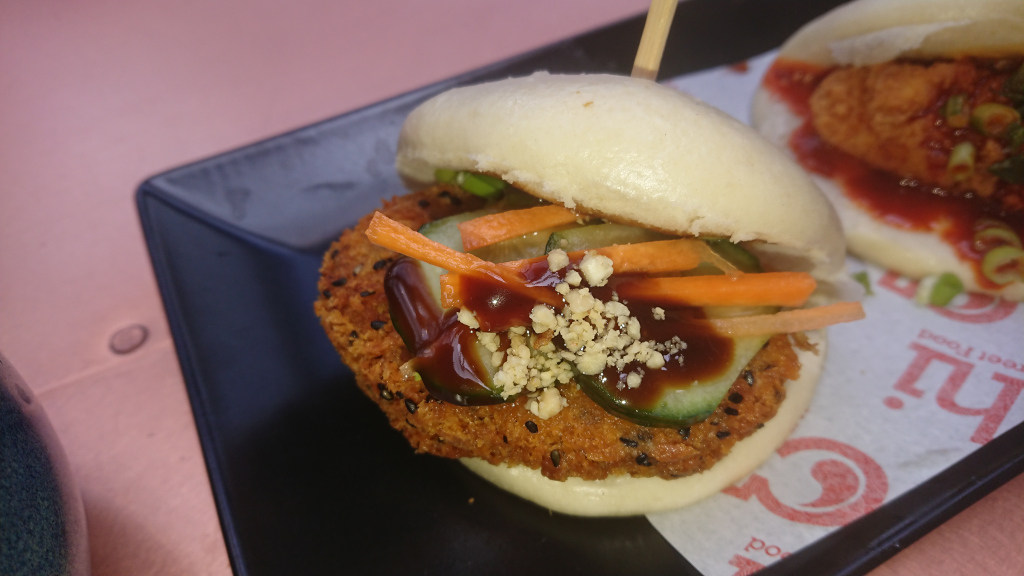 I actually decided to try out the sweet potato bun first, and this turned out to be a very good decision. The sweet potato itself was actually not too sweet for me, but along with the hoisin sauce still helped to balance out the taste of the other vegetable items. The hoisin sauce itself was not to overpowering and was of the right amount inside. Overall this particular menu item had a really good taste and is something that I would certainly recommend whether you're vegan or not.
As for the kimchi chicken bun well this one definitely had more of a kick to it thanks to the chilli mayo and spicy sauce. Perhaps it had a bit too much mayo and spicy sauce for my liking but that's only a minor criticism if anything. The fried chicken fillet itself was succulent and tasty. Even despite the slightly overpowering sauce I would happily have the kimchi chicken bun again.
Which bao bun wins?
Believe it or not though of the two bao buns I actually preferred the panko sweet potato bun over the chicken bun. YES you did read that right – I, a chicken fan, preferred a vegan item over a meaty one.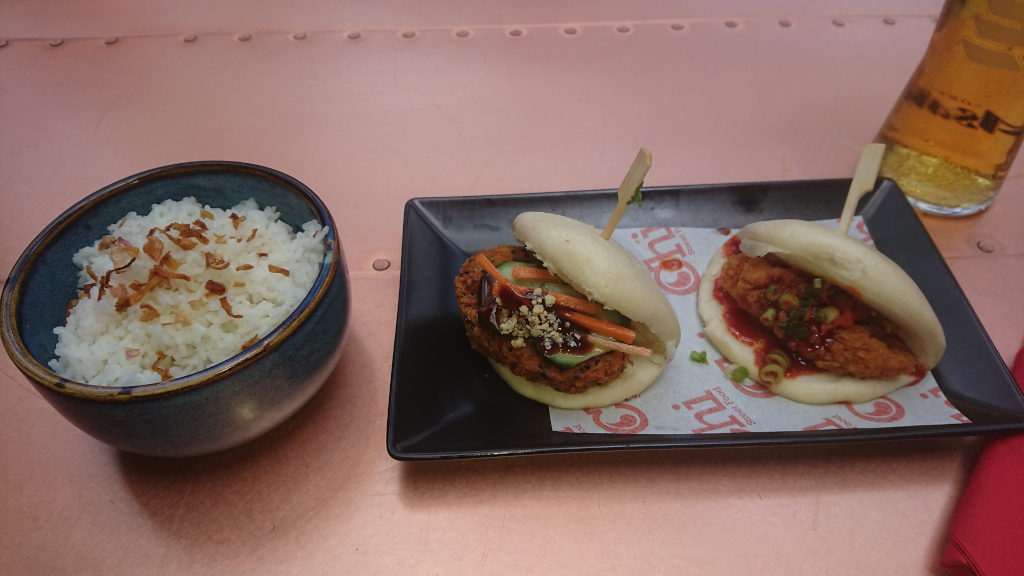 Don't forget the rice, and the pint
To go along with the bao buns I also opted for a side serving of Jasmine Rice topped with crispy onions. The rice itself was tasty and plentiful, just about the right size portion for me here. I'm not actually a fan of onions but thankfully here they were very crispy that I didn't really taste them, although it helped that I mixed them in. To complete what was a great lunch I sample a pint of Japanese lager Asahi Superdry.
Choose Chi again?
So another new eatery that I've tried out, and again something different from my usual tastes, but was I impressed? Well the short answer is YES! The food at Chi was great, as was the service throughout. This is one eatery that I may well visit again in the future, and can happily recommend it to anyone who's into Asian street food.
Getting to Chi
Chi Street Food is located within the Food Social complex at the Grafton Centre in Cambridge. There are also branches in Basingstoke, Norwich and Watford (Watford temporary closed at time of writing).
Address – Pod 3, The Grafton Centre, Cambridge, CB1 1PS
Website – https://www.chistreetfood.co.uk
Facebook – https://www.facebook.com/chistreetfooduk/
Instagram – https://www.instagram.com/chistreetfooduk
Post Tags
Post Categories