B. Tap Baron, Cambridge
Posted on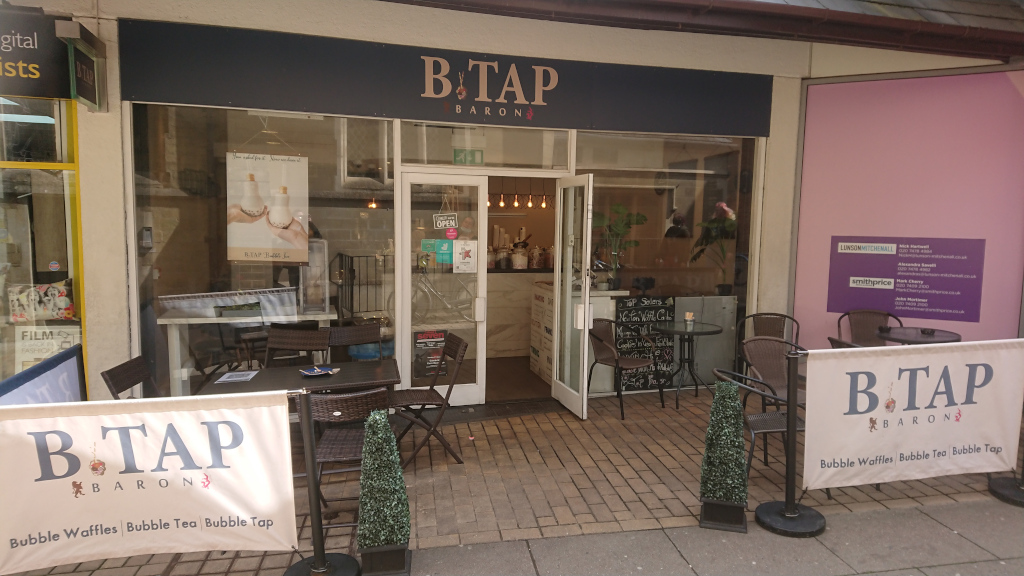 After having had a rather pleasant lunch at Chi Street Food, I decide that something cold and sweet is in order. Now when it comes to sweet treats I normally tend to go for just a plain vanilla ice cream, nothing fancy. OK I may go for a chocolate cake or brownie just for something different, but again nothing too fancy as such. Also if I go for a sweet treat after a meal I would normally opt to do so at the place that I'm already at, even if it's just a plain ice cream although I could just find a standard ice cream parlor as such.
However on this particular occasion I had my eyes set on a particular sweet treat parlor in Cambridge where I would have something different from my usual plain ice cream. This place in question is B.Tap Baron, an independent dessert shop located in Cambridge's Lion Yard shopping centre.
Bubble Waffle Galore
B.Tap Baron specialises in bubble waffles, gelato ice creams, freakshakes and more. Whats-more if you don't fancy any of the main waffle combos on offer then you can simply order one with your preferred choice of gelato and toppings.
And it was a make-your-own waffle that I would opt for. I went for a standard waffle with vegan vanilla gelato, topped with banana and smarties. So a combination of ice cream, chocolate, and one of your five-a-day – not that I'd recommend having one of these every day. Incidentally the dairy vanilla ice cream had sold out at the time of visit, but thankfully the vegan vanilla was available and I'd planned to have this option anyway.
There was a good amount of banana slices and the right amount of smarties, plus a good serving of ice cream inside. The waffle itself was well made, soft and fluffy, and rather nice to consume. For something that was different from my normal plain and fussy tastes my bubble waffle was actually a pleasant sweet treat. I'd certainly have this combination again on a future visit to B.Tap Baron.
I'll B.Back
If ever I fancy a different sweet treat the next time I'm in Cambridge city centre then B.Tap Baron is one place to go to. There is a good choice of waffles, freakshakes, and more plus hot drinks (forgot to add that I did have a cuppa with my waffle). The service was great and the staff were very engaging throughout my visit. So to sum up, YES I'll b.back at B.Tap Baron soon.
Getting to B.Tap Baron
B.Tap Baron is located at Cambridge's Lion Yard shopping centre, and is easily accessible by several bus routes that serve the city centre.
Address – 22 Lion Yard, St Tibb's Row, Cambridge CB2 3ET
Website – https://www.btapbaron.co.uk/
Facebook – https://www.facebook.com/b.tapbaron/
Twitter – https://twitter.com/btapbaron
Instagram – https://www.instagram.com/b.tapbaron/
Post Tags
Post Categories