Post-Lockdown lunch at Smokeworks
Posted on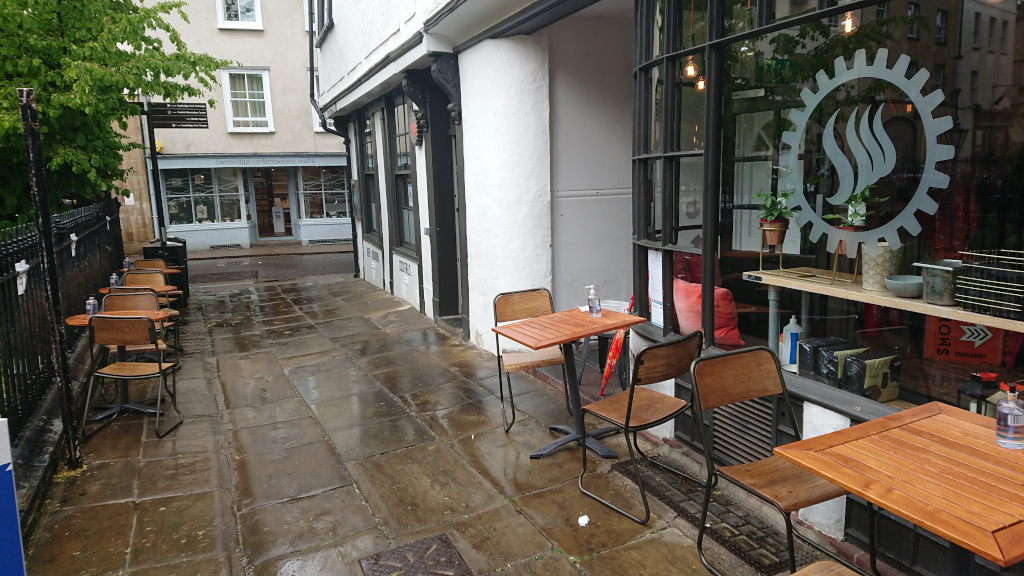 It's been well documented that the hospitality sector has been particularly hard hit during the coronavirus pandemic with several pubs, restaurants and hotels having to close their doors (at least temporarily). During most of 2020 several pubs and restaurants were able to continue trading but only to provide takeaway and delivery services. In April 2021 pubs and restaurants were able to open up again for outdoor service, but of course only establishments that had the luxury of an outside area could cater for outdoors as such. Come 17th May 2021 indoor hospitality will be able to recommence (initially with restrictions).
Anyway with lockdown measures gradually being lifted I decided that it was time to get out and visit Cambridge city centre, something that I've not done for over a year due to the pandemic. Not surprisingly a few things have changed since I last visited the city – mainly a few more closed shop units, and lower footfall in the city. Thankfully though there is still a good range of small, independent food and drink outlets in Cambridge – and hopefully these will continue to thrive post-pandemic.
One of Cambridge's small eateries that has survived the pandemic is smokehouse restaurant Smokeworks. Now I previously visited Smokeworks back in November 2019 and it quickly became one of my favourite food and drink establishments in Cambridge. Of course back then you could eat indoors and coronavirus was more-or-less unheard of here in the UK.
Fast forward to 10th May 2021 (the date of this particular visit to Smokeworks) and indoor hospitality is not yet allowed, but outdoor hospitality is permitted (weather depending). So outdoors it is then, and Smokeworks had a few tables and chairs laid out for diners.
Check-in to Smokeworks
Before sitting down I needed to 'check in' to the venue, and I don't mean that thing where you 'check in' on Facebook to tell your 'friends' where you've been to, no no no! This was the 'check in' using the NHS Track and Trace app, which is a simple case of opening up the app and scanning the QR code displayed in a window. This 'check in' is required before you can take a seat at Smokeworks and many other establishments at this current time. If you don't have the Track and Trace app then you simply provide your full contact details instead, but if you can't do either of these then it is no service!
Check-in done, now take a seat (and a brolly)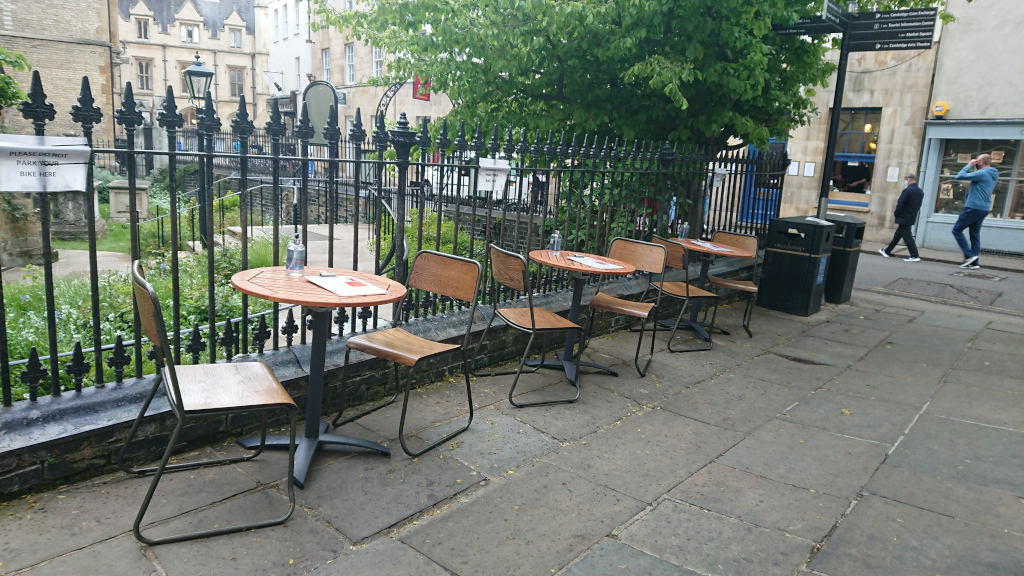 With 'check in' done it was now a case of taking a seat, deciding on what to order, and relax in the fresh air on what was an overcast but dry Tuesday lunchtime in Cambridge. Well that WAS the case until a few minutes after sitting down when the heavens opened! Luckily the staff at Smokeworks did provide me with an umbrella to use over my head, and this would be the case throughout my visit here. Annoyingly the rain only persevered during my time at Smokeworks, and then it stopped after I finished my meal – TYPICAL!!!
Now to check out the menu
Due to the current restrictions (at time of writing at least) the menu has been reduced a bit. I've been told by a Smokeworks employee that the current offering is only temporary and that they are hoping to return to a full menu soon (possibly during Summer 2021 – fingers crossed). The current 'reduced' menu offering consists of starters, stuff in bread (i.e. sandwiches), ribs, loaded fries, and sides.
I had a rough idea of what I was going to order this time but decided to dwell on it for a few more minutes with a pint of Smökevurks – Smokeworks' own brew 4% session pale ale. I eventually decided on my choice of dish, the Buffalo Chicken Sandwich – pulled chicken in buffalo wing sauce, crumbled blue cheese, blue cheese sauce & crispy bacon, all served in warm crusty bread. However being not much of a cheese fan I was able to swap the blue cheese sauce for a suitable amount of normal cheese sauce instead. My sandwich also didn't have the buffalo sauce, but on this occasion I wasn't too fused about this. My mind was distracted more by the awful weather to be honest. In fact I'd be eating with one hand whilst holding a brolly in the other (Yes, the rain wouldn't stop pouring until just AFTER I'd finish).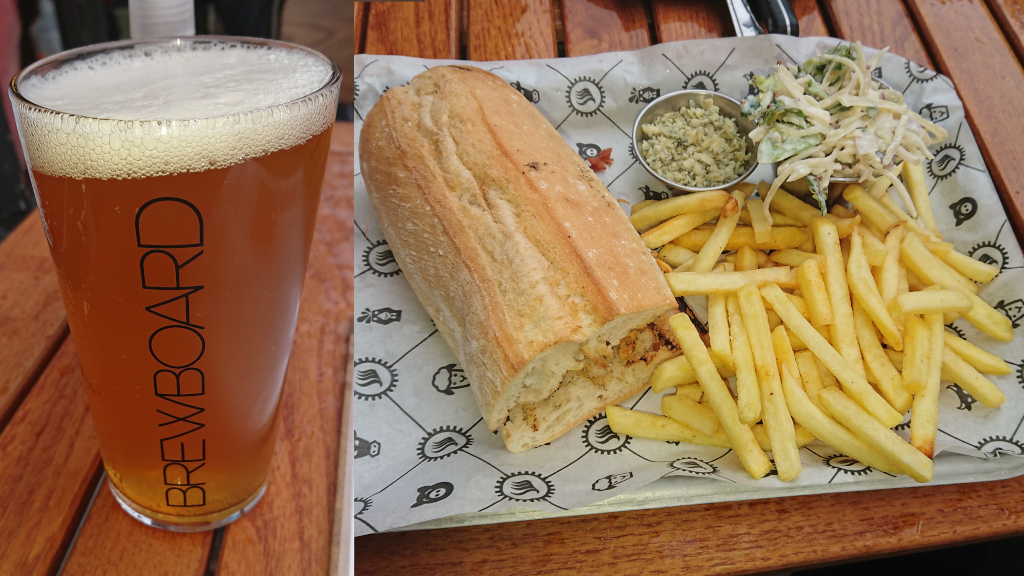 My Buffalo Chicken Sandwich sandwich had a nice, subtle kick to it. The chicken and bacon filling was rather tasty, and the bread was warm and mostly crispy. Considering this was the first time I'd sample this particular offering from Smokeworks I'm kind of glad that I opted for minimal cheese, but will be happy to try out the blue cheese offering next time, plus I'll make sure it comes with the buffalo sauce too.
My sandwich came with fries, which is essential with any dish, and house slaw, something that I'm not a fan of so chose to leave out.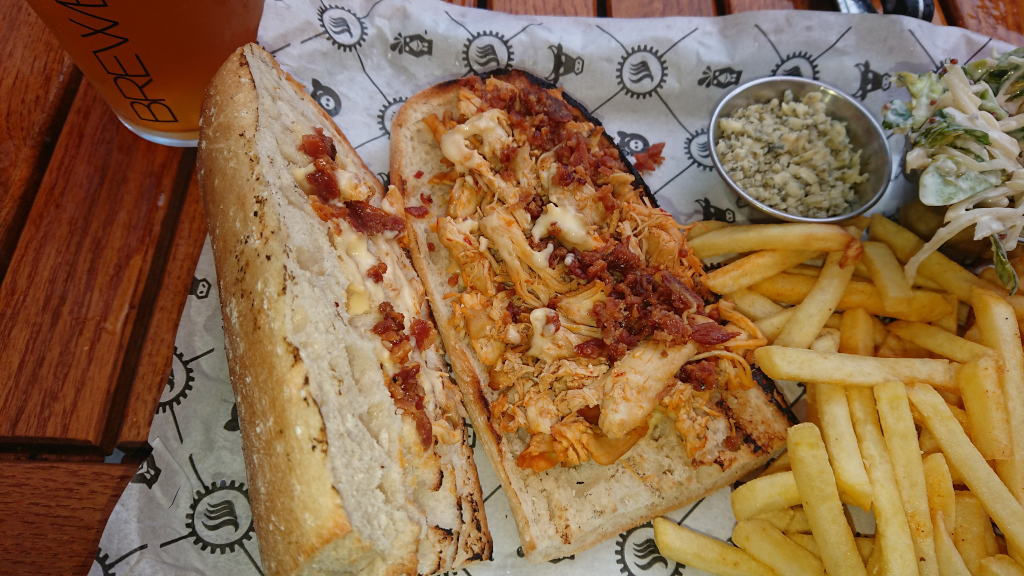 Can't dampen the smoke
The rain may have slightly spoilt my visit to Smokeworks but it didn't deter me from having another good meal there. The food and drink were good, and special mention to the excellent staff who were very accommodating throughout, especially with providing me with the umbrella to protect me and the dishes. Another visit to Smokeworks is definitely in order, next time I may be tempted to check out their other venue (near the city's railway station).
Getting to Smokeworks
Smokeworks have two locations in Cambridge; on Free School Lane in Cambridge City Centre (the one I visited), and on Station Road near the city's main railway station. Both are easily accessible by main bus routes that serve both the city centre and railway station.
City Centre venue – 2 Free School Lane, Cambridge CB2 3QA
Station venue – 1-3 Station Road, Cambridge CB1 2JB
Website – https://www.smokeworks.co.uk
Facebook – https://www.facebook.com/SmokeWorksBBQ
Twitter – https://twitter.com/smokeworksbbq
Instagram – https://www.instagram.com/smokeworksbbq/
Post Tags
Post Categories