Wembley Stadium, London
Posted on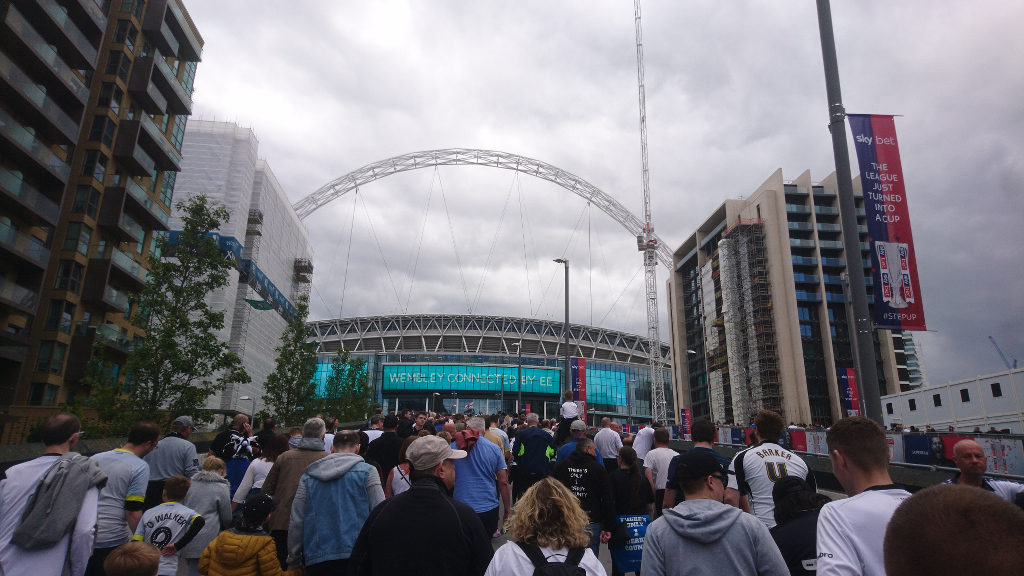 It's a world famous venue that footballers dream of playing at, and it's where football fans dream of going to. Each year hundreds of thousands of footie fans get to go to this particular sporting venue to see their team in action, often in the final of a major competition. In 2019 I was one of those lucky fans who got to go to see my favourite team in action. The venue in question is the home of English football – Wembley Stadium in north west London.
First, the old
This article mainly concerns what is known as the 'new' Wembley Stadium that opened in 2007, six and a half years after the old venue was closed and demolished. Back then the stadium's main visual feature was the Twin Towers, which many fans wanted preserving and kept as part of the new stadium. This didn't materialise and the towers were demolished along the rest of the old stadium.
Now, the new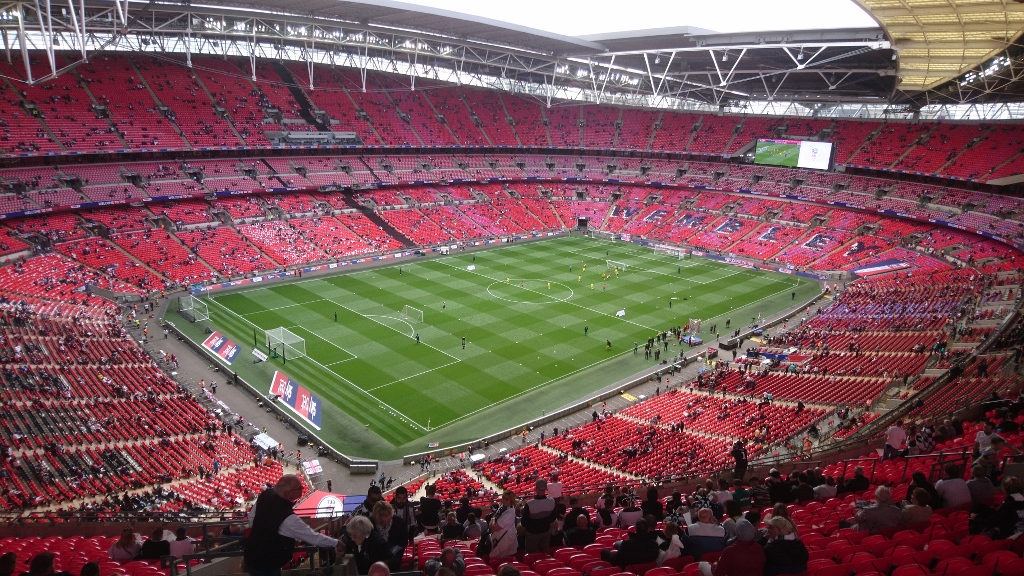 In its place was a brand new national football stadium with a seating capacity of 90,000. The stadium's main visual feature is the Wembley Arch, spanning across the north stand and lighting up at night which no doubt make for a spectacular sight (I've not had chance to see this for myself apart from on TV). The stadium also has a sliding roof, which although it doesn't close fully does cover every seat inside the ground.
Stadium Events
Wembley Stadium hosts several big events every year, mostly major football matches but other sporting events and music gigs also take place at the venue. Among the several football matches that take place at Wembley each year are:
FA Cup – semi finals and final
EFL Cup final
EFL Play-Off finals
England men's international matches (qualifiers and friendlies)
The venue has also played host to UEFA Champions League finals, and between 2017-2019 the stadium was the temporary home venue for Tottenham Hotspur Football Club whilst their own new stadium was being built on the same site as their old ground.
Non-football events that have been held at Wembley include:
NFL matches
Rugby League Challenge Cup Final
several high profile music gigs.
My Wembley Experiences
I never actually had the chance to visit the old Wembley (shameful I know), but I have been able to visit the 'new' Wembley six times now (as of November 2019) since it opened:
3 EFL Championship Play-Off finals (all to see the team I support – Derby County)
1 England Men's World Cup Qualifier
2 England Women's International Friendlies
A fantastic first visit (as a Rams fan)
My first Wembley experience was in May 2007, a couple of months after the new stadium opened. The occasion here was the EFL Championship Play-Off final between Derby County and West Bromwich Albion, with a place in the Premier League up for grabs. Having missed out on automatic promotion I felt more nervous about this match than if we'd finished in (for example) 6th place, because by finishing 3rd that season some would argue that we should have been promoted by right, but that's another matter.
Anyway after a nervy first half (when West Brom hit the woodwork just before half time) the Derby nerves were eased when we scored what would turn out to be the winning goal, and you can imagine how happy I was come the final whistle (although the less said about the season that followed the better).
Empty Seats – loads of them.
Joys and jubilation aside the main thing that struck me about this first visit was the high number of empty seats across the middle tier of the stadium. Considering this was billed as the richest game in football with so much at stake I was rather shocked at how empty the middle tier was. My guess at the time was that these seats were for corporate members, and I was right. It transpired that these seats were for people who had purchased a 10-year ticket package for all of the 'glamorous' events including FA cup final and England international games, but apparently the play-off finals were not considered to be glamorous enough and so were not included in the package (or so according to a TV interview that I watched the day after my trip).
The masses of empty seats really annoyed me as a normal football fan as these seats could have been given to other real fans who would have loved to have seen their teams in action to the national stadium. Thankfully such issues with masses of empty seats would not to be seen on most of my future visits to Wembley (the one exception was where ticket sales were capped due to engineering works on the tube – at least that was the official reason given).
More seats filled now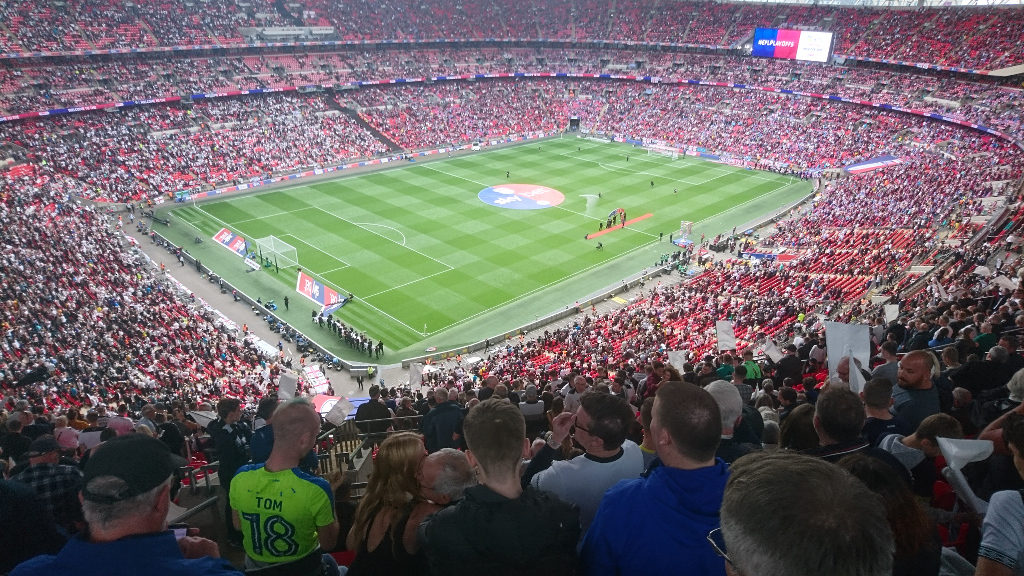 Fast-forward to May 2019 (I'm deliberately going to forget about May 2014 when we lost to a 89th goal against QPR), and it's back to Wembley for another play-off final, again with the Premier League awaiting the winners. Another Midlands team would be our opponents – this time Aston Villa (who beat West Brom to get here). This time there wasn't as much pressure on Derby compared to our previous visits, but still we arrived full of hope and optimism. A much fuller stadium (compared to my first visit 12 years prior) would witness the match – extra tickets being released for Derby fans certainly helped increase the overall attendance here.
Sadly on this occasion Derby were beaten by the better team (congratulations to Villa, you deserved it), but it was still an enjoyable occasion and a great day out.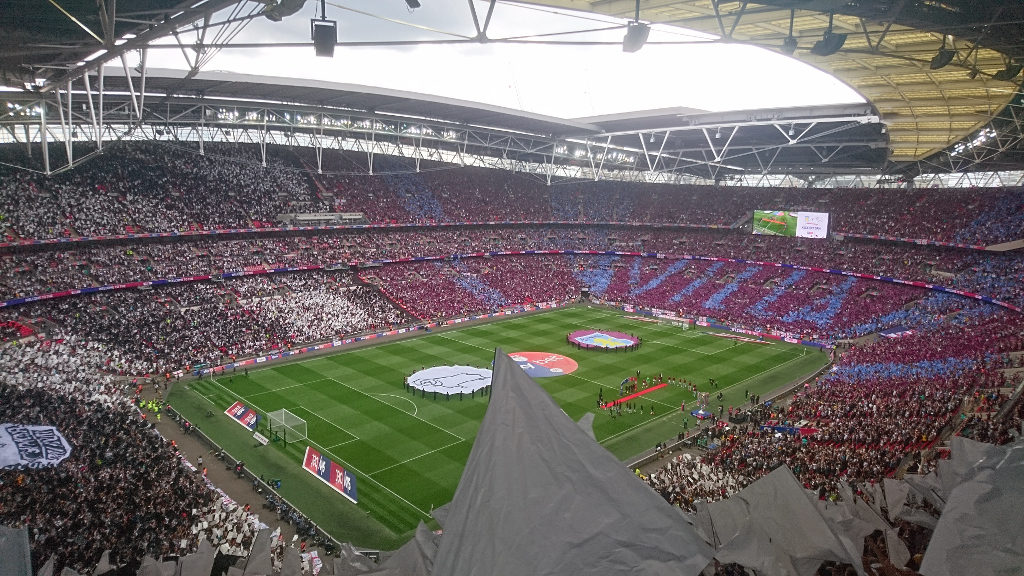 Back at Wembley again soon?
Silly question really! I so do want to go back to Wembley again in the future, but obviously when that will be is another matter. The memories that you get from just going to Wembley will last for a long time, especially if your team tastes victory on the big day. OK so it can be an expensive day out but for me it is worth it for the experience. Whether I go to Wembley Stadium for anything other than football (e.g. a music gig) remains to be seen.
Getting to Wembley Stadium
Wembley Stadium is located in North West London and is easily accessible via the city's tube network (connections available from several main railway stations in London)
Nearest tube & railway stations:
Going by coach? – National Express Coaches run several services to Wembley Stadium from various cities across the country.
Useful links
Website – http://www.wembleystadium.com/
Facebook – https://www.facebook.com/WembleyStadium
Twitter – https://twitter.com/wembleystadium
Instagram – https://www.instagram.com/wembleystadium/
Post Tags
Post Categories