BrewDog Brussels
Posted on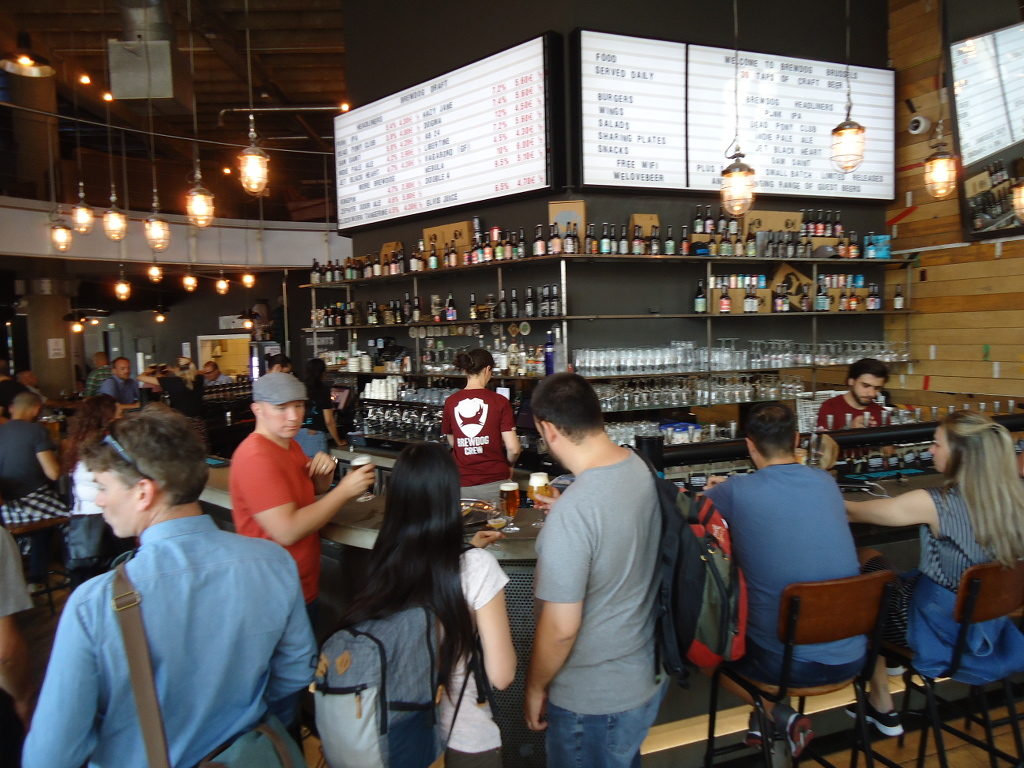 Picture the scene – you are on an overseas holiday in a major European city. It's approaching late afternoon/early evening and you are thinking about what to do for the evening meal. Ideally you want somewhere that is easy to get to from your hotel, has vegan food available for your partner, and sells good beer as well. What would be an added bonus is if they also had the football on.
Well luckily we managed to find a pub in Brussels that ticked all of these boxes, and what was more intriguing was that the venue in question happened to be an overseas branch of a British pub chain – BrewDog. Funnily enough this would be the first time that I've ever set foot in a BrewDog pub.
Initial impressions
This particular venue certainly feels like a modern craft beer pub – it's big and spacious inside with plenty of tables and seating throughout the several areas of the pub. There is also an outdoor balcony overlooking the city, and it certainly does make for some great views especially at night.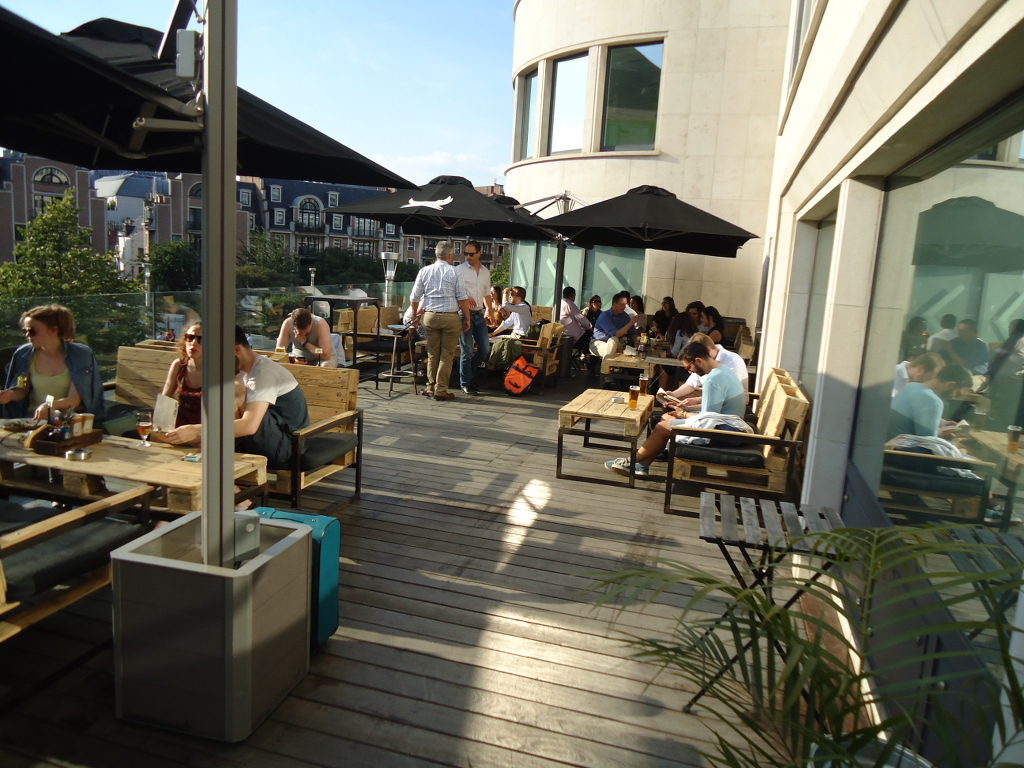 The pre-match meals
So having arrived at the venue, what about our food and drink choices? Beer-wise there is an extensive range of BrewDog beers to choose from as well as a decent selection of guest beers. We opted for BrewDog's brews plus the occasional guest beer, and surface to say the ones that we drank were very pleasant indeed.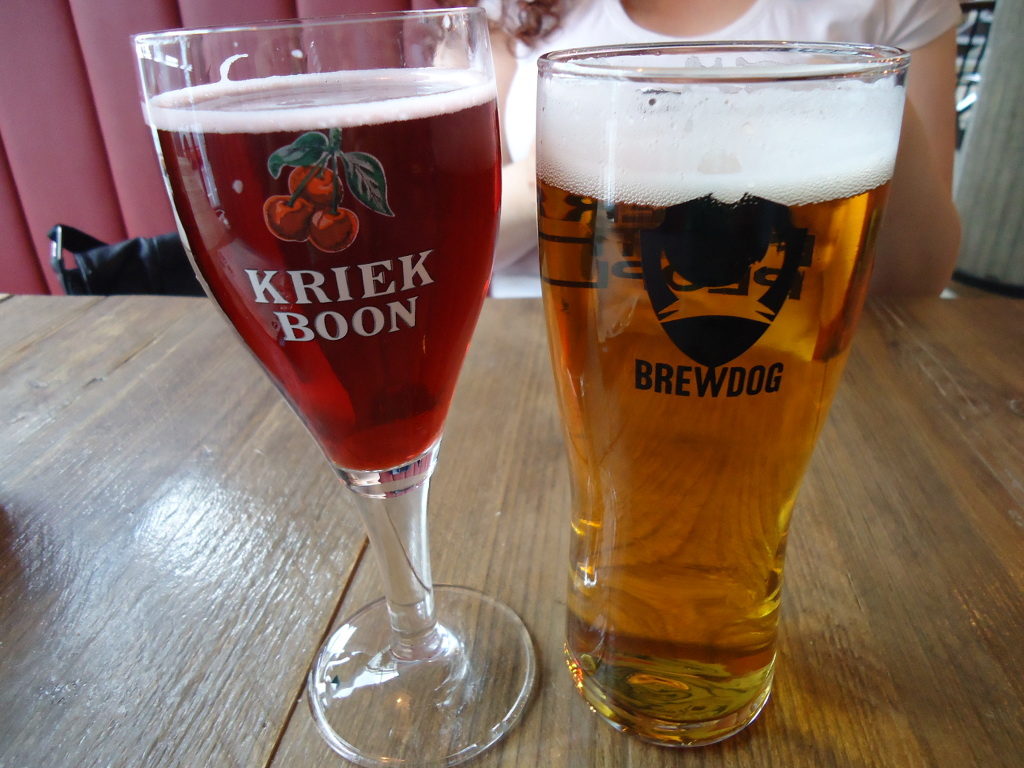 As for the food on offer, well the menu mostly consists of burgers – so we decided to give these a go. My choice was the 'Buffalo Chicken' burger, consisting of a buttermilk brioche bun, southern fried chicken, hot sauce & honey glaze, gorgonzola sauce & baby gem. This was an opportunity for me to be 'brave' and try something a little more adventurous than the plain burgers that I normally go for, and the 'Buffalo Chicken' burger was a good choice.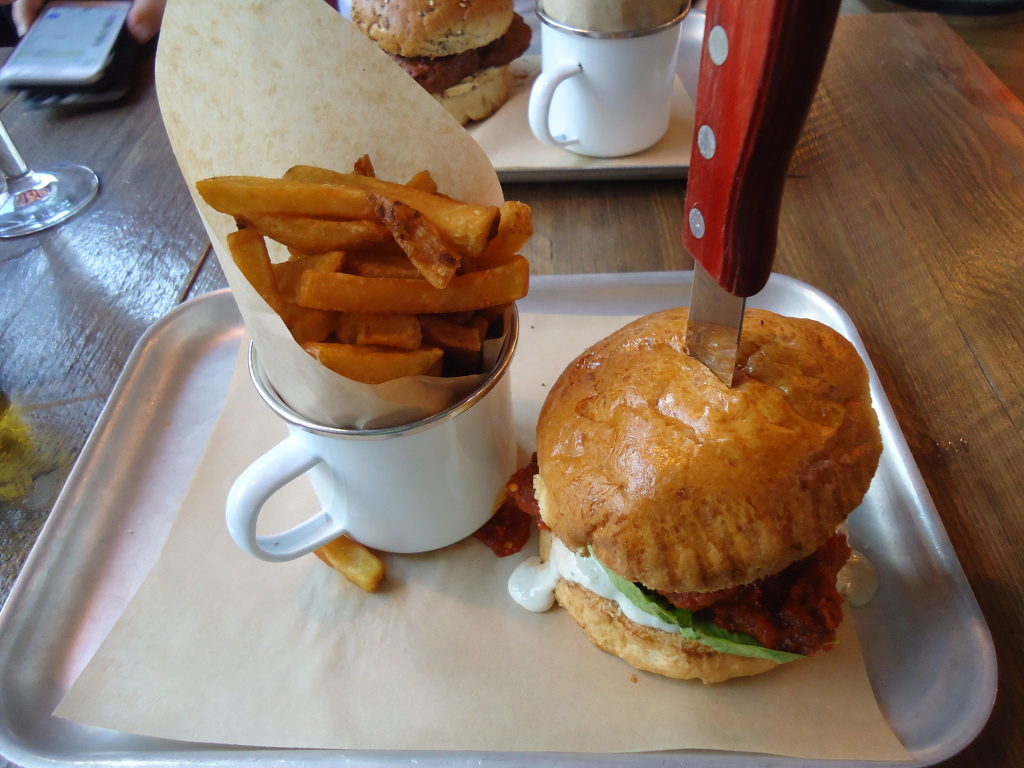 My vegan dining partner opted for the 'Hail Seitan' burger, consisting of a vegan bun, bbq seitan steak, crispy kale, sun kissed tomato chutney & hummus. This vegan burger was certainly a good choice for her and I even tried a bite of the patty myself, which I did find quite tasty so may consider this burger if we were to return here in the future.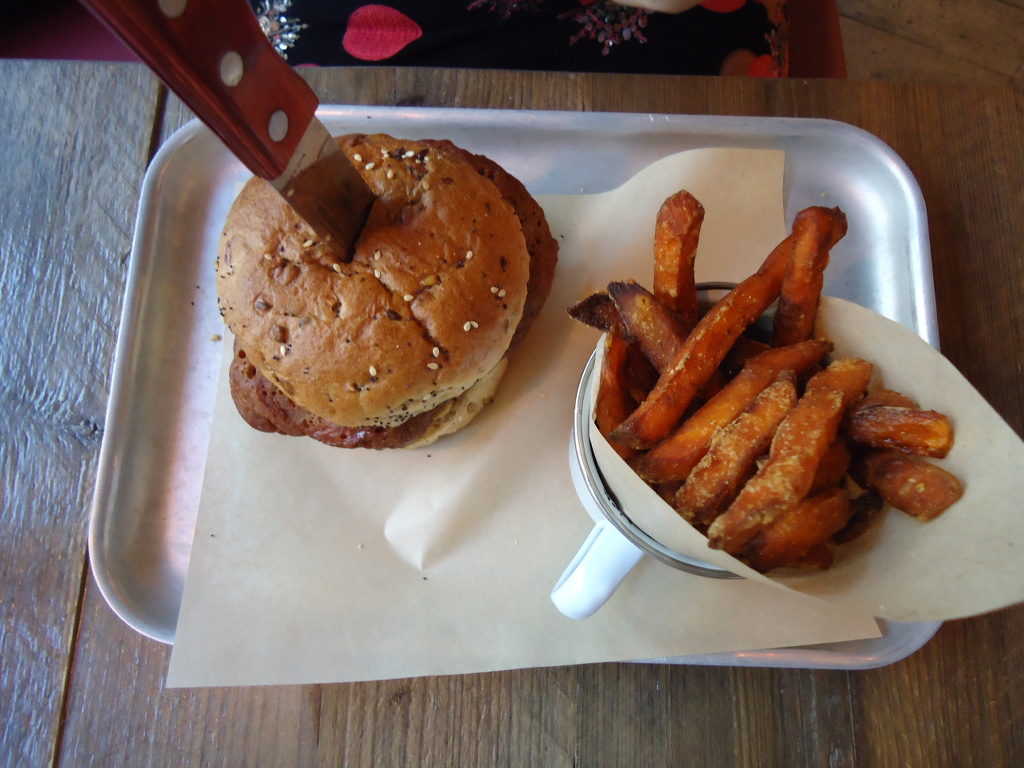 We both had fries with our respective burgers (normal fries for me and sweet potato fries for my partner) and I have to say they were among the crispest fries that I've ever had, which helped to make the meal even more enjoyable.
Time for the match
Meal-time completed it was over to the big screen room to watch the big match – Belgium v England (final group game). My partner and I were the only England fans inside the room that was otherwise packed with Belgium fans, but there were no problems at all. Belgium won the match so everyone inside was happy, were apart from us two, but we had already qualified for the knockout stages so we weren't too disappointed.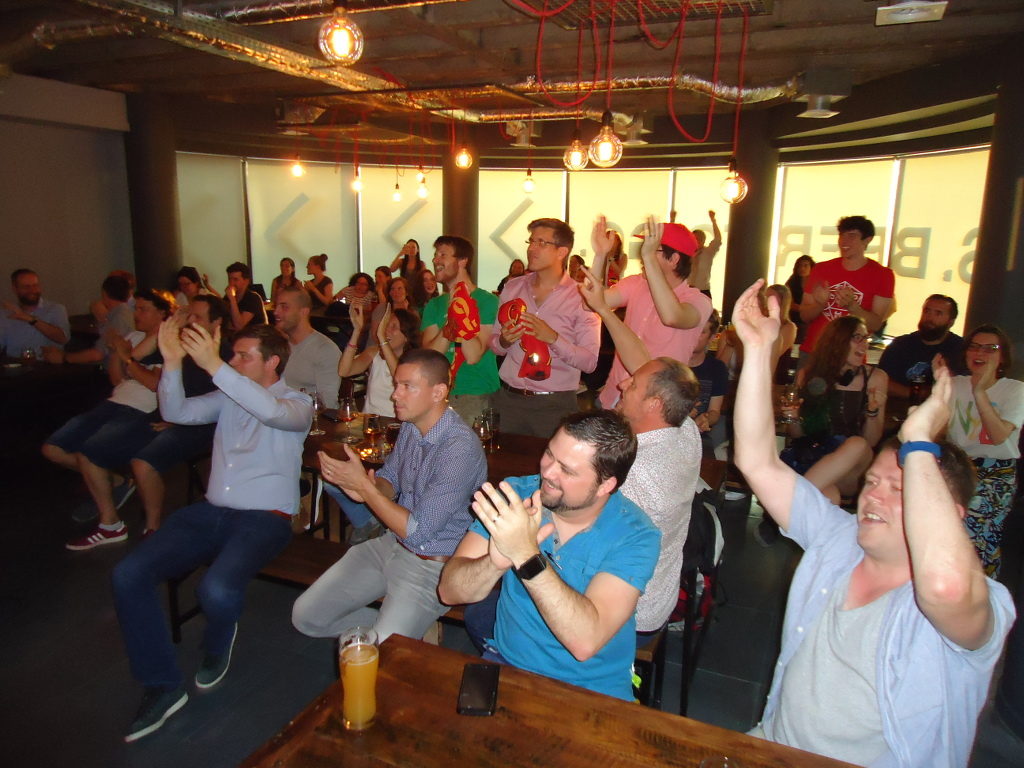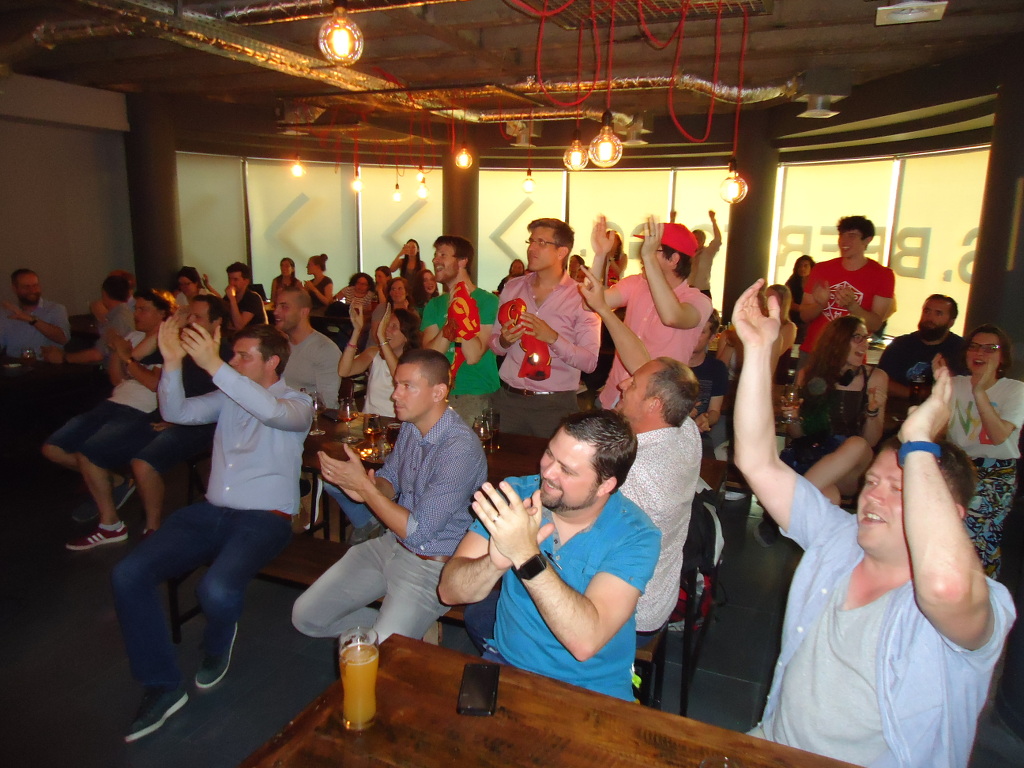 One more moment to mention – during half-time we somehow ended up chatting to BBC Scotland journalist Andrew Kerr, and we were interviewed briefly for their regional news programme Reporting Scotland. We were asked about the football at first before things moved on to something political. So if you live up in Scotland then you may have seen us on the TV. Although we haven't been able to see this interview ourselves we're told by family members that we came across quite well (phew). Funny isn't it, you go abroad and somehow meet and be interviewed by people from your national broadcaster – a great experience nevertheless.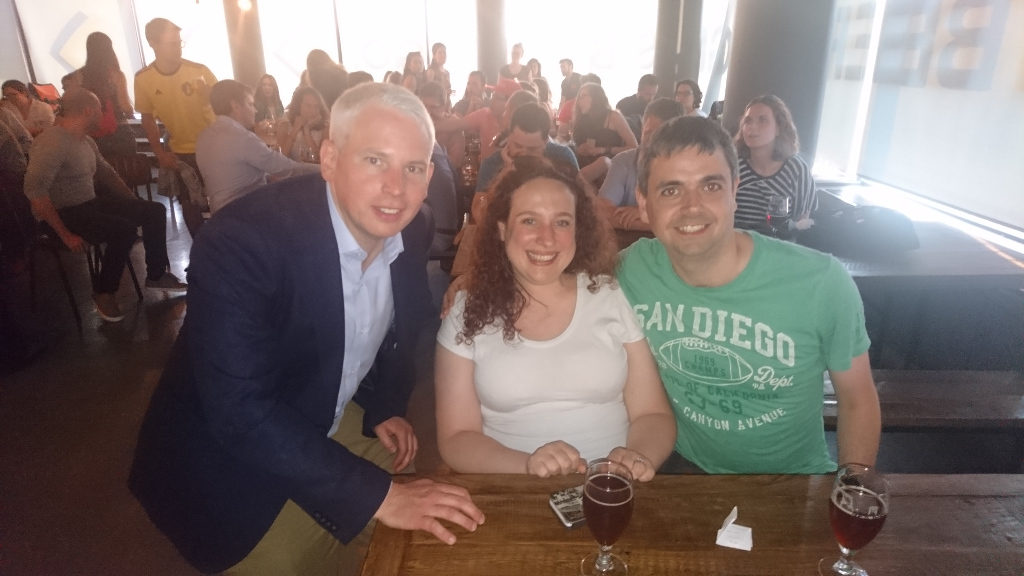 Overall a great pub
BrewDog Brussels is certainly one of the best pubs that I've been to on foreign travels for many reasons – great beers, great food, great atmosphere. The outdoor balcony was a great area to relax in as skies fell, which in turn led to some great night views of the city. The staff were fantastic throughout the evening with good knowledge of the beers when needed.
Overall we had a fantastic time at BrewDog Brussels and we'll certainly look to visit again when we're back in the Belgium capital.
Address – Putterie 20, 1000 Bruxelles, Belgium
Website – https://www.brewdog.com/bars/worldwide/brussels
Facebook – https://www.facebook.com/BrewDogBrussels/
Twitter – https://twitter.com/BrewDogBrussels
Instagram – https://www.instagram.com/brewdogbrussels
Post Tags
Post Categories