A Room With A Brew, Nottingham
Posted on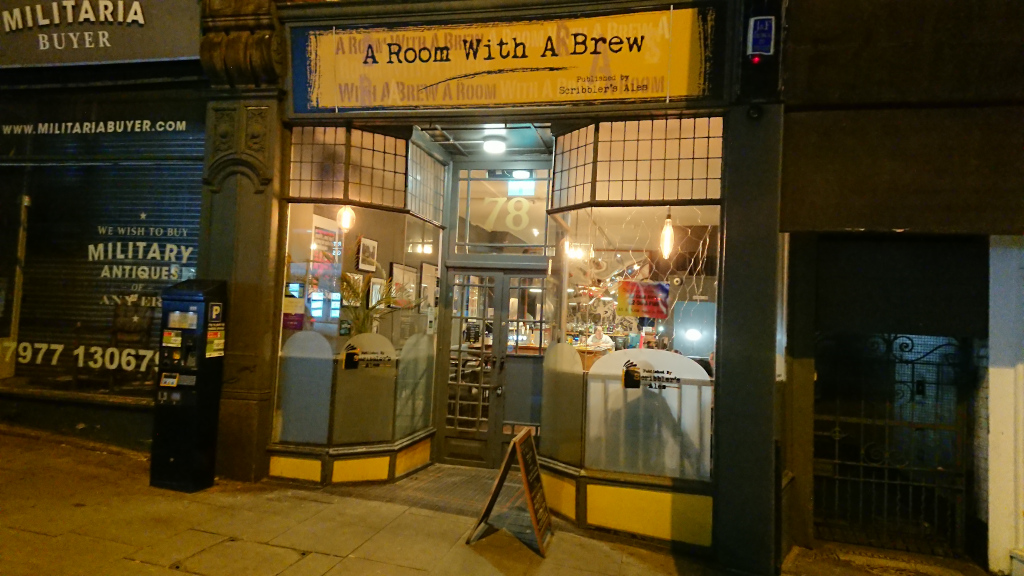 PLEASE NOTE – The following article is based on a visit made back in February 2020 and was BEFORE the COVID-19 pandemic, therefore some of the details mentioned here might not be applicable at present (e.g. drinks range may be limited). If you are making a visit to this or any other establishment then please respect and observe any social distancing measures in place.
When you think about having a brew you often think of a nice, hot cup of tea or coffee (the former for me). The term 'brew' however doesn't just refer to our favourite hot beverages, it is also used to refer to the process of making that other favourite tipple of ours – beer!
Of course there is nowhere better to enjoy a brewed beer than in a pub, and for my latest micropub adventure I visit a small watering hole that is rather appropriately named as somewhere that provides our favourite tipples. Time to call in at A Room With A Brew, a small micropub located in Nottingham city centre.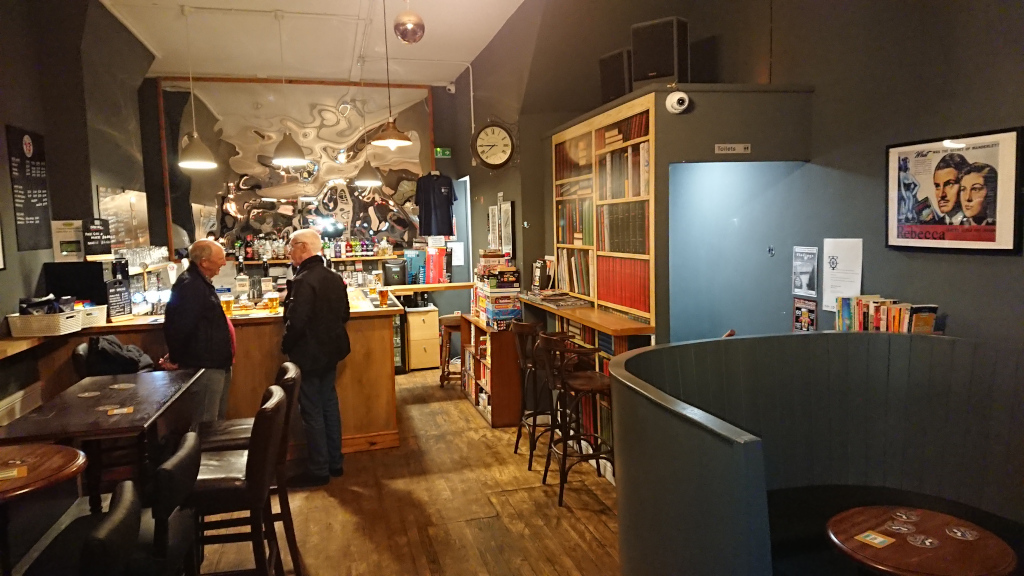 'Literary' a Micropub
Some micropubs like to take on a theme for their venues to give them some extra character. Such themes adopted by current micropubs include cricket (Caught & Bowled in Giltbrook), railways (Sawley Junction in Long Eaton), and mining (Pick & Davy in Hilltop). In the case of this particular micropub, A Room With A Brew has also gone down the themed route with a 'literary' theme.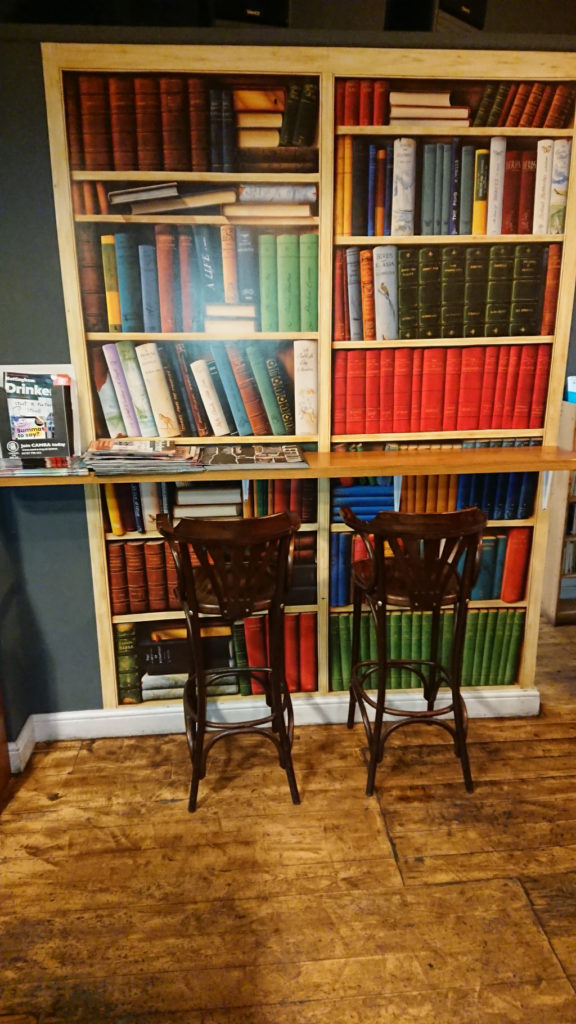 There are lots of books on display, well I say lots but actually most of these 'books' are just part of the wallpaper and are not real. Don't worry though because there are some actual books available for you to read, both in the main pub area and also downstairs where you will find a very comfy chair to sit on.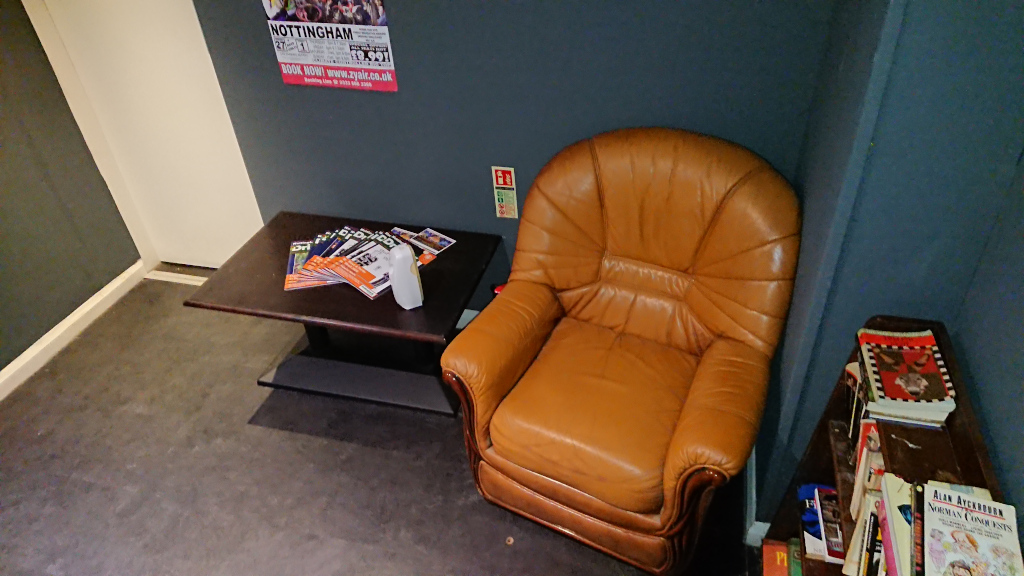 If you fancy something a bit more engaging than a book then there is also a decent selection of board games available to play instead. Back to the interior and some other touches you will notice include some posters as well as what looks like an old railway station clock near the bar.
A Brew with a Read (or Game)
Now that you've chosen which book to read, or which game to play (or neither – you may decide against either), there's just the small but really important matter of which tipple to have. Just like the books and games range here there is a rather decent selection of beverages available for you to choose from.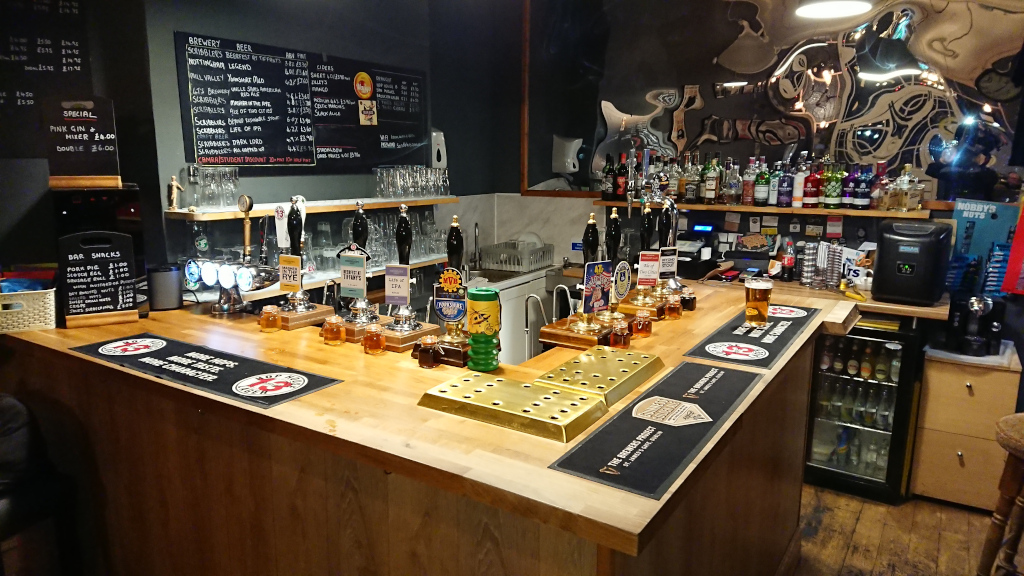 Ale fans have up to eight real ales available, including a section of house ales from pub owners Scribblers Ales plus a few guest ales and craft beers. Cider fans are also catered for here with a small selection of ciders available. Other tipples available whiskeys, gins, spirits, wines, and soft drinks. If you fancy a hot brew then you can order a cup of tea or coffee instead or as well. Basically, A Room With a Brew offers various kinds of brews, both hot and cold.
An array of bar snacks are available including crisps, nuts, pork scratchings, pork pies and sausage rolls.
Fancy another brew? YES PLEASE!
A Room With A Brew is another example of a small unit being turned into a fine little pub. There's so much to like about this micropub including an excellent range of ales, excellent staff, and a relaxed atmosphere inside. Another plus point to this watering hole is its location, right by the city centre, so getting here by bus is no problem.
If you are venturing into Nottingham and are in the mood for a brew (whether it's ale or a tea/coffee), then you do need to call in at A Room With A Brew.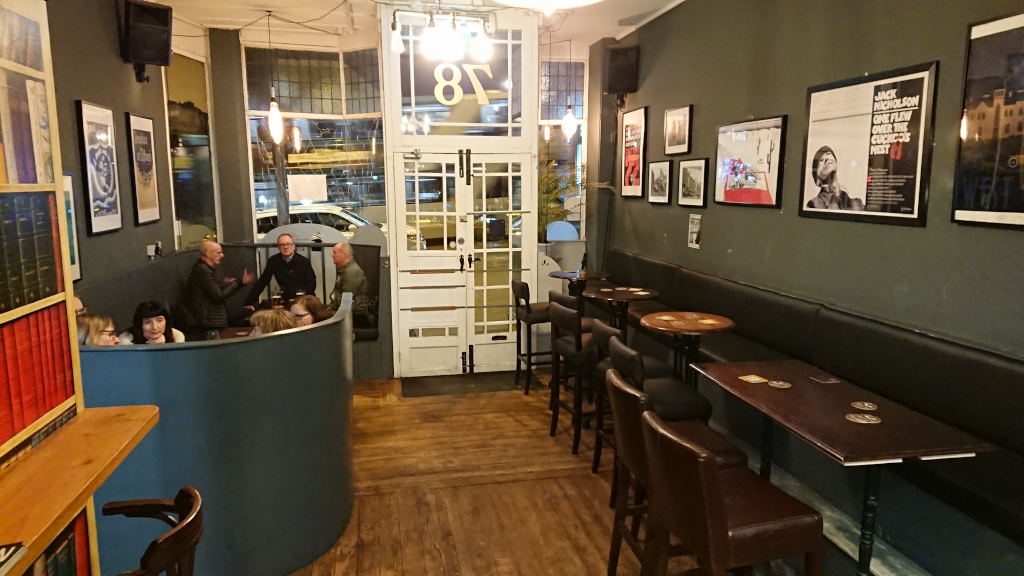 Finding the venue
A Room With A Brew is located in Nottingham City Centre and is easily accessible via major bus routes that serve the city.
Address – 78 Derby Rd, Nottingham NG1 5FD
Facebook – https://www.facebook.com/Aroomwithabrewbeer
Instagram – https://www.instagram.com/aroomwithabrew
Post Tags
Post Categories