The Cambridge Brew House
Posted on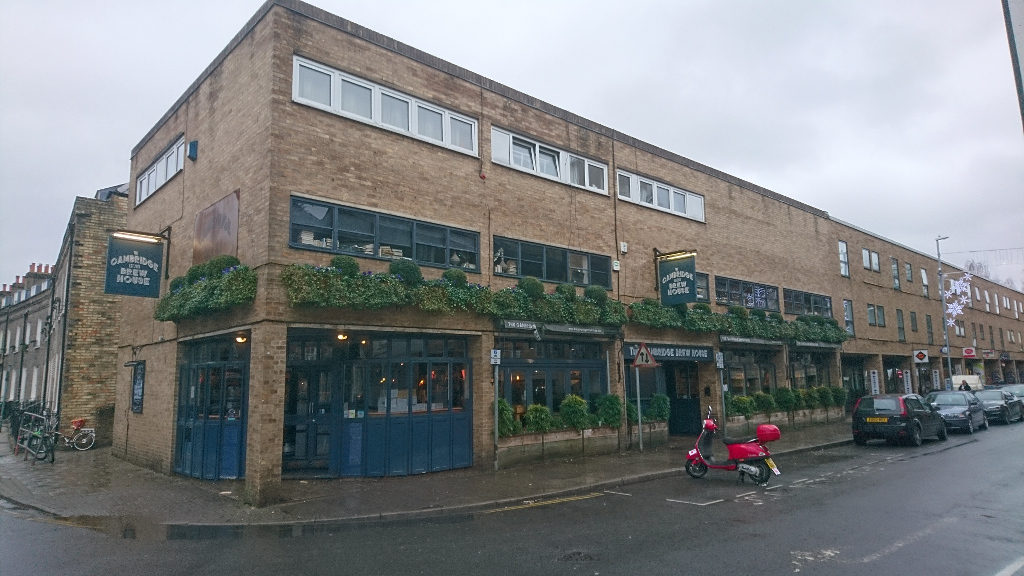 As a fan of real ale and small businesses I'm always on the lookout for new independent drinking establishments to try out (just check out my micropub visits for example). Now having moved to Cambridge this gives me the opportunity to check out a new raft of independent establishments, and there is a pub venue in the city that fits my criteria for real ale and being independent – and it's also a restaurant. Time to pay a visit to The Cambridge Brew House.
A pub, restaurant AND microbrewery in one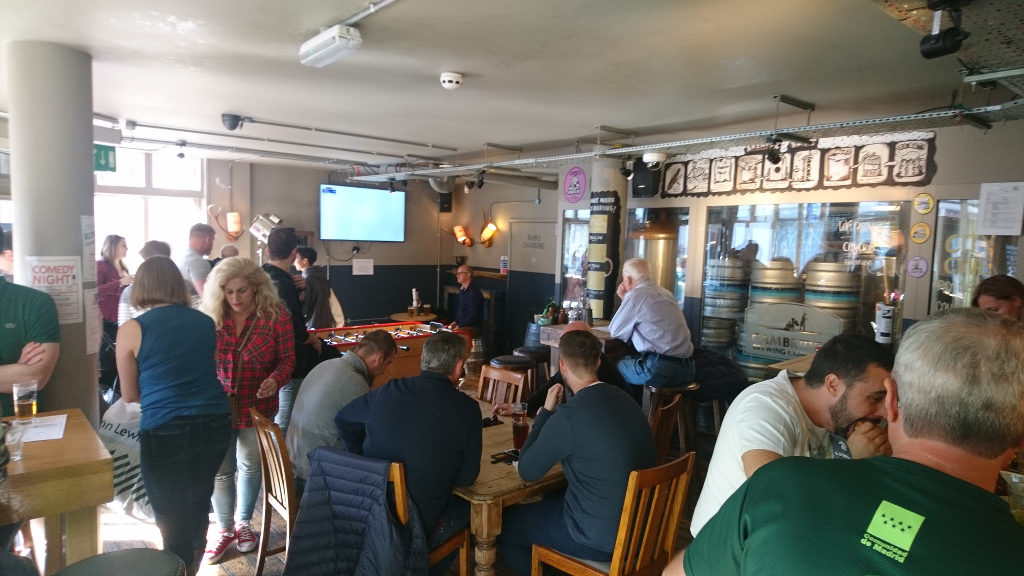 Located in the city centre, The Cambridge Brew House is not just a pub/restaurant but it also houses its own microbrewery. Now I'm no stranger to visiting pubs that brew their own beers. Take The Brunswick in Derby for example, which like The Cambridge Brew House has its microbrewery inside the establishment. Then much further afield (abroad in fact) there's The Frog & Princess in Paris, which is run by a small pub chain who make their own beers. There are loads of other such establishments all over the country and beyond so for me it's always good to try out a different microbrewery pub.
So how does The Cambridge Brew House fair?
Well we visited the venue on a busy Saturday lunchtime (it was reasonably well packed inside) but there were a few seats vacant so we were able to get a table for 2. The interior of the venue has a nice mix of both traditional and modern touches. You won't be able to miss the many references to craft beer including cans on the shelves, pump clips on the ceilings, and bottle labels on the walls – as if you need reminding that you are in the pub.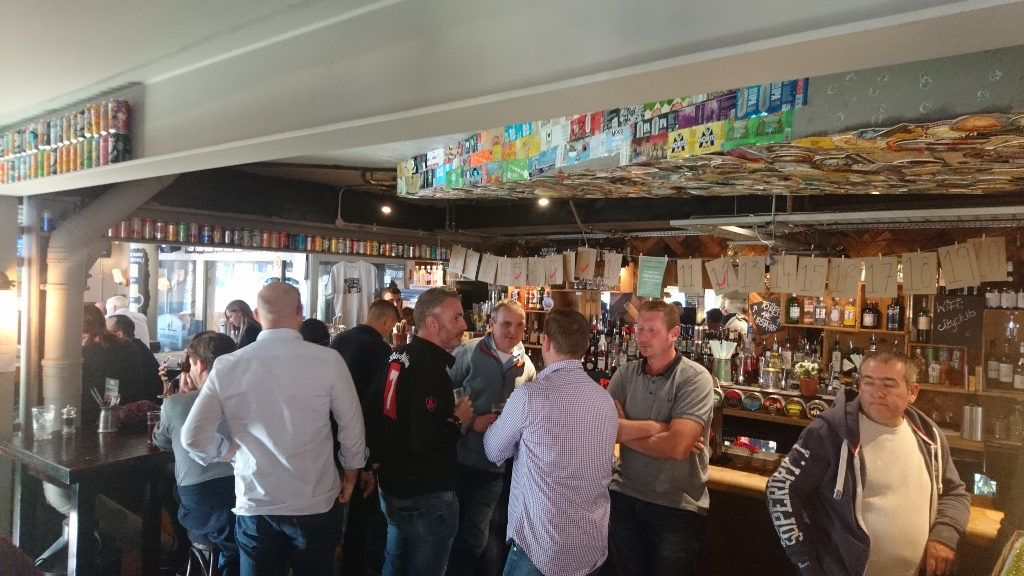 Get the drinks in
Being an ale drinker it would be wrong of me to not sample one of the venues own brews, and there are plenty such house beers available at The Cambridge Brew House. My preference is always pale ales so I opted for a pint of Misty River, a 4.2% hoppy pale ale. This particular ale had a good pleasant taste to it and is one that I'll certainly have again on a future visit. Oh and BTW, I do like the design on the glass – very cool!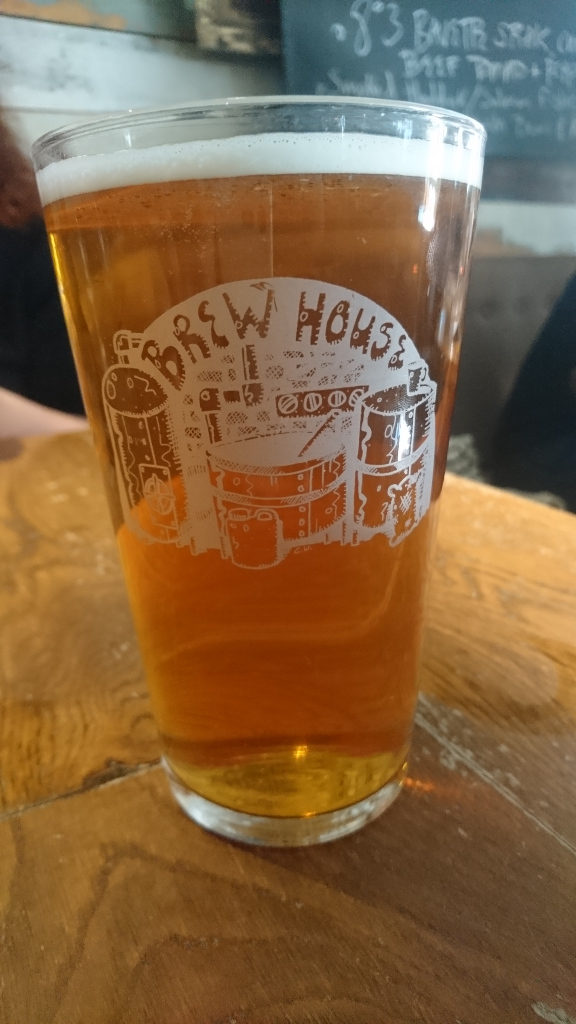 In addition to their house brews The Cambridge Brew House also has an extensive range of guest ales, craft beers and lagers available, plus ciders, wines, whiskeys, gins, spirits, and soft drinks. Essentially there is something available for everyone.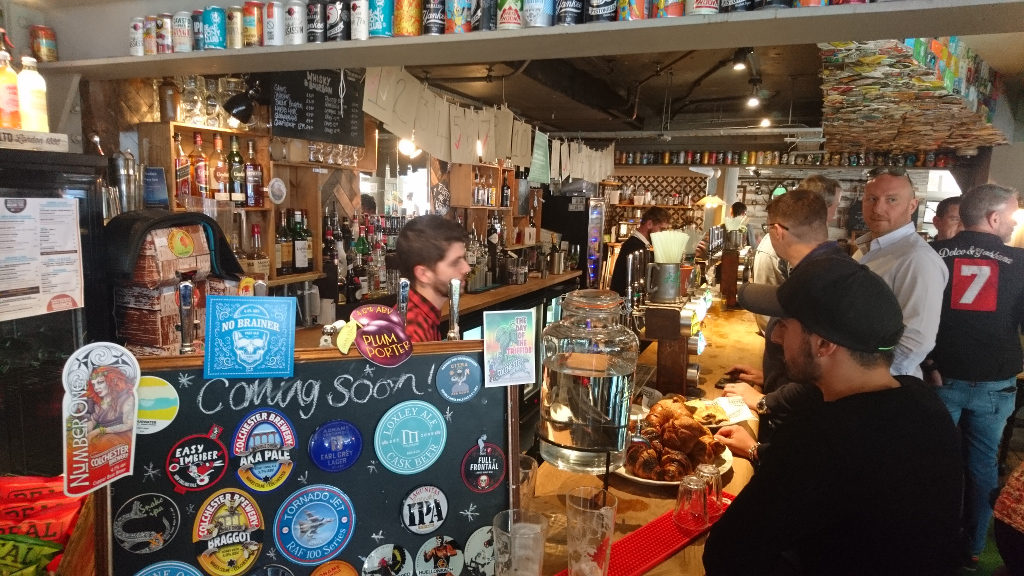 New menu with more VEGAN choices
So what about the food offering? Well the timing of our visit turned out to be pretty good as the venue had only recently launched their new menu, which now has more vegan options. And it was the vegan dishes that we would both go for on this particular visit (YES – even I chose to have a vegan dish this time!)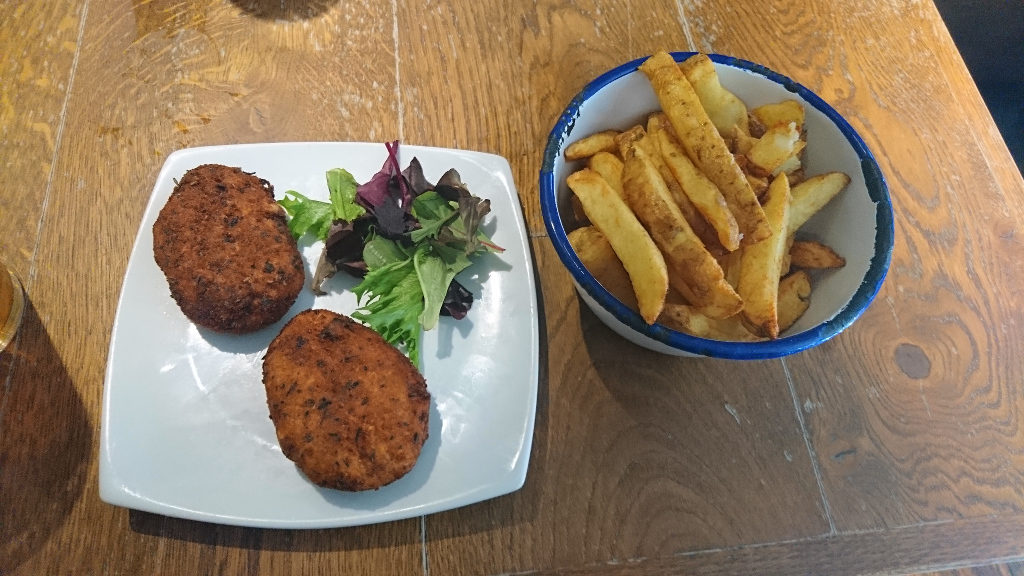 My choice of dish was the 'Chicken' Nuggets, although to be honest the' nuggets' looked more like small fishcakes. The nuggets were tasty enough, but for the price paid for these (£5.50) I do think that the serving of just 2 nuggets is rather small. Maybe a serving of 3 or 4 nuggets would make the dish better value in my opinion. I did have a side dish of chips to go alongside, and these were also tasty and reasonably well cooked.
My dining partner opted for the Smokey Hotdog, and it looked rather substantial. Again a side serving of chips was ordered to go alongside.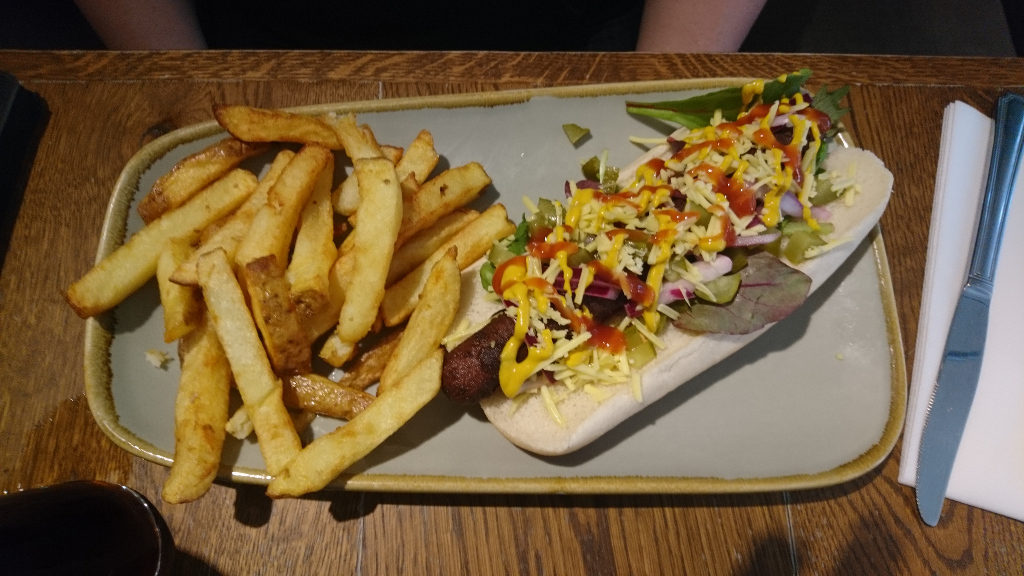 Dessert anyone?
We nearly shunned dessert as there appeared to be no vegan options available (nothing suitable listed on the menu), but we were then alerted to there being a vegan chocolate torte available, so we both opted for this. This particular torte came with vegan coconut ice cream, strawberries and blackberry. This was probably the best chocolate torte that I've had – the base was nice and thick, and the chocolate was rich and tasty. This is one torte that I'll definitely want to have again soon – and it really needs to be included on the menu.
Overall thoughts
Overall we really enjoyed our visit to The Cambridge Brew House and we'll certainly be aback again in the future. Next time I personally may be tempted to try out one of the bigger plates on offer, and there is plenty of choice available. If you are vegan then you are well catered for here and this is definitely one establishment that I would recommend you visit. If it's just beers that take your fancy then again The Cambridge Brew House has plenty on offer to you.
I can not recommend The Cambridge Brew House highly enough!
Finding the venue
The Cambridge Brew House is located in the city centre and is within walking distance from major bus services in the city.
Address – 1 King Street, Cambridge CB1 1LH
Website – http://www.thecambridgebrewhouse.com/
Facebook – https://www.facebook.com/TheCambridgeBrewHouse/
Twitter – https://twitter.com/TheCamBrewHouse
Instagram – https://www.instagram.com/thecambrewhouse/
Post Tags
Post Categories